Lockdown sparks panic buying, despite authorities assuring residents there is sufficient stock of necessities.
Macau's first citywide Covid-19 lockdown has confused residents and sparked panic buying as authorities scrambled to stem its worst coronavirus outbreak so far, with nearly 1,000 residents admonished for violating rules.

From Monday, non-essential businesses must close for seven days, the first time in more than two years that casinos will shut in the Chinese gambling hub. Residents are required to stay home except when buying emergency supplies, and adults must wear masks with specifications of KN95, N95 or above.

"Omicron BA.5.1 spreads quickly," said Leong Iek-hou, coordinator of Macau's Centre for Disease Control and Prevention. "As long as the prevention and control efforts can't keep up, the case number may greatly increase in a short period of time."

The city's law enforcement on Monday said it had issued warnings to 905 people in breach of lockdown restrictions. Most were found exercising in public areas or not wearing a mask of the right specification.

No one has been arrested for breaking the rules, but authorities have said efforts to prosecute offenders would ramp up soon.

Macau has clung to Beijing's "dynamic-zero" Covid-19 infection strategy that aims to stifle any transmission risks once found in society. A short lockdown was ordered last week for the city of 680,000, after it recorded a sudden upsurge in coronavirus infection cases, most involving the Omicron BA.5.1 subvariant.

Before the sharp spike began in late June, the city managed to keep infection cases below 100 for more than two years.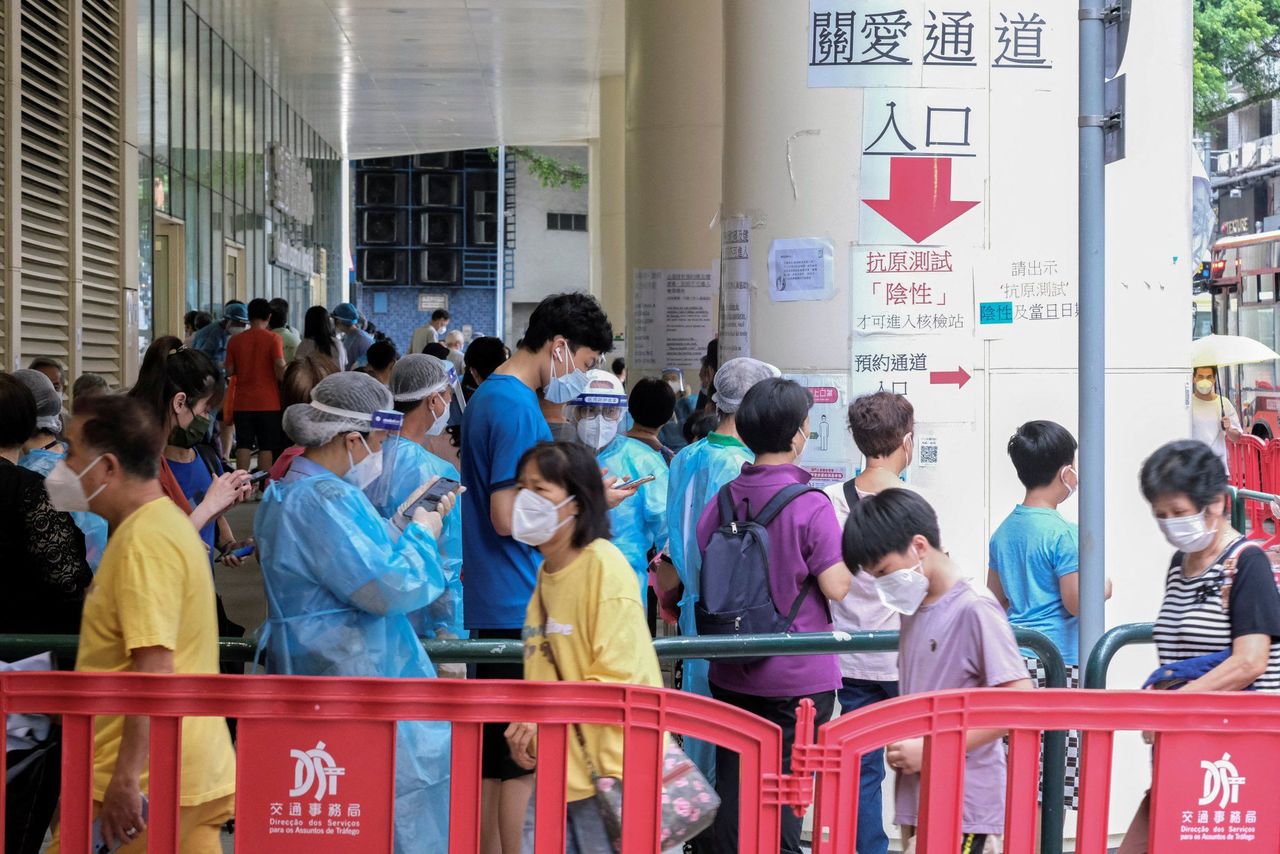 Residents wearing face masks stand in line to get tested for Covid-19 in Macau on July 4.

On Monday, Macau's health officials recorded 59 new cases and subjected 4,550 individuals to hotel isolation, including 3,282 residents and 649 travellers.

The city's Covid-19 tally stands at 1,751 cases, with two related deaths.

Despite authorities' assurances that Macau had a sufficient stock of basic necessities, the sudden restrictions have triggered panic buying, with residents emptying food shelves.

A 33-year-old casino worker, who identified himself as Lou, said he stocked up on food at the supermarket to reduce unnecessary outings.

"I've purchased some instant noodles and canned food to get through the week. Even though supermarkets will still be open this week, I am afraid that food will sell out quickly," he said.

"For this week-long shutdown, the casino asked us to go on no-pay leave again. I do not feel like I have a job any more. I have been on no-pay leave intermittently over the past year because of the pandemic."

Before the pandemic, Lou could earn up to 40,000 patacas (US$4,948) a month, but his monthly salary has now plunged to a quarter of that.

Macau legislator Ron Lam U-tou said some issues had yet to be resolved, such as people unable to get to work because of a lack of public transport permits.

He criticised the government's handling of the emergency, saying that current measures should have been implemented three weeks ago. He added that he was not confident Macau would reach zero-Covid any time soon.

The spiralling number of Covid-19 cases also worried student Anson Chan, as he feared he might lose his internship opportunity in Hengqin, a special economic zone in Guangdong province.

Chan's internship was supposed to have started on July 1 but was postponed to August because of the resurgence of coronavirus cases in Macau. He has been unable to book a room at designated quarantine hotels because of scarce supply.

"There are only 350 hotel rooms open for reservation each day. New rooms are released every day from 10am, but within 10 seconds, the rooms would be sold out," the 20-year-old said.

"I think it is necessary for the Macau government to impose stricter regulations to curb the pandemic. It is important for Macau people to be united, instead of blindly objecting to government policies."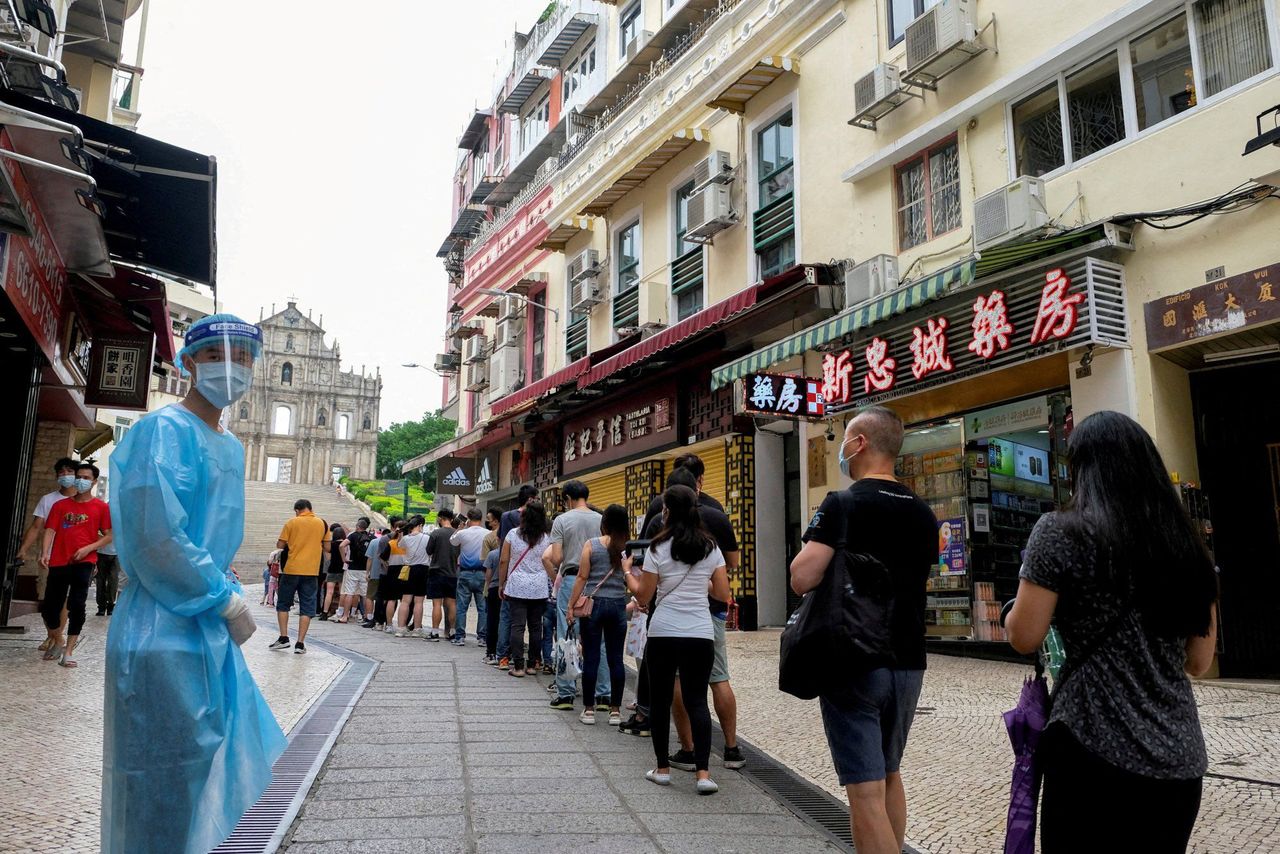 Macau is shutting its casinos for the first time in two years, as the gambling hub suspends almost all business activities for a week in a bid to stem rising Covid-19 cases.

Sabrina Lam Chon-ha, a 32-year-old clerk at an engineering firm responsible for air conditioning maintenance in quarantine hotels, said her company qualified as an essential business that could continue to operate during the shutdown.

Despite being able to work, Lam is dissatisfied with transport arrangements for the week. She complained that the transport suspensions have made it hard for workers to commute to work.

"Many bus routes and light rail transit lines were suspended, it is very difficult to commute across the city. Different government departments should coordinate better before launching quarantine policies," she said.