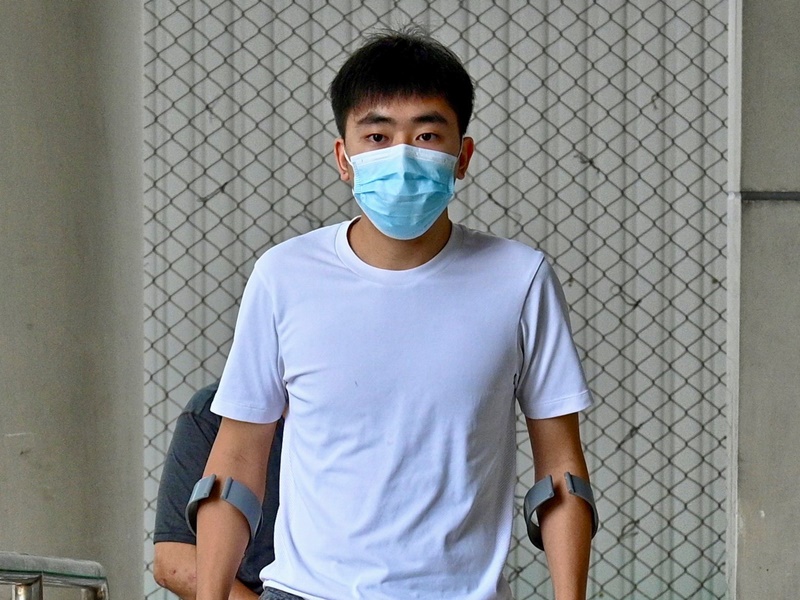 'Lunch brother' gets one-year probation order over IFC lunchtime rally
A 19-year-old student protester received a one-year probation order on Tuesday after pleading guilty to breaching the group gathering cap when participating in a lunchtime rally in Central's IFC Mall.
Li Kwok-wing, dubbed "lunch brother," earlier pleaded guilty to participating in a prohibited group gathering and violating the prevention and control of disease ordinance at the IFC mall on April 28, 2020.

Li appeared before magistrate Andrew Mok Tze-chung in Kowloon City's Magistrates' Courts on Tuesday and was sentenced to a one-year probation order. He was ordered to undergo psychiatry sessions and take part in community activities.

Mok said that the main reason for him to hand down such an order was that Li pleaded guilty to the charge.

Li earlier met with the probation officer and said he was not willing to accept the probation order or the community service order. His lawyer then suggested the court fine Li for the offense. Yet the magistrate said fining is not the appropriate punishment and slammed Li for being a student and not studying hard.

On Tuesday, the lawyer in mitigation said Li's attitude had changed completely, and he is willing to accept a probation order and the community service order. Li also agreed to the additional conditions like the psychiatry sessions.

The lawyer continued that it was Li's first time committing the offense, and he has been troubled by his physical and mental conditions since he was little. The lawyer added that Li wished to sit the Hong Kong Diploma of Secondary Education (DSE) exams again, and he was supported by his family, hoping that the court would not imprison Li.