Amount falls short of the HK$2.54 billion recorded in June 1997, but Hong Kong Jockey Club chief 'delighted' by result.
The Year of the Rabbit got off to a racing start for the Hong Kong Jockey Club as its Lunar New Year meeting pulled in HK$2.06 billion (US$255 million) in bets – the biggest daily take since the city's return to Chinese rule in 1997.

Punters wagered across the 11 races at Sha Tin on Tuesday and, although the take was beaten by a distance by the record HK$2.54 billion gambled in June 1997 it was a healthy 10.1 per cent increase on last year's event.
Almost 80,000 people clicked through the Sha Tin turnstiles and the official crowd stood at 84,394 – 79,354 at Sha Tin and 5,040 watching from Happy Valley – the biggest turnout since the 2019 Lunar New Year races.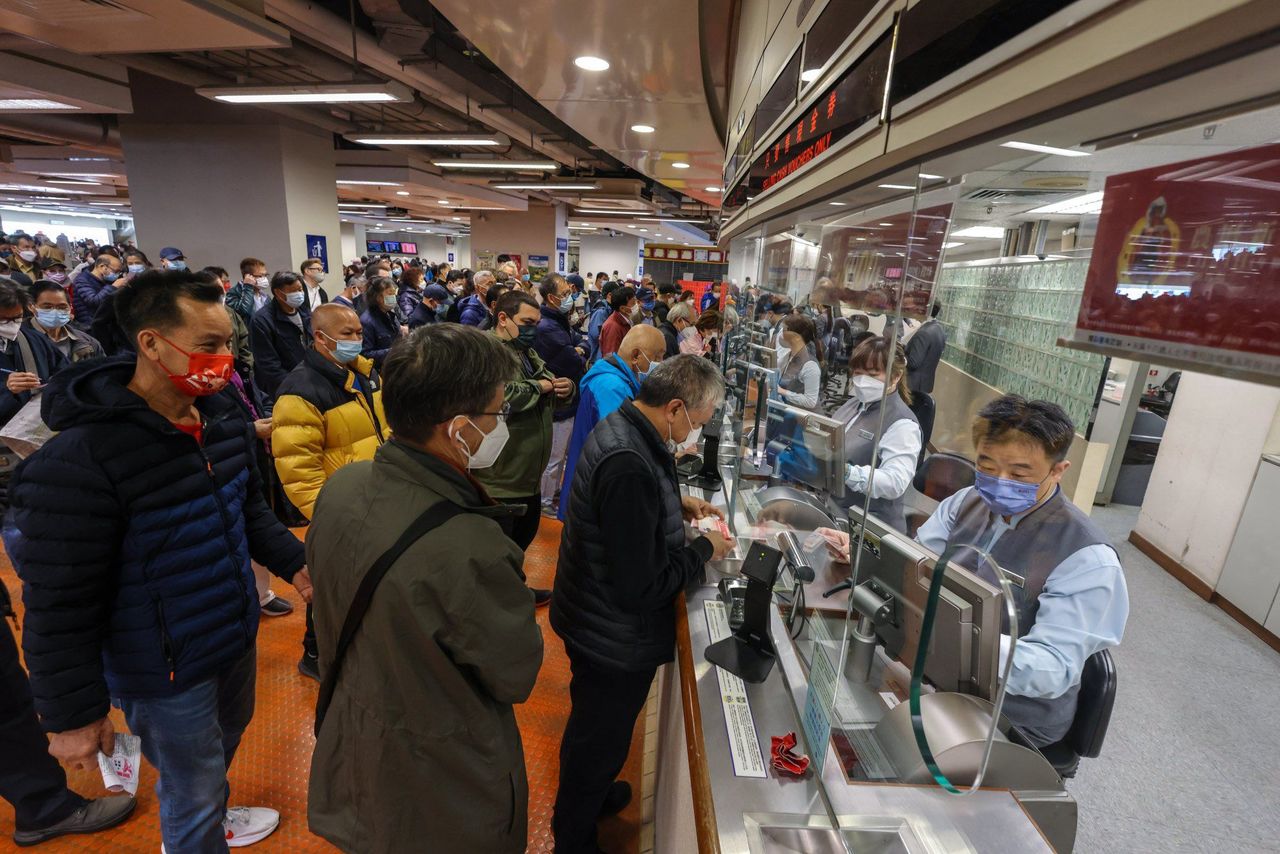 Punters place their bets at Sha Tin racecourse.
"We are absolutely delighted with today's race meeting. The atmosphere was really fantastic and it brought back what we always felt – that Lunar New Year is a very special race meeting," Jockey Club chief executive Winfried Engelbrecht-Bresges said.
"If you look at the business results with the highest turnover since the handover, it's an amazing achievement."
The Lunar New Year card drew a bigger crowd than the prestigious Longines Hong Kong International Races last month, with fans shoulder to shoulder in front of a packed grandstand after they flocked to see a pre-races performance by Cantopop star Joey Yung Cho-yee.
The crowds were a stark contrast to the 2022 Lunar New Year meeting, which was held behind closed doors.
Engelbrecht-Bresges said city gambling turnover was up 9.4 per cent on last year, "a really positive trend" that had not been seen for some time, with the rest of the increase down to overseas gamblers using the same tote pools.
"We could not have dreamed of such a result, so we are extremely satisfied," he said.
It was the first Lunar New Year meeting since the
Covid
-19 pandemic hit in early 2020 that the public was allowed unrestricted entry to the racecourses.
People did not have to scan
vaccine
passes before admission under the present rules and could also eat and drink in the venue.
Among the crowd was first-time Lunar New Year racegoer Stephanie Ma, 24, who went with her aunt, uncle and sister to soak up the atmosphere.
Ma, who works in public relations, said the course was very crowded and people were in high spirits as the races returned to near-normal.
"Since it's the new year, I wanted to try my luck and to get a sense of what Lunar New Year is like at the racecourse," Ma said.
But she admitted she lacked beginner's luck as her HK$200 bet did not pay off.
Ma said the reopening of temples and the restart of horse racing gave her hope the city was catching up with other Asian destinations.
"Even though we are a little bit behind, we are finally joining the line of countries opening up. So I think it's a really good sign and I am just happy that things are slowly returning to normal," she said.