Anyone flying to city on Tuesday will be allowed to undergo three days of quarantine and four under medical surveillance as part of '3+4' scheme launch on Friday.
Several travellers flying into Hong Kong on Tuesday said they felt fortunate to be among the first people set to undergo quarantine for only three days as part of the government's "3+4" scheme.

Authorities on Monday announced they would slash the week-long hotel isolation period to three days from Friday, with inbound arrivals allowed to spend the remaining four days at home or in other accommodation with limited freedom of movement.

Businessman James Luk, 47, who works for a firm with logistical operations in Thailand, said he felt "lucky" to be among the travellers qualifying for the scheme.

"I have been staying in Thailand for quite a while and finally I got to return home," he said at Hong Kong International Airport on Tuesday morning.

Luk added that the "3+4" travel measure would help him to save money.

"Living in a hotel costs a bit too much for me, so I told my family I will stay a while longer in Bangkok. And I am happy that I can enjoy a shorter quarantine now," he said.

But the businessman also urged authorities to gradually phase out all compulsory quarantine measures.

Steve Hui, a Hongkonger who was returning home from studying in the United States, said the revamped measures were an improvement on the previous travel regime.

"A few months ago, I returned home from the States, the seven days of hotel quarantine was a bit too much," the 16-year-old said. "Now the quarantine measure has become way better than before."

Also among Tuesday's arrivals was a businessman from Germany, Ralf Bru, who said he was delighted by the policy change.

"It is more simple now, I can spend less time in the hotel," he said.

But the city's travel measures were still vastly different from those implemented across the rest of the world, he noted.

"Back in Europe, there were not many quarantine measures, like there is no border at all. Countries are open to each other freely," he said, adding that Hong Kong should further ease quarantine measures so it could go back to "normal" again.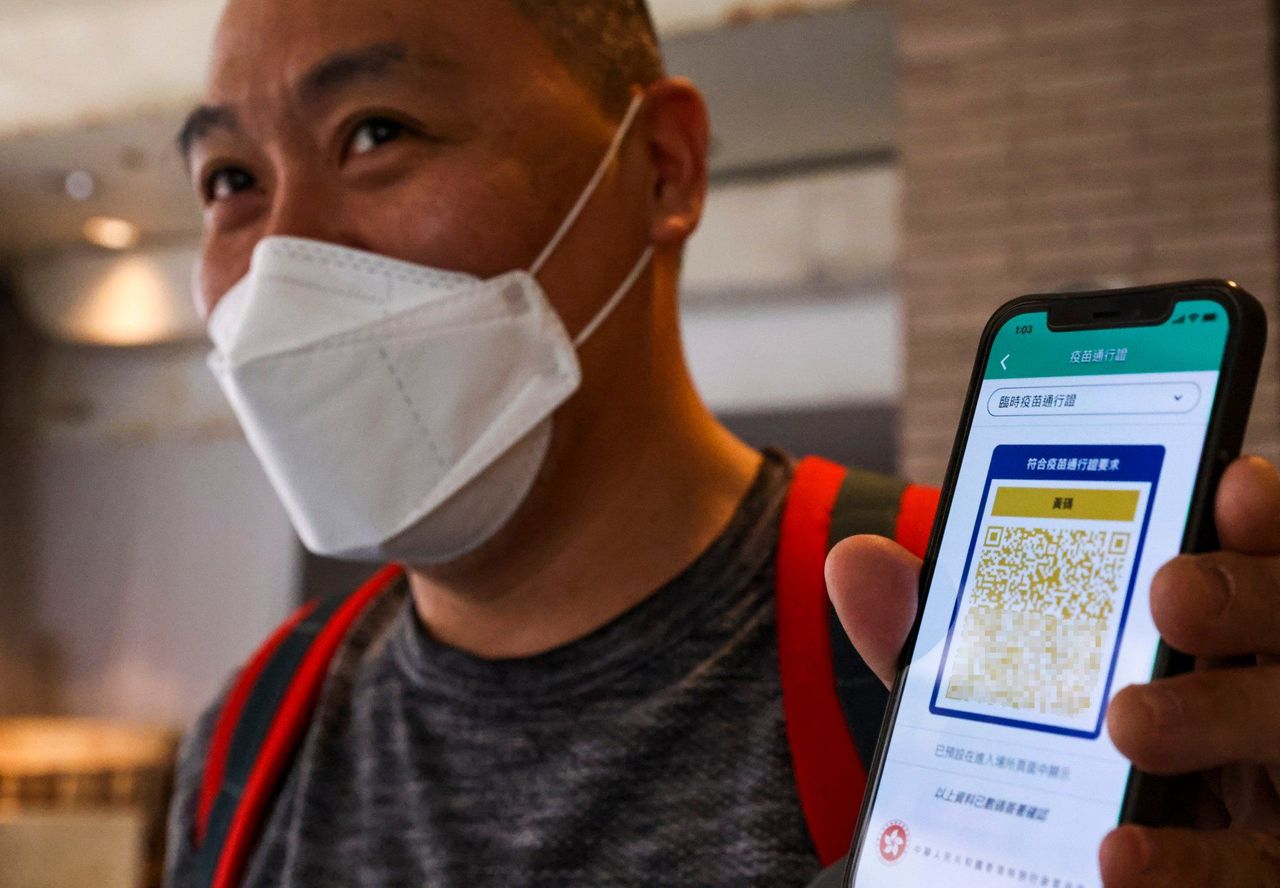 Traveller Sunny Siu shows his amber code, issued as part of the government's '3+4' scheme.

Meanwhile, travellers who flew into Hong Kong between August 3 and 8 will be allowed to cut their quarantine short if they receive a negative result from a polymerase chain reaction (PCR) test.

According to the government, about 4,000 eligible travellers on Tuesday were approved to leave their designated quarantine hotels early.

Sunny Siu, a 48-year-old video producer, was allowed to leave his hotel on Tuesday morning after originally being required to stay until midnight.

"It's good that I can be free now and I can go home slightly earlier," Siu said.

"But it is a bit sad that I cannot go to some premises, because I now have the amber health code."

As part of the "3+4" scheme, travellers must download the government's "Leave Home Safe" risk-exposure app. A red code is issued to anyone infected with Covid-19, who will be placed in an isolation centre. Those under home medical surveillance will receive an amber one.

Anyone with an amber code is prohibited from entering premises that require mandatory checks such as nightclubs, gyms and restaurants, but are allowed to use public transport, go to work or school, as well as shop for daily necessities.

Upon completion of the medical surveillance period, participants will be allowed unrestricted movement across the city, with their code changing from amber to blue.

A student surnamed Singh, who also left her quarantine one day early after booking for seven days, said her hotel had promised to refund the difference but did not specify how or when to expect the money.

But an employee at a quarantine hotel in Kowloon City told the Post that some guests undergoing their sixth day of isolation had said they preferred not to leave early.

Some guests were afraid of infecting their families since they had not completed the previously required seven days, the employee said, while others wanted to wait and obtain a blue code.