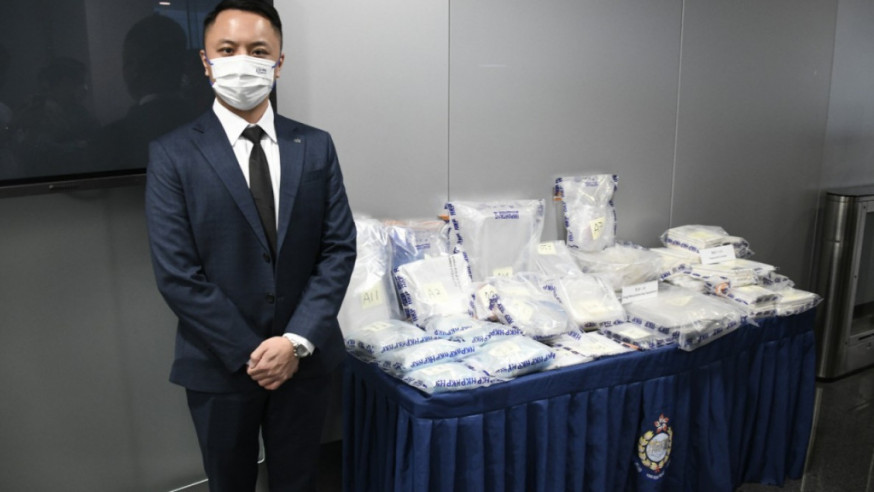 'Not so friendly neighborhood' drug cook arrested in HK$23m bust
A local drug cook who kept a drug warehouse in Tuen Mun, situated a street away from the police station, was arrested on Thursday as cops also raided a Tin Shui Wai home where the man manufactured drugs and seized ketamine and cocaine worth about HK$23 million.
The 34-year-old man surnamed Cheung was reportedly jobless. It was understood that Cheung rented a private home in Tin Shui Wai and a unit at an industrial building on Kin Tai Street for drug production and storage, respectively.

Cheung has been charged with obstructing police, trafficking in dangerous drugs, and manufacturing dangerous drugs. He will appear at Sha Tin Magistrates' Courts on Saturday (Feb 10) morning.

Police first received intelligence that someone had been importing raw materials for drug manufacturing from overseas and running a local drug laboratory in order to cut costs.

After in-depth investigations, officers laid an ambush outside the Tuen Mun industrial building yesterday (Thu) and intercepted Cheung, who resisted fiercely. Still, officers successfully subdued Cheung and found a suspected cocaine brick weighing 270g in his backpack.

Cops also escorted Cheung to the Tuen Mun unit and further found 99 other cocaine bricks, with all 100 cocaine bricks weighing at 27kg.

Police next escorted Cheung to the Tin Shui Wai home he rented for drug production and seized 3.6kg of suspected liquid ketamine, a small amount of unfinished ketamine, two bags of ketamine weighing 59g, and two bags of crack cocaine weighing 29g.

Officers took away a batch of drug manufacturing equipment and noted they are now hunting down the drug ring and the mastermind behind it.

They also encouraged citizens who notice weird or strange chemical odors in their building to file a police report.

They reminded the public that manufacturing and trafficking in dangerous drugs are serious offenses. The maximum penalty upon conviction carries a HK$5 million fine and life imprisonment.