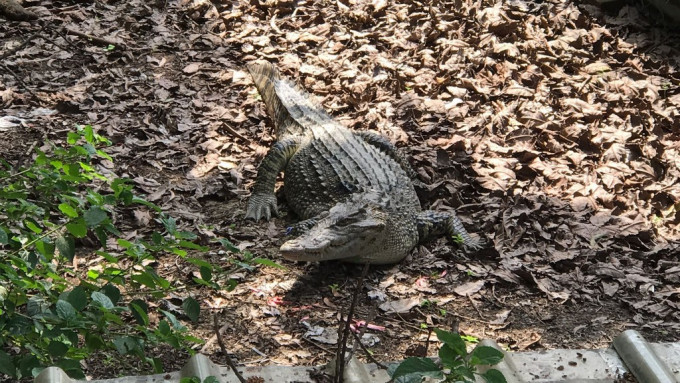 Loose alligator spotted in a village in Pat Heung
Police were called to handle the discovery of an alligator in Pat Heung Sunday afternoon. After four hours of action, it was finally captured by the conservation officers.
A Lin Fa Tei resident spotted a one-meter-long alligator around 1 pm and immediately called the police. Officers cordoned off the area and requested assistance from the Agriculture, Fisheries, and Conservation Department.

It is understood that some rural lands were rented by someone not from the village to raise alligators and black kites illegally, and this found alligator could have escaped from the site.

A man with gloves and water shoes attempted to grab the meter-long alligator with his bare hands around 3 pm, startling the alligator and causing it to flee via the sewer pipes.

The reptile was finally captured and restrained at around 5.30 pm.

Experts have stated that there are no native alligators in Hong Kong, and any sighting is likely the result of someone illegally importing a young alligator from overseas and abandoning it once it grows too large to keep as a pet.

According to the laws, all species of Crocodylia are listed in Appendix I or II of the Convention on International Trade in Endangered Species of Wild Fauna and Flora (the Convention). The import of any crocodile species is either banned or requires an import permit issued by the Fisheries and Conservation Department, which must also be obtained before importation.