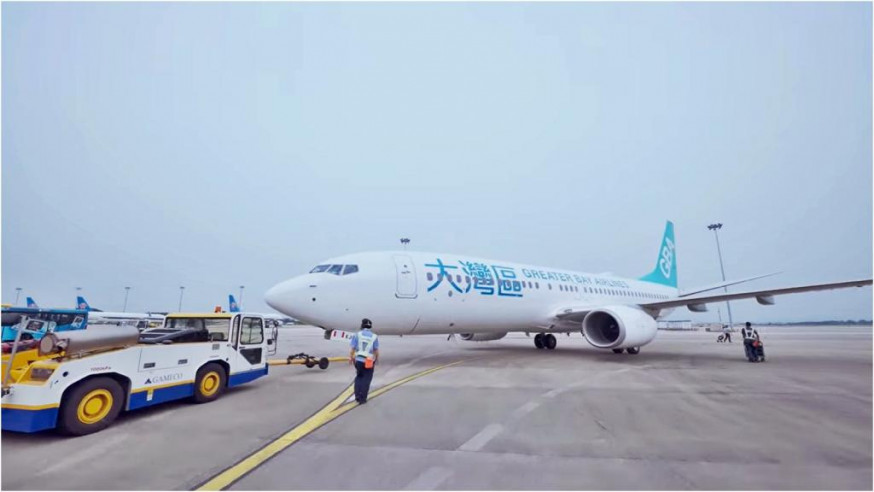 Long awaited Greater Bay Airlines' first flight takes to the skies
The first flight of Greater Bay Airlines finally took to the skies and headed to Bangkok on Saturday morning after more than two years of preparations, as the airline called on the government to cancel the returning quarantine requirement as soon as possible.
Around 9am this morning (Sat), only a dozen travelers checked in at the counters for the 10.30am flight.

Jodie Lai Yuen-yee, head of marketing and customer experience, said passengers can also check in at the counters by the Skypier but refused to disclose the number of passengers taking this flight, citing commercial reasons. Still, flight tickets were found available as of 7pm Friday.

Lai also hoped the government could cancel or shorten the existing seven-day quarantine requirement for returnees under certain conditions, as it is one of the reasons citizens postpone their non-urgent traveling plans. Scrapping the quarantine measure could be a critical step in reviving the aviation and tourism sectors as well. she added.

The Air Transport Licensing Authority granted the airline a license in February to operate 104 routes until 2027, with almost half of the destinations being mainland cities. Other destinations include Taiwan, South Korea, Japan, Singapore, and Malaysia.

Lai continued that it takes time for the airline to apply to operate overseas routes, and announcements will be made upon successful applications.

Lai believed Greater Bay Airlines is advantageous as people in Hong Kong and on the mainland love traveling abroad. Hongkongers travel at least two to three times a year and some even more. In addition to the vast population of the GBA, this new flight company could be a huge business opportunity, she noted.

The pilot named Leung said he was glad to fly the airline's first flight and start a new chapter in the city's aviation history. Leung pointed out that the airline will expand its fleet to over 30 airbuses and provide more promotion opportunities and jobs in the future.

When asked about the worsening pandemic situation, Leung said he was not so worried and believed authorities have tactics to deal with it. He also expected the aviation sector would soon bounce back with the third runway construction completed.

Later today, at 5.10pm, a flight HB661 from the Thai capital will arrive in Hong Kong. Flights traveling to and from Bangkok will be flown every Wednesday and Saturday as the airline begins its services.