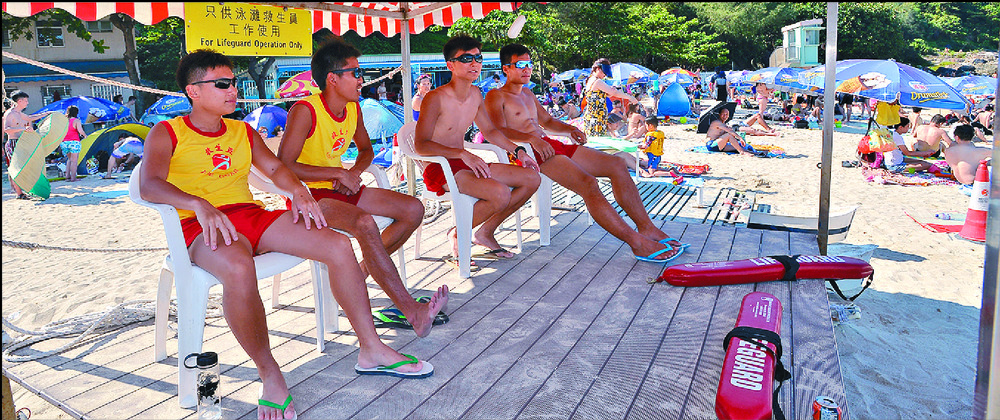 Lifeguard shortage sparks crash courses
The Leisure and Cultural Services Department is rolling out two new lifeguard certificate courses from June in an attempt to solve a serious shortage of lifeguards at public beaches and pools.
The courses - Integrated Certificates Course on Pool Life Saving Training and Integrated Certificates Course on Pool and Beach Life Saving Training - will enable participants to take part in a series of bridging programs under a "through-train" mode and streamline the enrollment process for obtaining pool and beach lifesaving qualifications at a faster pace.

The former course covers exams for the bronze medallion, certificate in first aid, certificate in aquatic first aid and the Pool Lifeguard Award, while the latter will also cover exams for the Open Water Rescue basic certificate, the Canoe Rescue Award and the Beach Lifeguard Award.

The pool lifesaving training course will be organized by the leisure services offices of Wong Tai Sin, Sham Shui Po and North district, while the other course will be organized by similar offices in Kwai Tsing, Sai Kung and Southern district.

"This is the first time the LCSD has introduced the integrated certificates courses on lifesaving on a pilot basis," said an LCSD spokesman.

"The qualifications are accredited by the International Life Saving Federation and the Hong Kong Life Saving Society," he said, adding that the courses will enhance the lifesaving standard to further ensure the safety of water sports.

The pool training and the pool and beach training courses are priced at HK$810 and HK$1,310, respectively, and involve 93 and 152 training and examination hours.

Eligible full-time students are entitled to enroll at half price. But only those aged 16 or above and who have passed the water tests during the first lesson will be allowed to enroll.

Upon completion of training and passing all exams, participants can apply for the civil service or non-civil service contract lifeguard posts of the LCSD.

Course enrollment will start from May 8 on a first-come, first-served basis via the internet or in-person at district leisure services offices, leisure link services venues and self-service kiosks.

Only 18 out of 39 public beaches were open with lifeguard services during the past month - the start of the formal swimming season - due to a severe lack of manpower.

The complicated certification system and a lack of opportunities is believed to have deterred young people from joining the industry. Moreover, the need for lifeguards at private swimming facilities has further exacerbated the shortage problem in the public sector.