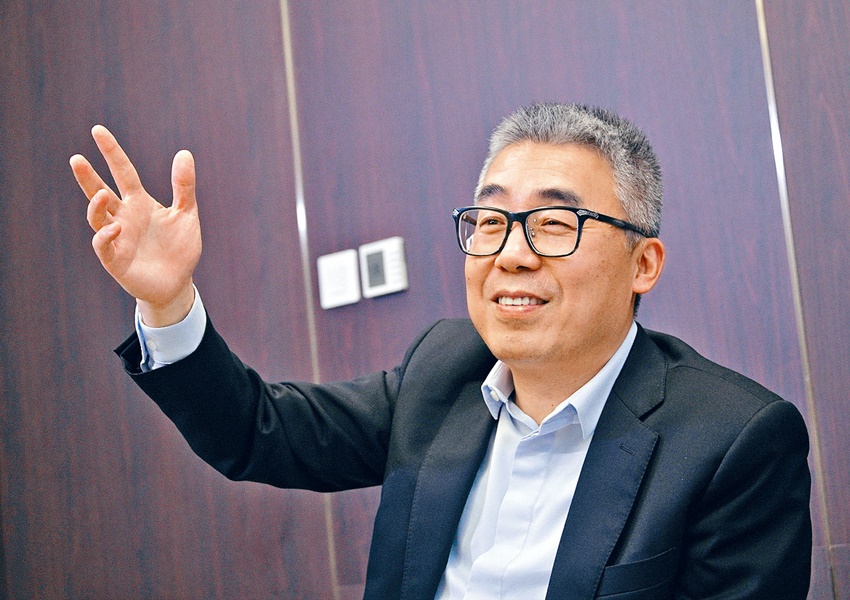 Li Ruigang slams TVB to be outdated, "hugely dissatisfied" with its performance
TVB is in need of an urgent overhaul, recruiting more talents and restructuring its operations to deal with the problem of what people described as "an outdated television broadcast," said Li Ruigang, a mainland Chinese media tycoon.
Li is the chairman of CMC Inc, a media and entertainment conglomerate. He is also the largest shareholder of Hong Kong's free-to-air network operator TVB, owning its controlling interests.

Li started the interview by saying he is "hugely dissatisfied" with TVB's performance, with TVB's program and equipment being outdated, along with internal division among the company.

He said TVB had "lost its bearings" for the last ten years, not only it lacks creativity, but the production team and programs were getting obsolete. There were also problems within its ranks.

"Internal division is serious within the company," he said, "it is difficult for everyone to work as one for the company given the conflicts between them."

With such conflicts, many advanced ideas and equipment were unable to be brought in the company, which steer them further away from the younger generations.

"Audiences need fresh, new, and creative contents to stick to our channel," he added.

He also said the overhaul is imminent despite it brings along big risks with such changes.

"TVB is far from the point where it is struggling to stay afloat, instead, it is already sinking into the ocean. If we do nothing, there is no other way to save it," said Li.

Li also suggested TVB to ride on the Greater Bay Area's opportunities to reposition the station into a world-renowned Chinese television broadcast, including plans to set up a new production center in the area.

He said the convergence of Hong Kong and the Greater Bay Area is an irresistible trend, which he pointed out that TVB will be able to gain new opportunities and resources to become a leading television broadcast not only in the city but in the whole GBA.

Li did not reveal many details about the new production center, but stressed the new facility will be able to tag on the latest development of internet technology and is expected to become fully operational in two to three years.

He also ruled out the possibility of TVB obtaining a broadcasting license on the mainland, but added that the programs produced by TVB will be sold to mainland broadcasters.

"TVB is operating on a 'front shop, back factory' system. We keep on producing our own programs and air them on our own channels, we can also sell these programs to other broadcasters to air them elsewhere outside of the city," said Li.

He said although many mainland television broadcasters chose not to produce their own programs and only purchase them from others, there is no need for TVB to do the same.

"Even the streaming platform Netflix produced some of their own content, they are also achieving great success," Li added.

He explained using the global appeal of South Korea's K-drama culture as an example.

"It is just like what they do in South Korea. They do not aim to only serve the local market, but they see the production as an international business in the entertainment industry. The effect is to make money and promote them globally."

He said there will always be audiences for good productions.

However, Li went on and said TVB can still explore new ways to obtain its programs, where it can either outsource its production after securing a script and casts or even purchase a whole series of a TV show.

Li also shut down market rumors that he will be offloading the loss-making TVB, saying he will take a more proactive role in the company's strategic planning and operations.

Li's CMC Inc. is a Shanghai-based group founded in 2015 with multi-genre content including films, drama, games, financial media, music and sports. He also revealed he is considering a listing of CMC Inc in Hong Kong in the next two years.

"We will float our core businesses, but probably not all of the assets. After evaluating our businesses and different capital markets, it is highly likely that we will choose Hong Kong as the listing venue."

Apart from the listing plan, Li said the group will in the future focus on the synergism between multiple genres of their business.

"Take Disney as an example, the same intellectual property rights in its characters can be used on multiple platforms, including gaming, musicals, television broadcast and many more, maximizing its value. This will be one of the plans for the group to work on."

He also said the group will also focus on producing products targeting young audiences.

"The younger generations on the mainland have strong spending ability. For example, 50,000 tickets for a Zhuhai music festival organized by the group were all sold out within minutes."

The mainland media tycoon also hinted that many Chinese brands in the future will be able to stand out or even outrun some foreign brands, bringing many investment opportunities for the Chinese market and for the group.