CK Asset will pay 2014 prices for a parcel above the Sung Wong Toi MTR station that is expected to accommodate about 1,750 homes.
Tycoon Li Ka-shing's flagship property developer has picked up land in Kai Tak at 2014 prices, winning the biggest government land sale this quarter at a price almost 25 per cent below market expectations.

CK Asset will pay HK$8.7 billion (US$1.12 billion) for a plot on top of Sung Wong Toi MTR station, according to a statement from the Lands Department on Wednesday. The price translates to HK$6,138 per square foot – the lowest for a residential parcel in the area in eight years – amid slumping home sales and mounting supply of new homes.

The plot, officially designated Kai Tak Area 2A Site 4, Site 5(B) and Site 10, has a gross floor area of 1.42 million sq ft, and is expected to accommodate about 1,750 homes. CK Asset beat Nan Fung Development, Henderson Land Development, Wheelock Properties, Early Light Land (Holdings) and a consortium of K. Wah International, Sino Land and Great Eagle Holdings.

CK Asset is "very happy to win a large-scale parcel in the Kai Tak New Area at a reasonable price this time," Executive Director Grace Woo Chia Ching said in a statement. "The small and medium-sized residential units are expected to be very popular upon completion and can hopefully bring very desirable returns," Woo said.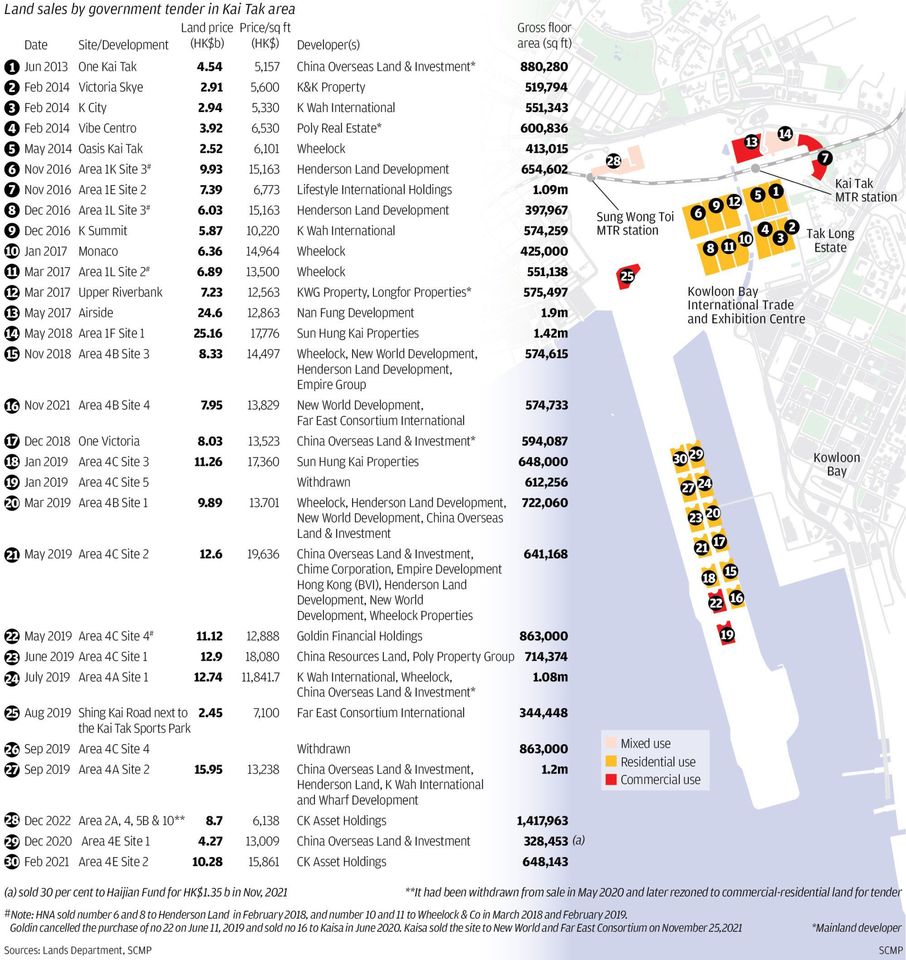 The land sold on Wednesday is numbered 28 on this map of the parcels in the Kai Tak area, former site of Hong Kong's airport.
The location is superior because of the MTR station, Woo said, adding that a planned underground shopping street will connect to Kowloon City and Kai Tak MTR Station.
Valuations ranged from HK$11.34 billion to HK$14.89 billion, which translates to HK$8,000 to HK$10,500 per square foot.
"We valued it at HK$8,000 per square foot," Vincent Cheung, managing director of Vincorn Consulting and Appraisal, told the Post. "It was already very low – the lowest in Hong Kong. But now it turned out to be even lower."
The price is less than half of the HK$15,861 per square foot that CK Asset paid in February 2021 for another parcel with sea views on the former airport's runway.
Wheelock Properties paid HK$6,101 per sq ft for what is now Oasis Kai Tak, near the Kai Tak MTR station, in May 2014.
The land sold on Wednesday was originally zoned for commercial use. The tender was withdrawn in 2020, and the land was finally re-zoned by the government for residential use.
There are some restrictions on development, which will increase construction costs, according to Midland Surveyors, which said the total investment will exceed HK$15 billion.
Cheung said developers offered lower bids to balance risks given that the Centa-City Leading (CCL) Index, a gauge of lived-in home prices compiled by Centaline Property Agency, has declined 17.1 per cent since its peak of 191.34 in early August 2021.
"Developers these two years bought a lot of residential and commercial parcels," Cheung said. They are now facing high inventory amid sluggish sales, as buyers hold off due to economic conditions and high interest rates, he said.
Supply "suddenly surged" in recent years, with land sold in West Kowloon, Kwun Tong's Anderson Road, Causeway Bay's Caroline Hill Road and Site 3 of New Central Harbourfront.
Developers have turned cautious about tenders, a fact that became more obvious in the fourth quarter as government sites sold at or below the lower end of market expectations.
"Developers will continue to be conservative in land bidding and land prices will continue to fall in 2023," said Alkan Au, senior director of valuation advisory at JLL. "The decline in land prices will be more than housing prices. The construction costs are still on an upwards trajectory and will be fuelled by the looming inflation. The interest rate hikes have significantly increased financial costs."
This is the fourth winning bid for CK Asset this year amid the depressed prices. It forked out HK$20.46 billion in total for two redevelopment projects and two government parcels. And Wednesday's win came less than a week after CK Asset picked up an Urban Renewal Authority redevelopment project in Sai Ying Pun for HK$1.16 billion, or just HK$9,554 per square foot – 27 per cent below the price paid for a nearby project in August.
The government has generated HK$21.8 billion from land sales and lease modifications or land exchanges as of December 13, reaching about one-fifth of the land income target for the current financial year.
JLL estimated the government could generate an extra of HK$35.5 billion from the tender of government sites, URA and MTR projects by the end of the current financial year in March.
Including the previous land income, the government may not be able to achieve its land income target of HK$120 billion for the financial year, JLL added.