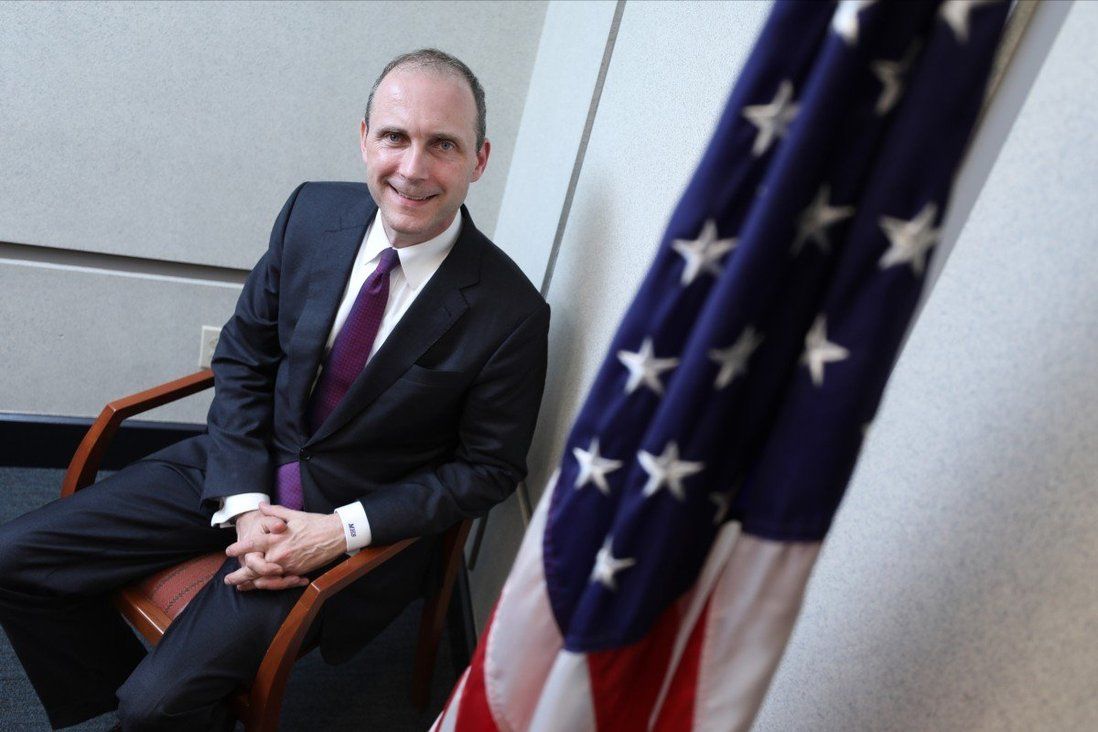 'Let Hong Kong be Hong Kong', top US diplomat to city tells Beijing
US Consul General Hanscom Smith says the laws and values that had helped Hong Kong grow have been threatened by Beijing after 1997 handover.
The top US diplomat in Hong Kong has called on Beijing to "let Hong Kong be Hong Kong" in a speech sharply critical of the central government, accusing it of changing its policies on the city to the detriment of residents and its status as a global hub.

United States Consul General Hanscom Smith said the laws and values that had helped Hong Kong grow after the 1997 handover from British to Chinese rule had been threatened by Beijing, which had scapegoated "foreign forces" in order to "shirk responsibility".

Smith, who made the remarks in a farewell speech delivered on Monday at the American Chamber of Commerce in Hong Kong, also claimed the national security law and electoral reforms imposed by Beijing had helped destroy and dismantle the freedoms and autonomy the city was promised in the Sino-British Joint Declaration.

"We will continue to hold the authorities responsible for their repression and broken promises. The United States will also continue to work with allies and partners to support people in Hong Kong," said Smith, while stressing that Washington recognised Hong Kong was part of China and it did not support local independence.

"We simply ask Beijing to honour the terms of the Joint Declaration, an international agreement, and give the city the autonomy Beijing promised," Smith said. "Our message is simple: we want Hong Kong to succeed. Let Hong Kong be Hong Kong."

Hong Kong has become a flash point in US-Sino relations. Current leader John Lee Ka-chiu and his predecessor Carrie Lam Cheng Yuet-ngor were sanctioned by the White House over the enforcement of the national security law in 2020.

"Many countries around the world, including the United States, are deeply concerned about developments in Hong Kong," Smith said. "[China], however, routinely characterises any views it does not like as 'foreign interference'."

He added that international scrutiny was fair because there were significant business interests involved

and a large number of foreign residents lived in the city.

"Hong Kong has succeeded when it embraces openness and transparency, not ideological paranoia and groupthink," Smith said.

Blaming "foreign forces" for unrest and violence was merely the Beijing leadership's effort to "shirk responsibility and pin its shortcomings on a foreign scapegoat", he added.

Smith assumed his duties as the US consul general to Hong Kong and Macau in July 2019.

But his job was made difficult after the central government imposed restrictions on the activities of the US' top representative in Hong Kong in September, 2020 by requiring him to obtain approval from Beijing's foreign ministry before meeting with the city's government officials or personnel from education institutions and societies.

The envoy said Beijing's repeated stressing that other countries also had their national security legislation "fundamentally misses the point", saying: "The issue is … the process, content and context for establishing, implementing and enforcing such a law."

The security law was imposed on Hong Kong by Beijing in June 2020 after months of often violent anti-government protests. Authorities have credited the law, which bans acts of subversion, secession, terrorism and collusion with foreign forces, with restoring order.

"True patriotism is earned by winning the allegiance of free people, rather than futile efforts to legislate 'patriotism' and loyalty from above," Smith said.

He also criticised the Beijing-led electoral reform in Hong Kong last year, which he said was a model that "seriously limits good governance and accountability" by refusing an "outlet for peaceful engagement and debate".

There was a "sharp and growing divide" between Beijing's promises and its actions, said Smith, who had served as consul general in Shanghai and as director of the Office of Chinese and Mongolian Affairs at the Department of State.

The Hong Kong government has been approached for comment.

Professor Lau Siu-kai, vice-president of Beijing's semi-official think tank the Chinese Association of Hong Kong and Macau Studies, dismissed Smith's remarks as "a piece of hostile political propaganda" amid rising US-China rivalry.

"Blaming Beijing for everything wrong in Hong Kong only shows that Smith has a limited understanding of, or deliberately misinterprets, China's 'one country, two systems' policy where Hong Kong is not an independent political entity and where Beijing has the right and power to make sure that Hong Kong is not a threat to national security.

"I have difficulty believing that Smith, having spent several years in Hong Kong and having observed Hong Kong closely, would believe in what he says," Lau said, adding the envoy's "biased, distorted, and untruthful" depiction of the city would only reinforce Hong Kong people's suspicion of Washington's intentions in Hong Kong and China.

Last week, Smith also made similar criticisms against Beijing for its policies on Hong Kong in a virtual event hosted by the Centre for Strategic and International Studies.