Lawmakers boast 'shining report card' over the past year, free from opposition's disruptive tactics, House Committee chairman says.
Hong Kong's legislature has delivered its best-ever performance and passed a record number of bills since the opposition camp resigned en masse nearly a year ago, according to the chairman of its powerful House Committee.

Starry Lee Wai-king on Tuesday said the Legislative Council had presented a "shining report card" as she hailed its efficiency and effectiveness with proceedings back to "normal" following last November's departure of opposition lawmakers.

The pro-establishment heavyweight highlighted that Legco had passed 39 bills – the most in a single year since Hong Kong's 1997 return to Chinese sovereignty – with another seven set to be endorsed by the end of next week.

Among the flagship legislation approved in the past year was the Beijing-decreed overhaul of the city's electoral system, and another law extending the requirements for formal oath-taking to district councillors.

Some of the draft laws awaiting a final vote before the end of the current session on October 30 include bills to ban e-cigarettes, impose rent controls on subdivided flats and relax rules on foreign doctors practising in Hong Kong.

Lee said: "Hong Kong has entered a new era of bringing order out of chaos. The executive and legislative relations have also got back on the right track. I hope the members of Legco's next term will continue working together to monitor the government work and push for improvements."

Lee was summing up the work of the House Committee during Legco's extended term, which she characterised as a period of "no filibustering, no quorum calls as a delaying tactic, and no clashes in chamber" – references to the stunts formerly deployed by the opposition to block proceedings.

The current term of Legco should have ended in 2020, but in August of that year Beijing extended it by at least a year after approving an earlier Hong Kong government decision – citing a resurgence of Covid-19 cases – to delay the legislative election, originally scheduled for September last year. Some opposition lawmakers quit in protest against what they saw as Beijing's intervention.

Last November, 15 opposition lawmakers quit over a resolution by China's top legislative body that disqualified four of their colleagues, leaving the legislature all but devoid of opposition voices.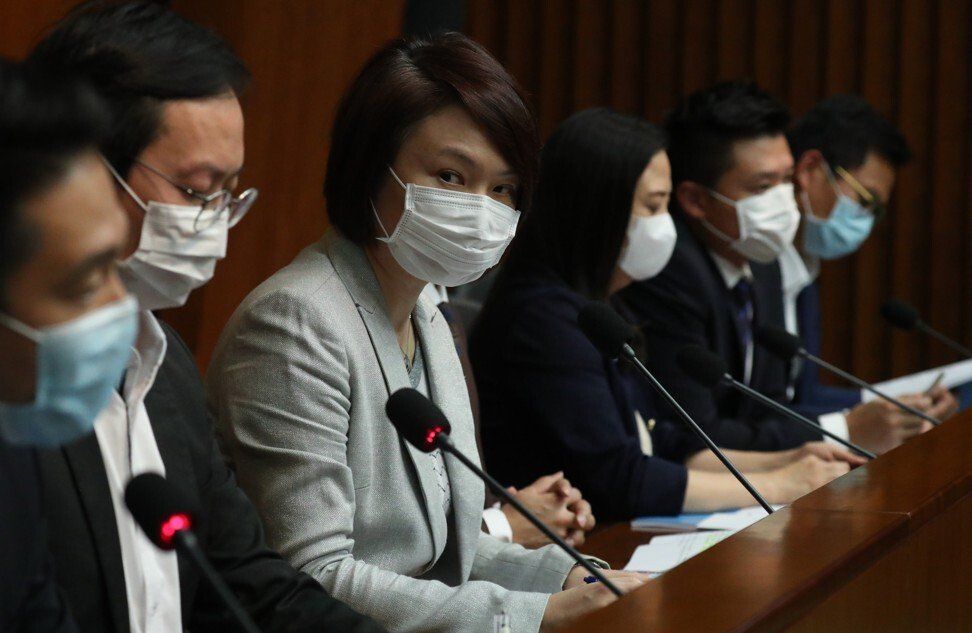 House Committee chairwoman Starry Lee.

But Lee said the absence of the pan-democrats had allowed Legco to "run effectively" and with improved levels of efficiency.

"In the past, we could all see that the council operations were hit by filibustering, or got hijacked, and we were unable even to elect a chairman. The council work in effect was forced to come to a halt," said Lee, who is also chairwoman of the Democratic Alliance for Betterment and Progress of Hong Kong, the city's largest pro-establishment party.

She was referring to a saga starting in October 2019 and lasting more than six months in which the opposition deployed filibustering tactics as the body failed to select a chairman over the course of 19 meetings.

"During the extended term, the council ran more effectively and members were allowed to have better interactions with the government. The [executive-legislative relations] have also become more healthy," Lee said.

"In the past, the chief executive could not even present her policy address to the chamber, not to mention holding question and answer sessions."

Chief Executive Carrie Lam Cheng Yuet-ngor was forced to give her policy address via recorded video during the 2019 unrest after her attempts to deliver it live to the chamber were met with an onslaught of heckles and jeers from the opposition.

One of the House Committee's key functions is to scrutinise government bills tabled in Legco. It can form subcommittees to examine bills, monitor their progress, and decide when they are put to a final vote.