The controversial bill has its detractors, including those who argue e-cigarettes and similar products are less harmful than conventional smoking.
Hong Kong is set to pass a long-delayed law next month to ban electronic cigarettes and heated tobacco products, with the city's largest political party expected to help the government secure enough votes in the legislature for the controversial policy.

The bill outlawing the import, production, distribution, sale and promotion of new smoking products will come into force in April next year at the earliest if it is passed by the Legislative Council before its current session ends in October. But the pro-business Liberal Party has vowed to push for changes to the legislation, arguing it makes no sense for the government to treat products that can help smokers quit more harshly than regular cigarettes.

Wong Ting-kwong, chairman of the bills committee on the Smoking (Public Health) (Amendment) Bill 2019, confirmed to the Post on Thursday he had received notice from the government it would resume proceedings on the legislation, and had scheduled a meeting for Friday next week.

Legco has been discussing the regulation of e-cigarettes as far back as 2014, when lawmakers expressed concerns over the possible health risks and lax oversight of sales. Two years later the government said it would introduce legislation banning such products but a bill failed to materialise.

City leader Carrie Lam Cheng Yuet-ngor signalled she intended to get tough on the industry in her policy address in 2018, warning that e-cigarettes, which had grown into an industry worth as much as HK$30 million (US$3.86 million), were being promoted as less harmful than regular tobacco and targeted young people.

The Food and Health Bureau suggested a total ban the following year and the current bill was introduced that February but legislative work stalled.

The amendments have come under fire from some pro-business lawmakers and other interest groups.

Liberal Party lawmaker Peter Shiu Ka-fai has proposed banning e-cigarettes but only regulating heated tobacco products.

"Our stance has been clear all along that it does not make sense that the government seems to be taking a harsher approach to innovative products than [it does to] traditional cigarettes themselves," he said.

Heated tobacco products caused less harm to users' health and the environment, he argued.

Shiu said a total ban on sales, but not possession, could encourage black market sales, which would only make law enforcement harder.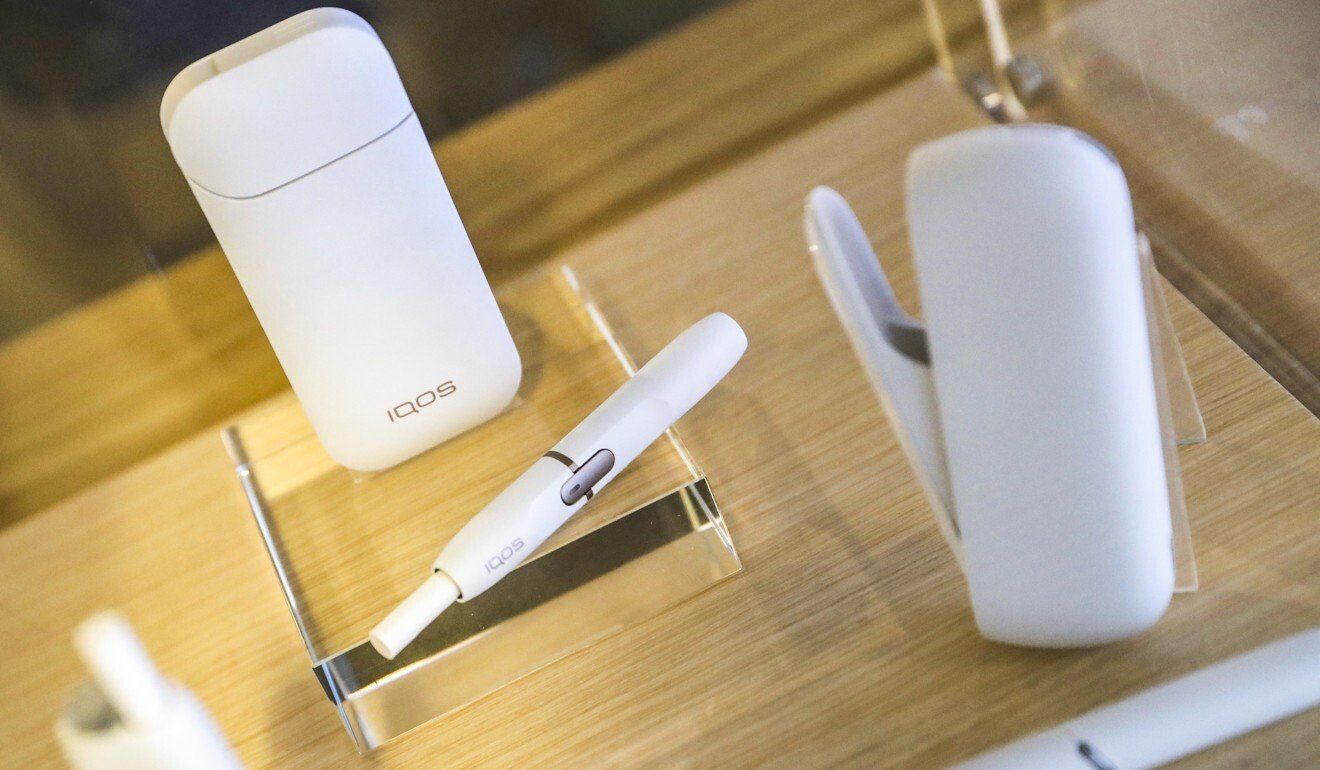 Heated tobacco products are displayed at a Philip Morris press conference in Hong Kong in 2019.

E-cigarettes are battery-powered devices that heat a solution called "e-liquid" in a cartridge to deliver an aerosol that users inhale or vape in the same way they would smoke from conventional cigarettes.

The e-liquid mixture included nicotine, propylene glycol – a chemical added to food, cosmetics and some medicines to retain moisture – flavourings and other additives.

Heated tobacco products do not rely on combusting, but instead the electronic device elevates the temperature to turn the tobacco into an aerosol.

Herbal cigarettes, which also fall under the legislation, are made with plants, herbs and fruits instead of tobacco, but look like conventional cigarettes and are consumed via combustion.

Elizabeth Quat, chairwoman of the panel on health services and a lawmaker with the Democratic Alliance for the Betterment and Progress of Hong Kong (DAB), said the government must not back down at the last minute and accept Shiu's "halfway-house" amendment.

Her party, the largest in the now 42-member legislature after opposition members resigned all together last year, recently held an internal meeting to decide whether their 13 lawmakers would support the total ban.

"I don't know whether the government has secured enough votes, but I urge it to stand firm and hope that our party has given them a shot in the arm," she said.

DAB leader Starry Lee Wai-king said the consensus in her party was to support the blanket ban, citing the need to prevent young people from becoming smokers.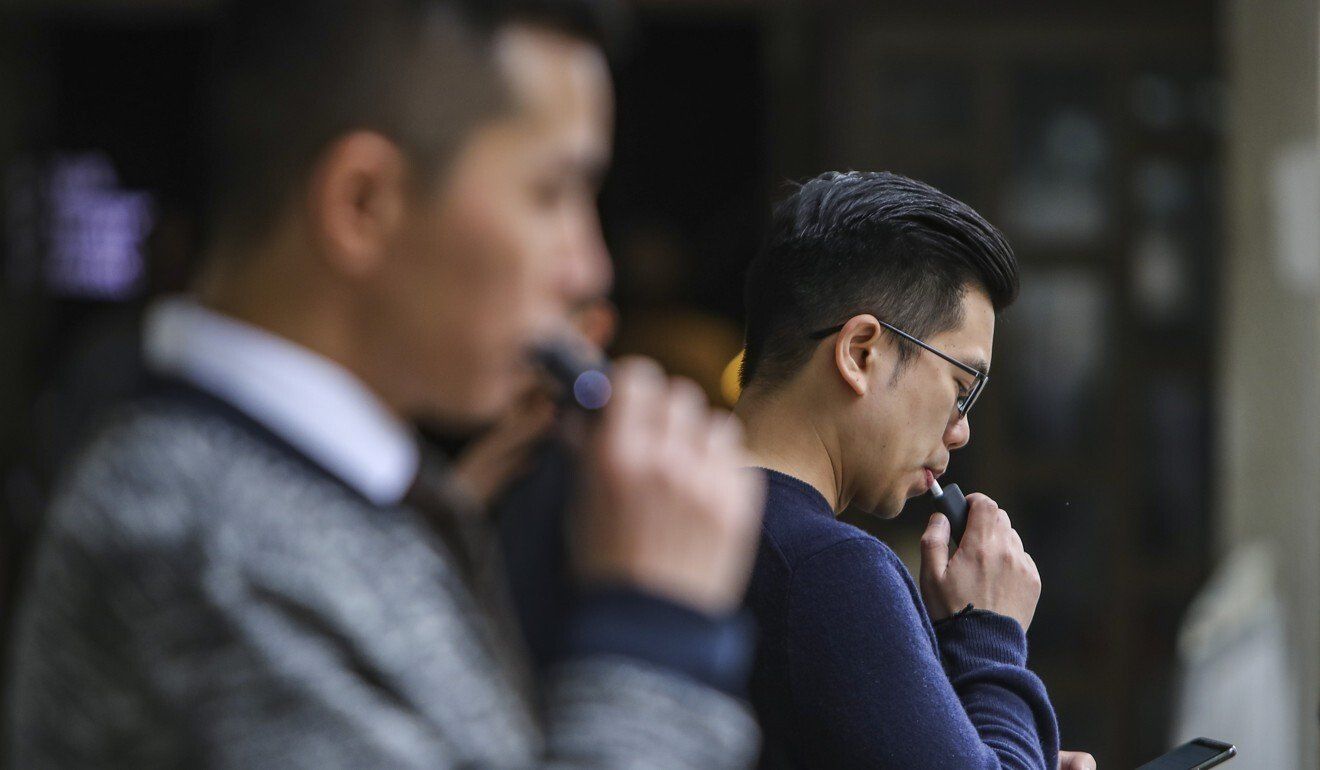 The e-cigarette ban has its detractors, including those who argue the devices are less harmful than conventional smoking.

If the bills committee backs the amendments, the legislation goes to the House Committee, before heading to the full chamber for a second and third final reading.

Pushing the bill over the line will require the DAB's 13 votes, together with four from the Federation of Trade Unions, two from the New People's Party and one from medical sector representative Pierre Chan – all of whom have voiced support for the ban – along with four from other lawmakers who also sit on the Executive Council and are bound to support the government.

But the legislation has sparked a fierce debate among other stakeholders. Joe Lo Kai-lut, convenor of the Heated Tobacco Concern Group, urged the regulation of heated tobacco products, saying it was in line with World Health Organization guidance.

"Different countries, including China, have now applied policy and regulatory measures to heated tobacco products. It is incomprehensible that the [government] refuses to make reference to these major stances on heated tobacco products," he said.

The Coalition on Tobacco Affairs, which represents the industry, urged authorities to take a "pragmatic and science-based approach" to the products.

"Regulation instead of a total ban … is in line with the right public health principles, and takes into account the freedom of 700,000 adult smokers to choose less risky heat-not-burn products," it said.

Ten school heads groups last month joined forces to urge authorities to take a tougher approach and impose an outright ban on new smoking products. Secondary school principal Liang Kwun-fan, an executive committee member of the Kowloon Region School Heads Association, said he supported lawmakers backing the blanket ban.

"I feel that the education sector's and parents' voices have been heard, which is good," Liang said, pointing to trends suggesting that many young people were picking up smoking habits from products such as e-cigarettes.

"It is important for there to be an outright ban on these smoking products … which are not good for students' health."

Liang said that many parents also supported banning new smoking products, adding that the next step should be urging pupils to also stay away from traditional cigarettes so as to eventually achieve a "smoke-free society".

Principal Dion Chen, chairman of the Hong Kong Direct Subsidy Scheme Schools Council, said he also welcomed the imposition of an outright ban on new smoking products.

"When these products are harmful to [students'] health, we believe it is best to ban them instead of just regulating them," he said. "Schools will also continue to educate students about the [harmfulness] of these products."