Legco secretary general Kenneth Chen says all those who resigned were entitled to the payments, so long as they completed the original four-year term of office.
A total of HK$13.3 million (US$1.7 million) in end-of-service gratuities were paid to the 19 Hong Kong opposition lawmakers who resigned last year, 16 of them in protest against a decision from Beijing that led to the ousting of four fellow pan-democrats.

Legislative Council secretary general Kenneth Chen Wei-on disclosed the payments to Finance Committee lawmakers in a written reply on Friday, stating that the Legco Commission had decided to pay all those who resigned so long as they had completed the original four-year term of office ending in September of 2020, "irrespective of whether they would continue to serve as Legco members afterwards". Each of the former lawmakers received about HK$700,000.

Meanwhile, in a separate response to lawmakers, the Chief Executive's Office also revealed that it had budgeted HK$5.08 million for city leader Carrie Lam Cheng Yuet-ngor's salary in the 2021-22 financial year, indicating that her voluntary 10 per cent pay cut – announced last year amid mounting political pressure and a worsening pandemic– was set to expire.

Fernando Cheung Chiu-hung, one of those who received the gratuities, told the Post on Friday that the opposition camp had been told they were owed the payments by the Secretariat in a meeting after their resignations last November.

"Lawmakers of the pro-establishment camp will also get such a gratuity payment, as long as they finished the four-year term," Cheung said. "Of course, this term was special given it's extended, but it should not affect what had been promised."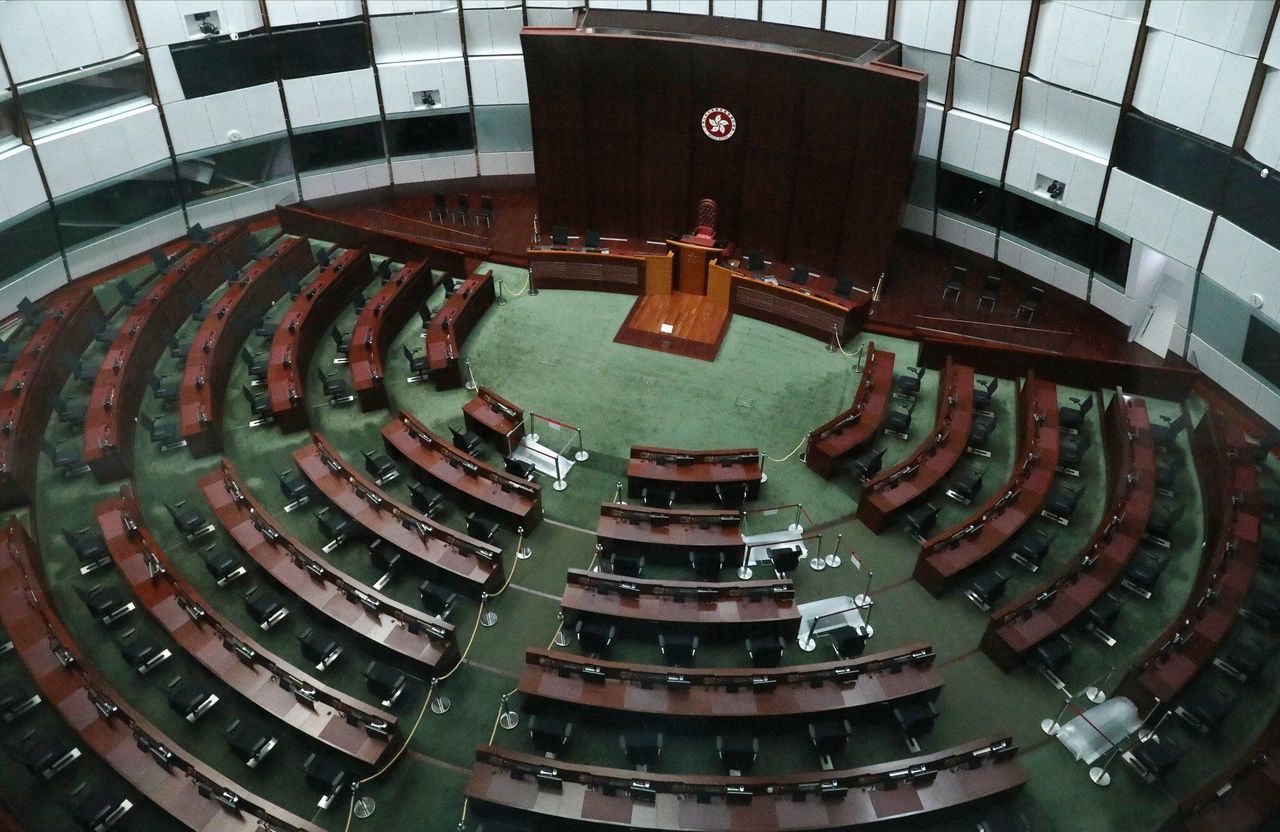 Opposition lawmakers who resigned last year were entitled to some HK$700,000 each in end-of-service gratuities.

Beijing extended Legco's term by at least one year last August to plug the gap created by a postponement of the polls suggested by Lam in light of the coronavirus pandemic. The term was recently extended yet again, until December, to allow for Beijing's drastic overhaul of the city's electoral system
to be implemented.

Three opposition lawmakers – Raymond Chan Chi-chuen, Eddie Chu Hoi-dick and Tanya Chan – left Legco in September soon after the postponement was announced. Another 16, meanwhile, put on a defiant show of solidarity in November when they resigned en masse following a resolution by China's top legislative body that resulted in the immediate disqualification of four sitting pan-democratic lawmakers.

The four had previously been barred from running for re-election because electoral officials were convinced that they lobbied for or supported foreign intervention in Hong Kong affairs.

According to the Legco Secretariat, the total amount of the gratuities paid to the 19 who resigned came to about HK$13.3 million. However, the four disqualified lawmakers – former Civic Party lawmakers Alvin Yeung Ngok-kiu, Dennis Kwok and Kwok Ka-ki, along with Kenneth Leung of the Professionals Guild – were only eligible for a total of HK$739,000 in expenses reimbursement and HK$346,000 in severance payments for their 34 staff members.

The four also had to repay their salaries and operation expenses for the period lasting from July 30, 2020, the day they were banned from seeking re-election, to November 11, 2020, the day of the decision to unseat them.

Under the current arrangements, in addition to their monthly salaries, lawmakers are entitled to an end-of-service gratuity calculated at 15 per cent of their wages, payable upon serving out a Legco term. Legislators currently earn HK$102,820 a month, while the body's president gets HK$205,640.

Pro-establishment lawmaker Kwok Wai-keung, who raised the question about the gratuities to the Legco Secretariat, said he did so because "the public has the right to know that these resigned lawmakers still got paid". Kwok, however, insisted that he was not suggesting it had been wrong to pay them.

Carrie Lam, meanwhile, was set to see her salary return to around its original level of HK$434,000 a month this financial year – after she voluntarily reduced it to HK$390,000 last year – with a spokesman for her office saying on Friday that the pay cut would expire by the end of June.

Since 2018, the chief executive's monthly salary has been adjusted annually in July based on inflation. From July 2019 to April 2020, Lam's monthly salary was HK$434,000, making her one of the highest-paid political leaders in the world.

Legco secretary general Chen on Friday also touched on the case of two pro-independence lawmakers-elect, Sixtus Baggio Leung Chung-hang and Yau Wai-ching, who were stripped of their seats in November of 2016 over anti-China antics during their oath-taking a month earlier.

Chen said Yau had been repaying in monthly instalments the roughly HK$930,000 in pay, operating expenses and advanced payments she was required to return. As of the end of March, Yau had returned a total of HK$175,000, and – with interest and legal costs – would owe a further HK$1 million over the next 41 months.

Legislative Council secretary general Kenneth Chen.

Leung, however, had failed to repay any of the funds he owed, Chen said, adding that it was not worthwhile incurring further costs trying to recover the money, as the activist had been declared bankrupt by the High Court.

Last year, Leung revealed he was seeking political asylum in the United States because of perceived threats to his personal safety after "being tailed by unknown agents" for months.

The Legco Secretariat also revealed on Friday that it had commenced legal proceedings against politician "Long Hair" Leung Kwok-hung – who was among four opposition lawmakers disqualified in 2017 over improper oath-taking the year before – in an effort to recover some HK$2.7 million in expenses.

The total legal costs incurred pursuing Baggio Leung and Leung Kwok-hung's cases was about HK$1.47 million, the Secretariat said.

Leung Kwok-hung is currently remanded in jail after being charged under the national security law.