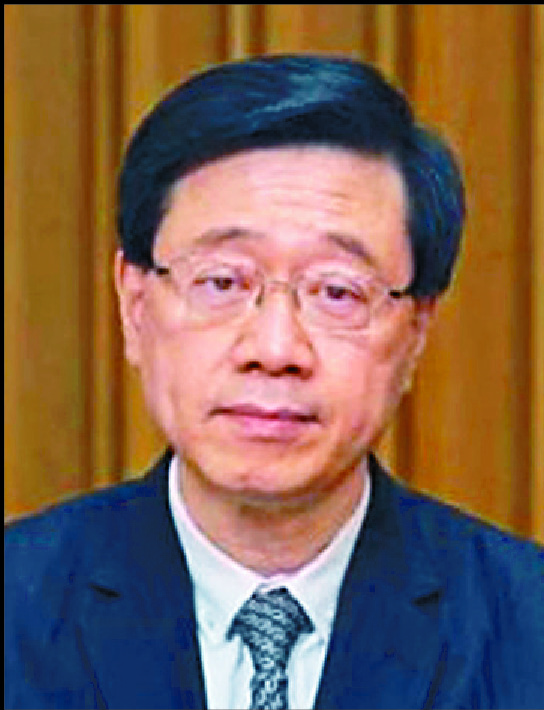 Lee brushes off APEC trip fears
Chief Executive John Lee Ka-chiu said he will lead a team of SAR officials to attend the Asia-Pacific Economic Cooperation summit in Thailand in November and that he is unconcerned about the impact of overseas sanctions on his trip.
In an interview, Lee said sanctions are imposed by unreasonable bullies that may create obstacles for him, but insisted the bigger the obstacles, the more motivated he is to overcome them.

"This is my first trip overseas as chief executive so I'll definitely lead the trip," he said.

Lee and Chief Secretary Eric Chan Kwok-ki are among Hong Kong officials under US sanctions due to the implementation of the national security law.

They affect access to bank facilities and cause them hardship in using airline services. Lee did not respond to questions on how he will overcome those difficulties.

"Some unreasonable bullying measures will create obstacles, but you have to overcome them or the bullies will believe they have succeeded," he said.

Lee reiterated his dedication to acquainting people with the good side of SAR developments and to getting overseas officials to come for seminars and summits to strengthen confidence in Hong Kong.

"Hong Kong might lose its original advantages if it keeps being isolated. That's why we need to enhance foreign countries' confidence in Hong Kong," he said.

The SAR will also send officials overseas for promotions, Lee said, adding that "[the officials] will not debate with overseas countries on whether their views are correct, we will just tell them the actual situation in Hong Kong."

Also up will be the enhancement of patriotic education in the coming five years.

More opportunities and support will be given to teenagers in jobs, start-up business and flat purchasing aspects, Lee said, expressing hope the younger generation can take care of him when he is old.

As for the reopening of the border with the mainland, Lee said it's difficult to resume quarantine-free travel as Hong Kong is seeing around 4,000 cases a day while the mainland is also facing pressure to keep the pandemic under control.

But the SAR will prioritize reducing inconvenience for cross-border travelers and reopen the border gradually, he said.

Lee also said he has asked the Steering Committee on Land and Housing Supply and the Task Force on Public Housing Projects to submit their research reports before the policy address in October.