Chief Executive Carrie Lam also offers her 'deep condolences' to those who have lost loved ones to the coronavirus.
Hong Kong's leader has pledged to spend as much as it takes and fully mobilise the civil service to overcome the city's raging fifth wave of coronavirus infections, a day after a top mainland Chinese official urged the government to step up its efforts.

For the first time since providing daily press briefings on the fast-changing Covid-19 situation, Chief Executive Carrie Lam Cheng Yuet-ngor also offered her "deep condolences" to those who had lost loved ones, just hours before health officials reported a record 198 coronavirus-related deaths over the previous 24 hours.

Her show of empathy was prompted by a journalist who asked for her response to lawmaker Priscilia Leung Mei-fun's complaint about delayed government efforts over the crisis, following the loss of her brother to Covid-19.

The chief executive offered her sympathy while also seeking to give people some hope.

"We send our deepest condolences to those who have lost their loved ones, whether you are a legislator or an ordinary citizen," she said.

"We also hope that through collaboration with all citizens, we can step out of the fifth wave of the pandemic as soon as possible, so people can resume their daily routines, live their lives and go to work healthily in Hong Kong."

Her fourth briefing since Wednesday came on the heels of reports that state leaders, including Chinese President Xi Jinping, had again expressed concern about the city, which confirmed more than 27,000 new cases on Saturday.

The message was relayed by Xia Baolong, director of the State Council's Hong Kong and Macau Affairs Office, who chaired the eighth meeting of a top-level, tripartite coordination group of both Hong Kong and mainland Chinese officials on Friday, according to Hong Kong China News Agency.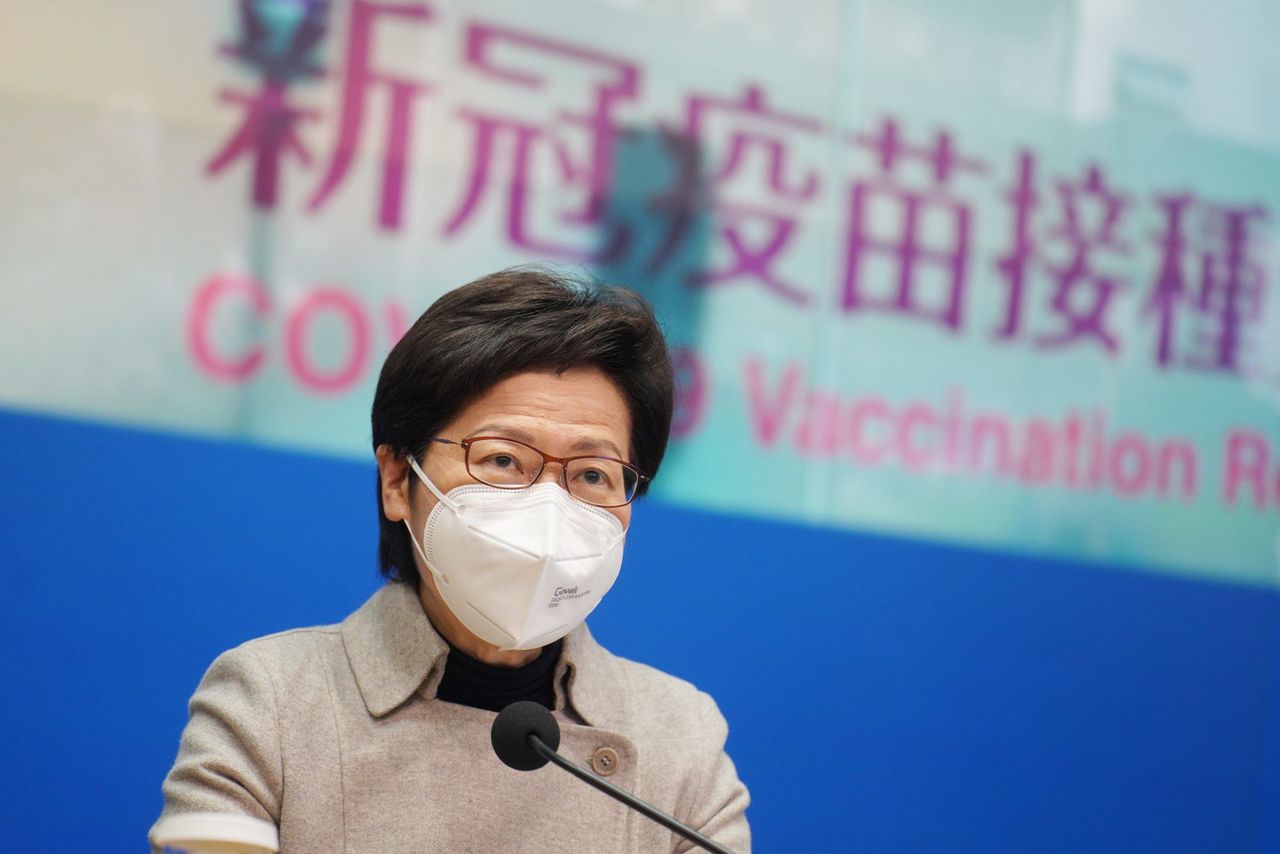 Chief Executive Carrie Lam has been holding daily press conferences to update the city on its Covid-19 crisis.

Xia said the city's anti-epidemic work should be "as accurate as acupuncture", while urging the local government to assume the main responsibility, ramp up coordination between departments, and improve treatment capabilities.

He also said the government should ensure the proper use of aid materials the mainland had sent and the isolation facilities it had helped to build.

On Saturday, Lam expressed her "deepest gratitude" to Xia for "his personal attention and tremendous efforts in coordinating various ministries and commissions".

"I can assure him and assure the people of Hong Kong that we are putting in every effort to fight this epidemic," Lam said.

"We are not short of money. We will spend whatever money is required to get us out of this epidemic as soon as possible.

"More importantly, the whole of the Hong Kong government is acting as one government to tackle this epidemic. I can assure you every bureau, every department has been mobilised in this fight against the epidemic."

In the city's latest budget, announced last month, Financial Secretary Paul Chan Mo-po set aside HK$54 billion to combat the virus, with HK$22 billion allocated to the Food and Health Bureau to increase virus screening capacity and buy rapid test kits.

About HK$6 billion is expected to be spent on procuring vaccines while HK$7 billion will be used for buying anti-epidemic equipment.

But Lam conceded the virus had dealt a blow to manpower, especially cross-border drivers, supermarket staff and health care workers, hampering the distribution of resources – which had been the "biggest challenge".

The Social Welfare Department also faced uphill challenges in hiring carers to look after elderly patients to be sent to new makeshift isolation facilities, despite the move to relax legal restrictions to hire 1,000 workers from the mainland, she said.

About 13 per cent of the civil service workforce had also been infected, involving 20,000 staff, but many had returned to work, she added.

The Civil Service Bureau has revised the protocol to require those who have recovered but test positive again to report for duty. The arrangement was implemented because of the manpower needed to keep the city running, Lam said.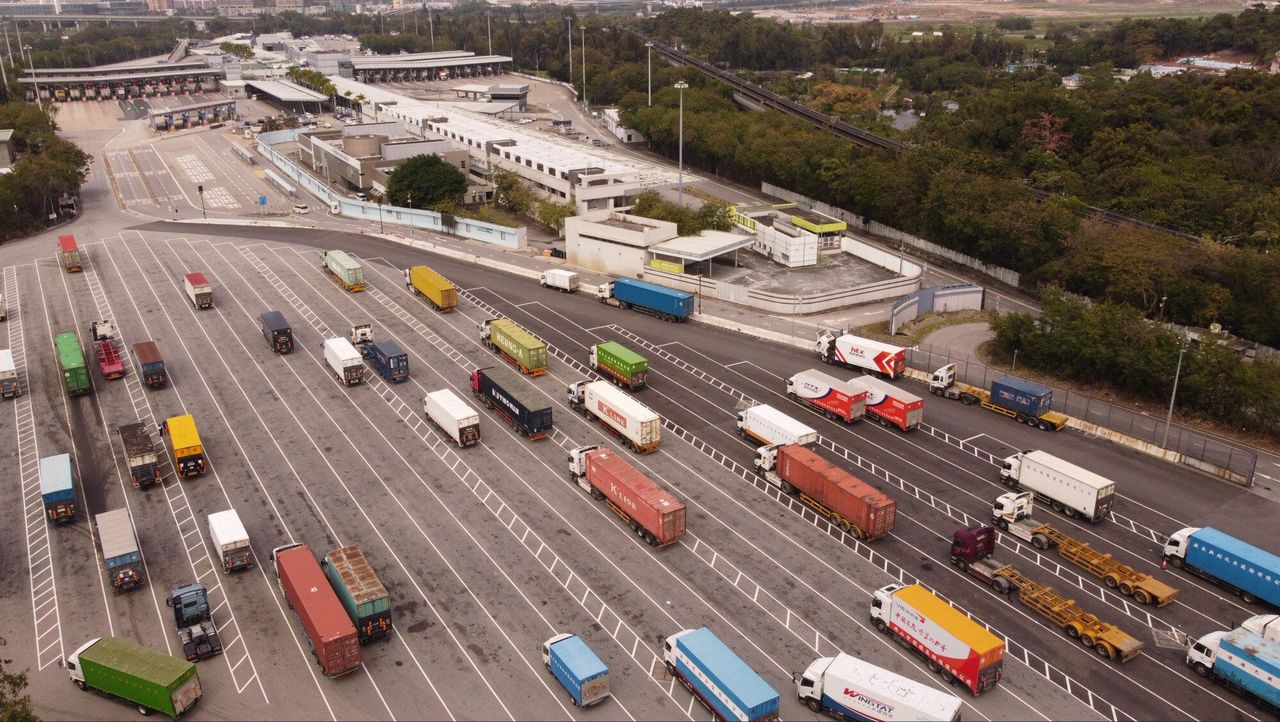 Trucks at the Lok Ma Chau border checkpoint.

To mitigate the shortage of cross-border drivers, a closed-loop arrangement was established on Friday to allow mainland drivers to deliver goods to Hong Kong directly, Lam said.

The temporary measure will allow them to ferry goods to Kwai Tsing Container Terminals and Tuen Mun River Trade Terminal, where they will transfer their cargoes to local drivers for distribution. The first batch of four loads of anti-epidemic equipment arrived on Friday.

She said supplies and prices of fresh produce had largely returned to normal since a recent bout of panic buying, triggered by anxiety over a potential citywide lockdown for universal testing. Lam and health experts have since said the first priority should be reducing death rates and treating severe patients.

A government spokesman said 2,400 tonnes of vegetables had reached Hong Kong on Friday by land and sea, similar to the average daily supply. A catty of choi sum and pak choi cost HK$7.30 and HK$4.70, respectively, returning to normal wholesale prices, he said. The mainland supplied 42 tonnes of chilled meat, about 80 per cent of the normal amount.

Secretary for Transport and Housing Frank Chan Fan, who joined Lam at the briefing, said since shipments began arriving by sea, more than 11,000 tonnes of goods had arrived from ports in Guangdong province, with as many as 18 rounds on Wednesday.

Two trains have carried supplies from the mainland on a daily basis, delivering up to 600 tonnes of goods so far. Chan pledged to ramp up the frequency soon.

He said buses and minibuses had been deployed to help the Fire Services Department transport Covid-19 patients, with 500 taxis expected to join the fleet. Some 400 cabs were handling bookings from patients hoping to visit clinics, with 4,000 appointments daily, he said, adding that the figure was expected to increase.

Secretary for Commerce and Economic Development Edward Yau Tang-wah said supplies from the mainland included medical items, rapid test kits and 450,000 cartons of Chinese medicine, 374,000 of which had been delivered.

He said supplies had reached frontline medical workers as well as high-risk staff in other industries, ranging from care home employees to drivers, through the health department and an alliance helmed by the Home Affairs Bureau.

The Government Logistic Department had been increasing storage space, including at the Convention and Exhibition Centre, paid by its management company, and Shaw Studios, he said.

Professor Song Sio-chong, from Shenzhen University's Research Centre of Hong Kong and Macau Basic Law, said Lam's remarks only showed her combative character to always resort to a rebuttal.

"If I were her, I would have just said what I have done and to which degree," Song said.

Political analyst Lau Siu-kai, from the semi-official Chinese Association of Hong Kong and Macau Studies think tank, said Beijing would judge Lam on outcomes rather than her pledges.

But he said her condolences were overdue, adding that showing empathy might be the most direct way to establish the emotional bonding needed for governance.

"One doesn't just keep boasting how good one is or how few mistakes one has made. Establishing emotional bonding can be more effective sometimes," he said.