Some fans heard booing as 'March of the Volunteers' played when Hong Kong took on Myanmar on Saturday.
Football fans who booed the Chinese national anthem at a weekend match could be in breach of a Hong Kong law that criminalised displays of disrespect to the song, a lawyer warned on Sunday.

The match between the city's representative team and Myanmar at Hong Kong Stadium on Saturday evening, which attracted a crowd of more than 12,000, was the first home match for the local football team since the National Anthem Ordinance was enacted two years ago.

Solicitor Vitus Leung Wing-hang said police, who were present at the match and videoed spectators as "March of the Volunteers" was played, could take action if the evidence supported it or if complaints were made.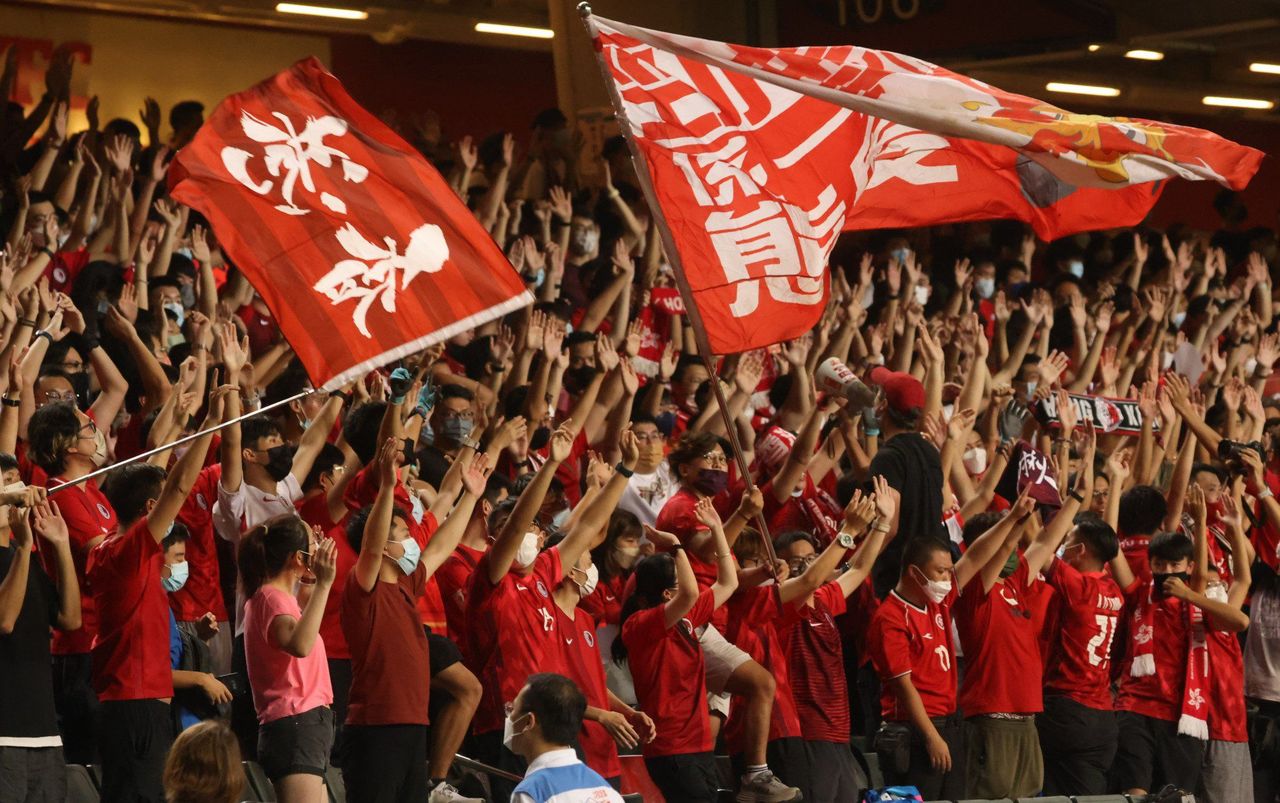 Fans at the match on Saturday.

"The ordinance regulates that people must stand solemnly and deport themselves with dignity when the national anthem is being played and sung," he said. "Those who intentionally booed, turned around or made indecent gestures are all evidence [of breaches of the law]."

But Leung admitted it might be difficult for police to identify and trace those responsible, especially as the spectators were all wearing masks. Fans might argue that they did not engage in illegal behaviour deliberately but it was the result of other factors, he said, adding validity of that argument would be up to the courts to decide.

The booing, on a much smaller scale than what was heard at earlier incidents, stirred up controversy on social media. Some complained authorities and police were excessively surveilling the public.

"We went to support our Hong Kong team, but instead we were monitored," a Facebook user wrote.

Another user said: "It will be a joke to force residents to love the country."

Others criticised what they called the politicisation of sports events and damage to the city's image.

"It indeed destroyed the atmosphere of the football match," one internet user wrote.

Another said: "Hong Kong is disappointing. It was an international match and there were many others who were watching it. Why make it so unpleasant?"

Police on Sunday said no one had been arrested, but the force would carry out its duties in line with the law and take enforcement action if any illegal behaviour was found.

The ordinance, enacted in June 2020, states people must stand solemnly and "deport themselves with dignity" when the anthem is played on certain occasions, including major sporting events, and they should not behave in a disrespectful manner.

Anyone convicted of an intentional insult to the anthem can face up to three years in jail and a maximum fine of HK$50,000 (US$6,370).

Police can charge people up to two years after the alleged offence, as opposed to six months for many minor crimes.

The bill was introduced in 2017 after Hong Kong football fans began to boo the anthem in 2015 against a backdrop of anti-China sentiment in the city.

But the legislation triggered a row as critics complained about its vague wording and effect on the city's freedom of speech, although the government insisted most people would be unaffected by it.