Chief Executive John Lee's administration aims to achieve an 'all yes vote' result to show Beijing its strong leadership and determination, analysts says.
A multibillion-dollar funding request for a controversial temporary public housing scheme in Hong Kong is on track to secure unanimous backing from lawmakers on Friday despite their earlier criticism of the plan amid intense lobbying by officials.

Analysts said Chief Executive John Lee Ka-chiu's administration would aim to achieve an "all yes vote" result to show Beijing its strong leadership and determination in tackling Hong Kong's housing problem. An opposition party official said he would not be surprised by that outcome under the city's new political order.

A HK$14.91 billion (US$1.9 billion) funding request for building the first batch of four light public housing projects will be put to the vote at the Legislative Council's finance committee meeting on Friday.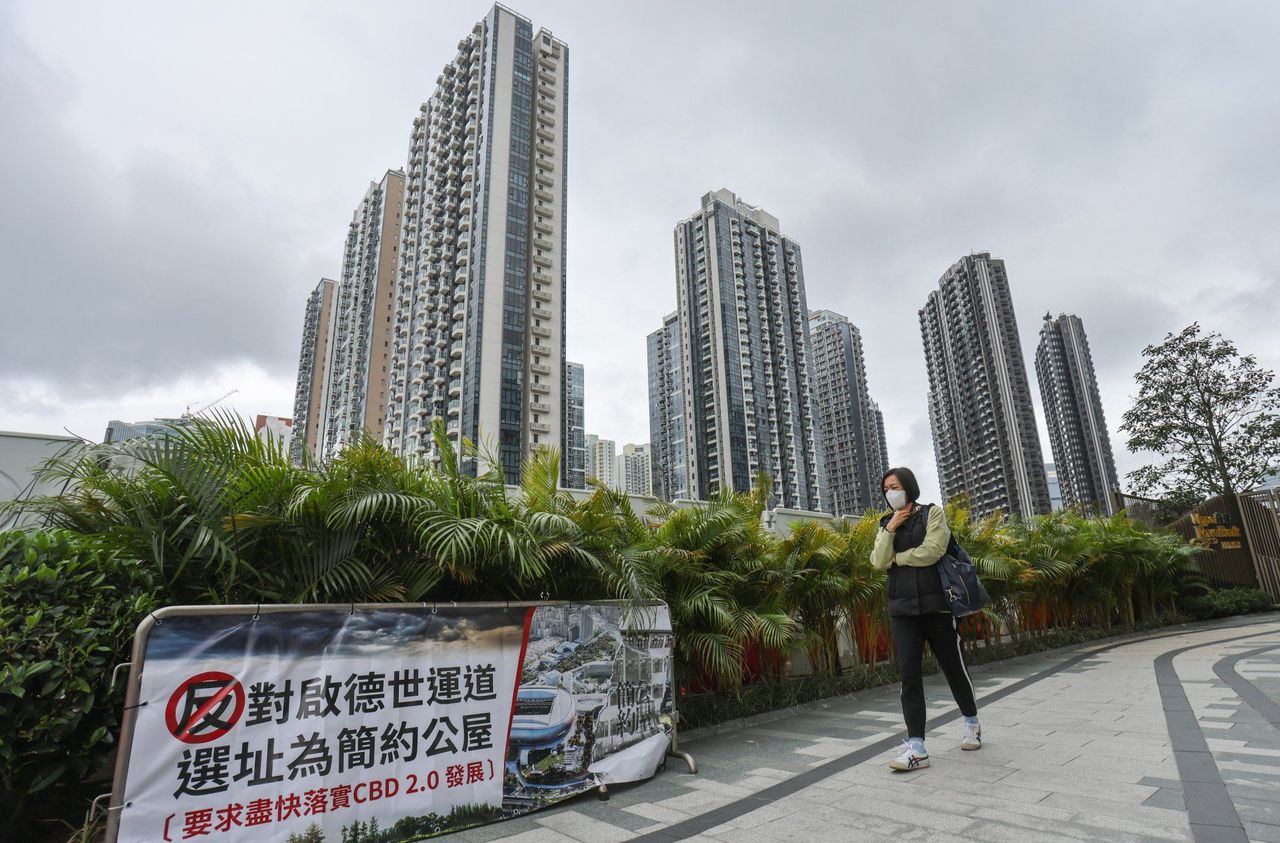 A banner with a message disapproving the government's plan to build temporary homes in Kai Tak.

The four projects, supplying 17,000 flats in phases from 2024-25, include two in Yuen Long and Tuen Mun in the New Territories, and two in the urban areas of Ngau Tau Kok and Kai Tak.

The scheme, one of Lee's pet policies, sparked controversy when it was first mooted last December after public concern about the hefty construction cost of around HK$27.4 billion. Lawmakers and residents criticised using prime urban commercial sites to build temporary public homes.

The government backed down and revised the design to save HK$1 billion and agreed to seek funding from Legco in two phases instead of a lump sum.

Some legislators who supported the project said they received supplementary information from officials this week to convince them it was a feasible scheme.

"Officials have kept updating me with new information and explaining more details on the projects," said Tik Chi-yuen, the sole non-establishment lawmaker in the legislature following Beijing's "patriots-only" electoral overhaul two years ago. "Probably the central government is concerned about Hong Kong's housing problem and that the government does not want to see more opposing views at Legco."

Tik, of the centrist party Third Side, had voiced his support for the scheme because it could help low-income families.

Major parties such as the Democratic Alliance for the Betterment and Progress of Hong Kong, Federation of Trade Unions and the Liberal Party have indicated they would vote for the scheme.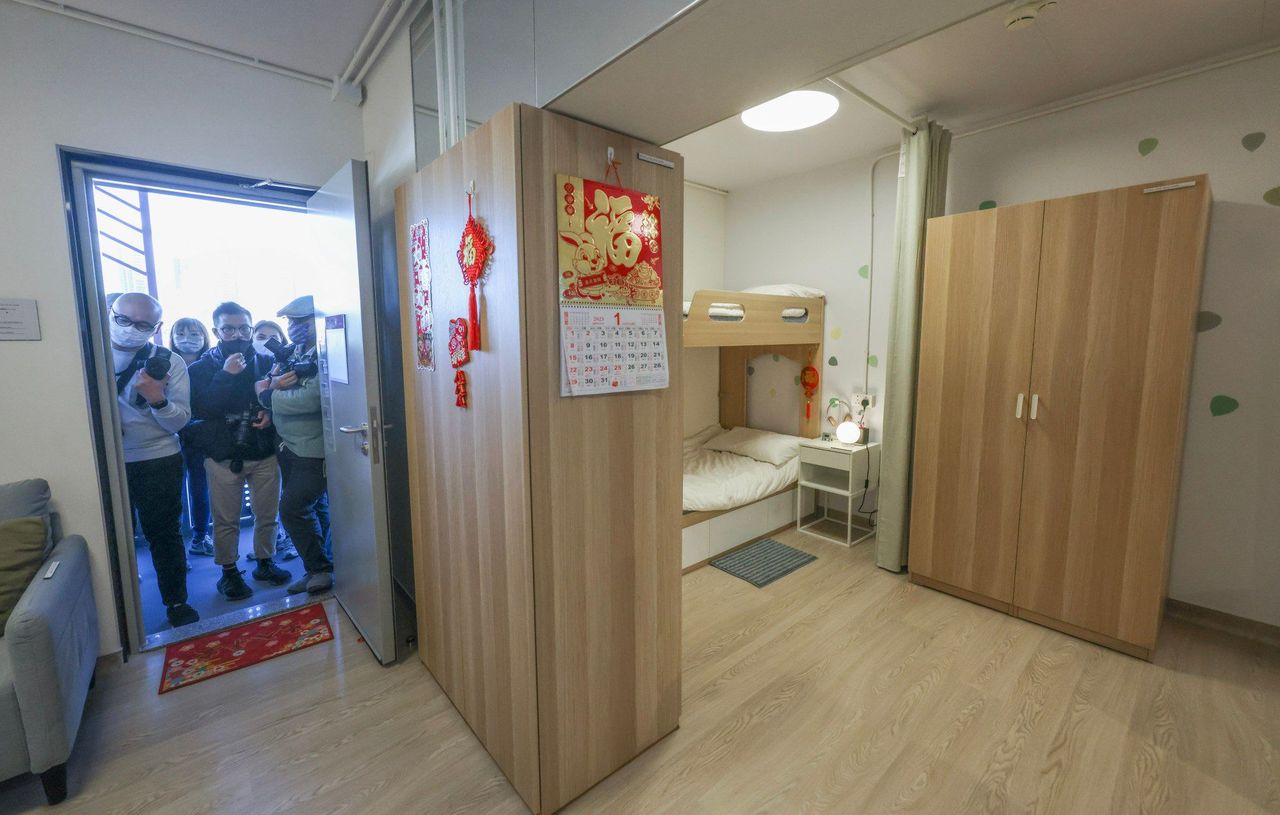 A 330 sq ft mock-up flat under the government's light public housing scheme.

The public works subcommittee had given the projects' first phase the go-ahead at a meeting last month, with a vote of 34-0. Lawmaker Kitson Yang Wing-kit, a vocal critic of the scheme, abstained.

But Yang, who represents constituents in Kowloon Central, including Kai Tak, on Thursday said he would vote for the scheme at Friday's meeting.

Denying it was a "U-turn", he said he had to follow the voting intention of the A4 Alliance, the group formed by him and three other non-affiliated lawmakers, who agreed to vote collectively for the plan earlier this week.

"But it is not to say that we just let the funding request pass and will not follow up on the concerns raised by the public," said Yang.

A telephone survey released on Thursday by the opposition Democratic Party found that 57.9 per cent of the 803 respondents believed the light public housing scheme was not cost-effective. Only 21.4 per cent were satisfied that it was value for money.

Out of the respondents, 58.6 per cent also said the government should speed up building ordinary public housing instead, according to the poll conducted between February 20 and March 15 this year.

Party vice-chairman Mok Kin-shing said there was a lack of comprehensive public consultation, accusing the government of only being interested in pushing the scheme through the legislature.

On the possible "all yes votes" by the finance committee, Mok said: "Under the new composition of the Legco, I would not be too surprised if we see such a result. Public views do not seem to be reflected in the Legco."

Without naming Yang, Mok said: "We can see that even the legislator who had said he would organise protests to oppose the scheme now has made a U-turn and supported the scheme."

Political scientist Chan Wai-keung of Polytechnic University said: "The central government might see the light public housing issue as a test of Lee's governance. Lee cannot afford to let it turn ugly, and probably he would like to see an 'all yes vote' result."

Veteran political observer Professor Lau Siu-kai shared similar views and said he believed Beijing also attached great importance to the issue, as it did not want to see the opposition use the controversy to attack the credibility and authority of the local government.

But he would not comment on speculation that Beijing's liaison office – the central government's representative agency in Hong Kong – had helped lobby legislators.