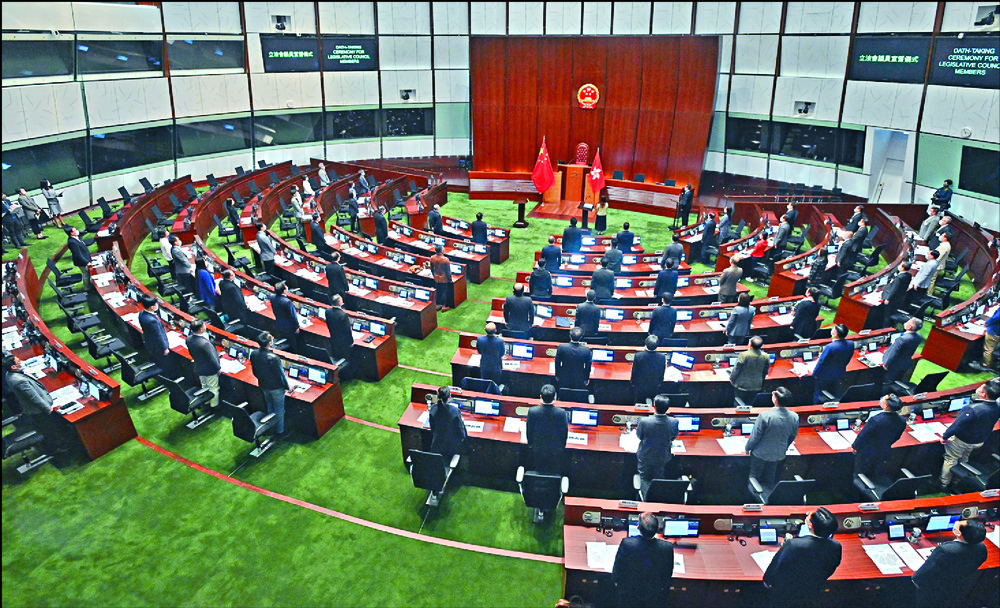 Lawmakers prepare for oaths as Leung tipped to keep top post
The 90 newly-elected lawmakers will take an oath pledging allegiance to the SAR and vow to uphold the Basic Law before Chief Executive Carrie Lam Cheng Yuet-ngor on Monday in the Legislative Council chamber.
The SAR emblem inside the Legco chamber was temporarily replaced last week with the national emblem for the oath-taking ceremony.

The first two lawmakers to take the oath, according to seniority, will be Liberal Party's Tommy Cheung Yu-yan, elected in the catering sector functional constituency, and Jeffrey Lam Kin-fung, from the Business and Professionals Alliance of Hong Kong, elected in the commercial (first) sector.

In a rehearsal yesterday for the ceremony, Lam forgot to raise his right hand while taking his oath and jokingly wondered if Legco secretary general Kenneth Chen Wei-on noticed. "That was a bad example set right there and I would like to call on all lawmakers to follow the rules," Lam said.

Reelected Andrew Leung Kwan-yuen, who was Legco president in the previous term, reminded lawmakers-elect not to miss the start of the ceremony when the national anthem is played, or they will be "disqualifying themselves."

But Leung sidestepped questions on whether he will be seeking reelection as the Legco president. The deadline fro nomination is on January 4, with the new president to be elected on January 10.

A special forum will be held for candidates to present their manifesto and respond to lawmakers' questions, followed by the election.

Leung is widely expected to be reelected as Legco president among the pro-establishment camp, as he has been able to "keep the ship steady in a stormy sea" over the past five years.

"Unless there are special reasons, it is not really possible that there will be a change in presidency, or else Leung will seem like he is being demoted," a pro-establishment lawmaker said.

Another veteran member from the pro-establishment camp said an experienced lawmaker to "call the shots" will be beneficial as two-thirds of the lawmakers are newcomers.

"Newcomers will be fighting for chances to speak in the chamber but the chamber is not a private company or a personal YouTube [channel], everyone should follow the rules," he said.

Another member from the pro-establishment camp said Democratic Alliance for the Betterment and Progress of Hong Kong chairwoman Starry Lee Wai-king will continue chairing the House Committee while Leung remains a strong favorite for the presidency.