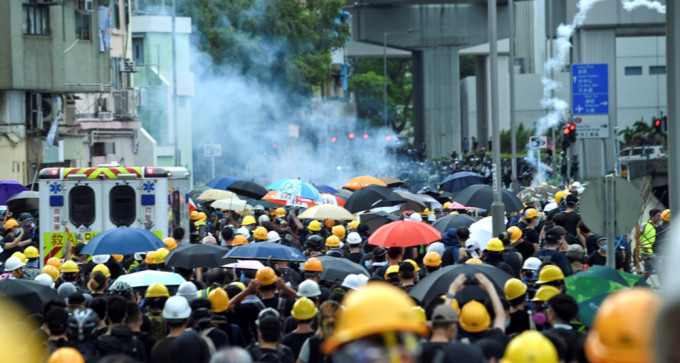 Lawmaker says police to sum up fate of 6,000 protesters in February after meeting commissioner
The fate of about 6,000 protesters will be decided in February as police aim to finish investigations at that point to confirm whether they will close the files, continue the investigations or to initiate prosecution, lawmaker Tik Chi-yuen cited police commissioner Raymond Siu Chak-yee saying so. 
Tik, the chairman of Third Side, referred to Siu's numbers that about 10,000 people were arrested during the 2019 social unrest and the cases for about 1,000 have been completed. 

About 3,000 are facing trials and hearings and the cases for about 6,000 are still being proceeded by police, Tik also said, after meeting Siu on Wednesday. 

Tik added when he further asked Siu when will the investigations of the remaining 6,000 cases finish, Siu answered that police will vet the cases one at a time again to see how they should be followed up. 

Siu also noted police wish to complete those 6,000 cases in February to come up with a clear conclusion of whether they should initiate prosecution, continue the investigations, or close the files. Yet, it depends on the situation of each of the cases, Siu told Tik. 

Tik went on to say that police don't have the exact number of how many cases will be closed, and that the police chief didn't directly answer whether those cases will be handled "leniently." However, Tik said he can tell from his understanding that Siu bears a lenient attitude towards these cases. 

Tik wished over 90 percent of these 6,000 cases could come to a conclusion and understood that some special cases require extra time. 

The Third Side lawmaker also called on the police to tackle the issue as soon as possible because postponing the cases is not fair to the arrestees and their families, saying that some even have to see a psychiatrist. 

Caspar Wong Chun-long, the vice-chair of Third Side, said about 900 cases are related to the Polytechnic University siege, and hoped the cases for teenagers who weren't directly involved in violent crimes will be handled with mercy. 

According to police's figures released in November last year, 2,915 out of 10.279 arrestees had faced or were facing judicial procedures by the end of October, taking about 28 percent of the overall number. 

Among those 2,900 arrestees, 1,391 were convicted, 304 signed a bind-over order, 57 saw their cases closed and 382 walked free after a trial.