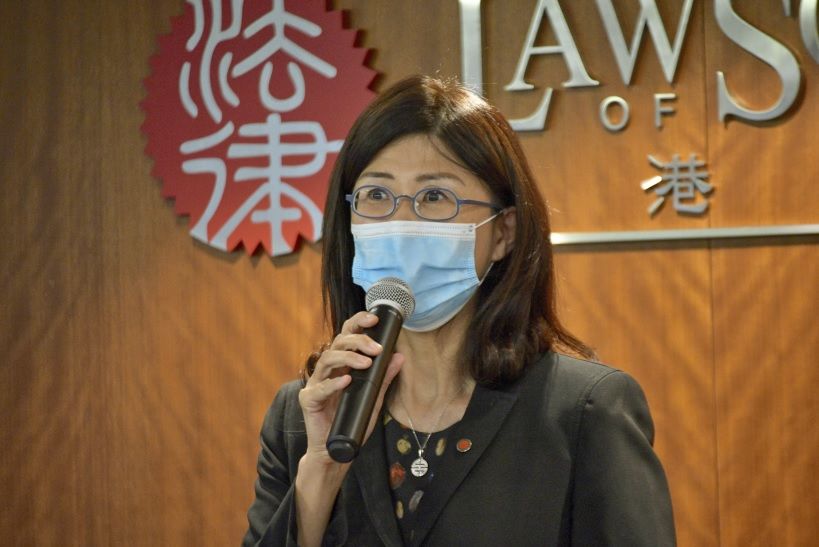 Law Society candidate cannot withdraw from race: chairwoman
A candidate running for the Law Society's council election cannot withdraw from the race as the voting period already started, chairwoman Melissa Pang said.
The professional body has already started accepting proxy and mail-in votes. All the candidate, Jonathan Ross, can do is to resign upon being elected, she said.

Ross, a "liberal" camp candidate, announced on Saturday that he was withdrawing from the election to be held next Tuesday, citing the need to protect his personal safety and that of his family.

Pang said the society is treating Ross' accusation of intimidation seriously and has already reported the case to the police, and suggested Ross do the same.

"We have already started accepting proxy votes and those submitted through mail. There is no withdrawal mechanism within our rules and regulations, and therefore, a candidate's intention to withdraw will not affect election procedures," Pang said.

"Candidates can opt to resign as a council member after being elected. According to the society's rules and regulations, the council has the right to fill in the vacancy left behind after the resignation with a co-opted member," she added.

The police said earlier that it has received a report that a 74-year-old male member of a society allegedly received intimidating text messages, and that the case is listed as a "request for police investigation."

No one has been arrested so far.

However, barrister Athena Kung Ching-yee questioned whether Ross's "withdrawal" was an election strategy to attract sympathy votes and stir up dissatisfaction toward the "professional camp."

"Without sufficient grounds to support his accusation, his so-called withdrawal is most probably be an election strategy by the liberal camp … Law Society members should be careful and not mistakenly vote for them," Kung said.

"Did he make a report to the police? If he hasn't, then there will be huge doubt regarding his accusations. Even if he did report it to the police, is there independent evidence to support his accusations? [Ross] should explain to the public as soon as possible," she added.

Two candidates regarded as more liberal also weighed in, with Selma Masood saying that she respects Ross' decision and "wished him well."

Henry Wheare said he did not know the actual reasons behind Ross' withdrawal and added that he will not withdraw from the election.

"If elected, I hope to take protective measure to prevent individual candidates from being bullied and intimidated, as I also hope the Law Society will condemn those playing politics in the election," Wheare said.

In a statement on Saturday, Ross, who is seeking reelection, said he is withdrawing from the council election of the Law Society scheduled on Tuesday due to personal safety concerns for himself and his family.

He also denied that his withdrawal was related to earlier accusations that he had discussed private matters with a judge from China's supreme court during an official visit with the society.

Ross said the five-minute conversation was in a public setting and was totally appropriate, and that the Law Society already thoroughly investigated the incident, with no impropriety found.

"Whoever wins the election, I am sure that the society will continue working as the professional body it has always been. I fail to understand the level of fear that our candidacies have engendered in certain quarters," he earlier said.

"It is a shameful and sad day for Hong Kong that an election for Council of our honorable institution has sunk to this level," Ross added.