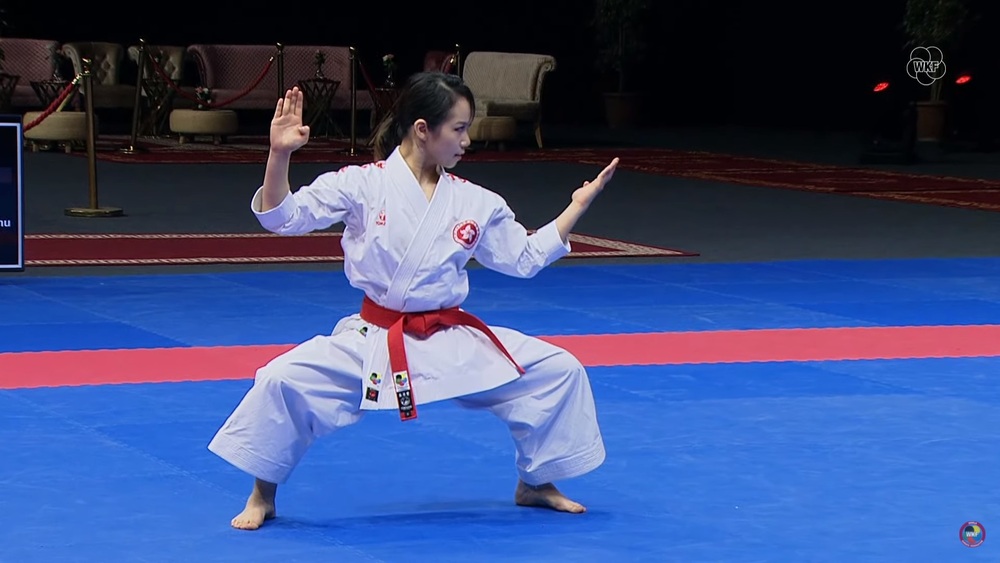 Lau finds silver lining amid aims to 'fine-tune'
Hong Kong's Olympic bronze medalist Grace Lau Mo-sheung snatched silver in the Karate1 Premier League in Rabat, Morocco, yesterday, losing by 0.86 points to Japanese karateka Hikaru Ono in the finals.
This marks the second consecutive silver medal for Lau after she placed second in Portugal last month. It is also her ninth consecutive podium finish in an international competition since February 2020.

Lau now holds three silver and six bronze medals.

In the final, 30-year-old Lau, who ranks fourth globally, performed Unsu against 29-year-old Ono, with the latter ranked second.

Lau scored a 25.74 but fell short in both technique and athletic performance. As a result, she scored 0.86 points behind Ono, who came in at 26.6 with her Suparinpei.

After the match, Lau reflected that she lost because she lacked accuracy and consistency, adding she had not practiced Unsu for several years before picking it up again in March.

"Unsu has a very high degree of difficulty and I still need time to get used to it," Lau said.

"What I'm aiming for in each competition is to perform better than I have before. The most important thing is that I can perform what I want to perform."

In July, Lau will compete in the World Games - a multisport event held in Alabama, United States. In the meantime, she will work on "fine-tuning" her technique.

When asked which of her World Games' competitors she has her eye on, Lau said the current No 1 - 40-year-old Spaniard Sandra Sanchez - and Ono will be the toughest to beat.

Earlier in the competition, Lau eased through the group stage and eliminated 23-year-old Raquel Roy Rubio from Spain, who ranks 20th, with a 0.94 point margin in the quarterfinal.

She proceeded to win a nail-biting victory over 24-year-old Japanese karateka Shimizu Natsuki by a 0.2 point margin on Saturday.

After the Morocco stage, there will be no further events in the Karate1 Premier League until September.