Delivering unprecedented lecture to profession, Lam calls on teachers to do more to instil traditional Chinese values in pupils.
Teachers were partly responsible for young people's lack of understanding about Hong Kong's constitutional status and should focus more on improving students' moral values, the city's leader said on Thursday in an unprecedented lecture to the profession.

Chief Executive Carrie Lam Cheng Yuet-ngor also warned her audience that a stronger sense of national identity must be instilled in the younger generation or the social unrest that gripped society in recent years could return.

Lam spoke for 75 minutes on the powers and functions of her office and the scope of the Basic Law, the city's mini-constitution, to roughly 100 principals and teachers gathered at the Productivity Council in Kowloon Tong, while the event was also live streamed.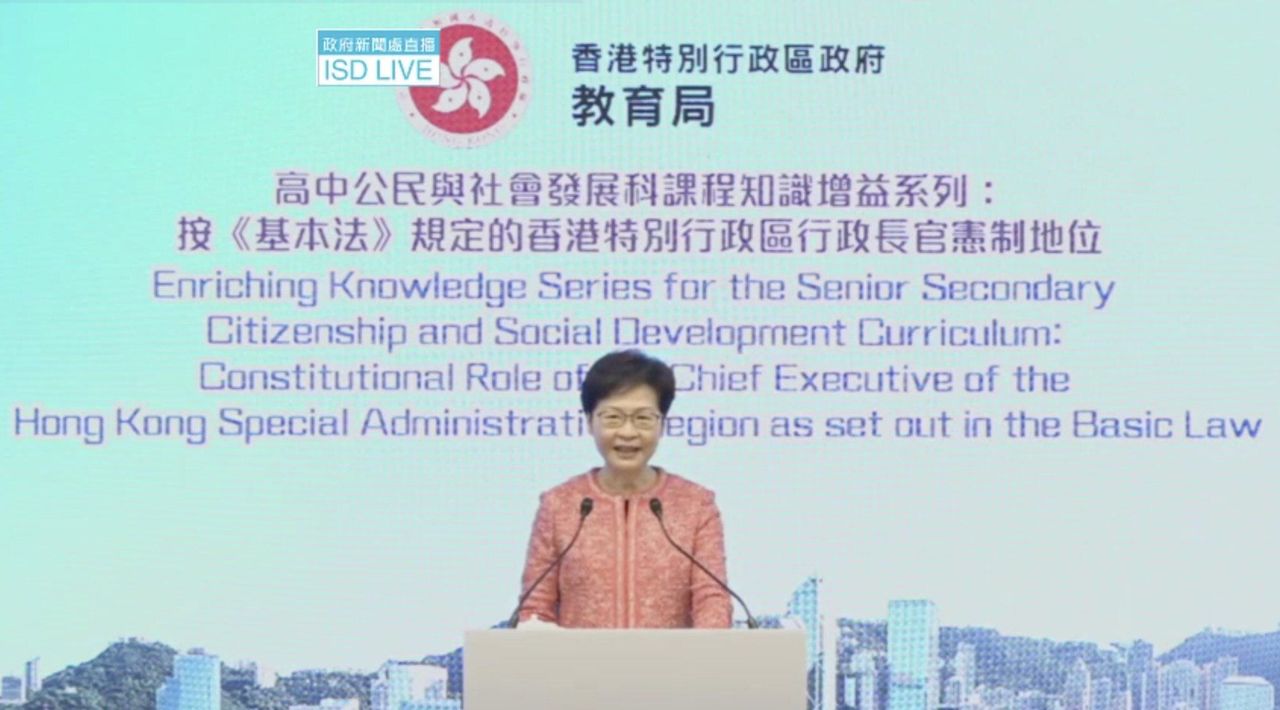 Carrie Lam delivers her talk to Hong Kong teachers

Her speech, raised as an idea in her October policy address, was delivered amid a wider campaign to align schools with national values following the 2019 anti-government protests that were heavily supported by students.

Lam lay at least some of the blame for that involvement at the feet of teachers, telling her audience they needed a fuller grasp of the "one country, two systems" policy that governed relations between Hong Kong and mainland China.

"On the understanding of the relation between 'one country' and 'two systems', Hong Kong cannot be said to have grasped that well," she said.

"Perhaps the government or the education sector have not been teaching this very well. This has led to some misconceptions in the society about this basic issue."

She warned that if those misunderstandings were not corrected, there could be a return to the chaotic events of the past few years.

"If we cannot let our citizens, especially our young people, understand the constitutional order … develop a national identity or appreciate the importance of national sovereignty and security, we will still see problems in the future."

She said the government did not want to rely only on the Beijing-decreed national security law – which bans acts of subversion, secession, terrorism and collusion with foreign forces – to tackle such threats.

"We hope to prevent such threats from happening in Hong Kong, to stop foreign forces exploiting our citizens, especially our young people doing acts to endanger national security," Lam said.

"I hope that we can – through you, the respected teachers of your students – instil these concepts into students during class, not necessarily only through the citizenship and social development subject, but also through history, geography or even environmental protection subjects."

During her address, she outlined the history of the drafting of the Basic Law and the design of the political system adopted when Hong Kong returned from British to Chinese rule in 1997.

The city operated under "an executive-led system with the chief executive as the core", Lam said, stressing that the leader was more than someone at the helm of local government but also the head of Hong Kong special administrative region.

Decrying what she saw as the decline in traditional principles, she said: "I also hope teachers can pay more attention to instilling proper moral values into students.

"The Chinese people value family and moral virtues. But in recent years, I am not sure if it is because of the impact of social media, it seems people are gradually paying less attention to these traditional but important values."

She also admitted authorities could do more to connect with the population.

"Sometimes there are criticisms that our officials are out of touch with society. I think some are valid comments," she said.

"I also encourage our officials to get out of their offices more to reach out to people and organisations to understand and help solve their problems."

Hong Kong Federation of Education Workers chairman Wong Kam-leung agreed more needed to be done to enhance students' understanding of the one country, two systems policy.

"In the past, society has been highly politicised. And national education was often demonised, making it difficult to promote," Wong said, as he accused the government of not offering adequate resources to schools for that purpose.

Speaking on the condition of anonymity, a veteran teacher said Lam should not make scapegoats of teachers.

The teacher, with more than 10 years' experience teaching the now-scrapped liberal studies subject, said: "The government should reflect on what it had done and whether it could convey proper values and attitudes to students."

Lam's open criticism of the profession could affect its public image, relations with students and wider social harmony, according to the teacher.

Thursday's lecture was organised by the Education Bureau's Curriculum Development Institute as part of its "enriching knowledge series" for the curriculum.

Others invited this year to deliver the online lectures were: Professor Albert Chen Hung-yee, of the Basic Law Committee under the National People's Congress (NPC) Standing Committee; Professor Lau Chi-pang, of Lingnan University; and Professor Lau Siu-kai, from Beijing's semi-official think tank the Chinese Association of Hong Kong and Macau Studies.

Separately on Thursday, Lam delivered a speech via video-link to the Forum on Network Media of China, held in Guangzhou, in which she said the government was studying overseas experiences of how to deal with fake news.

She said the anti-government protests of 2019 were partly caused by the spread of fake news online, inciting many young people to break the law and undermine national security.