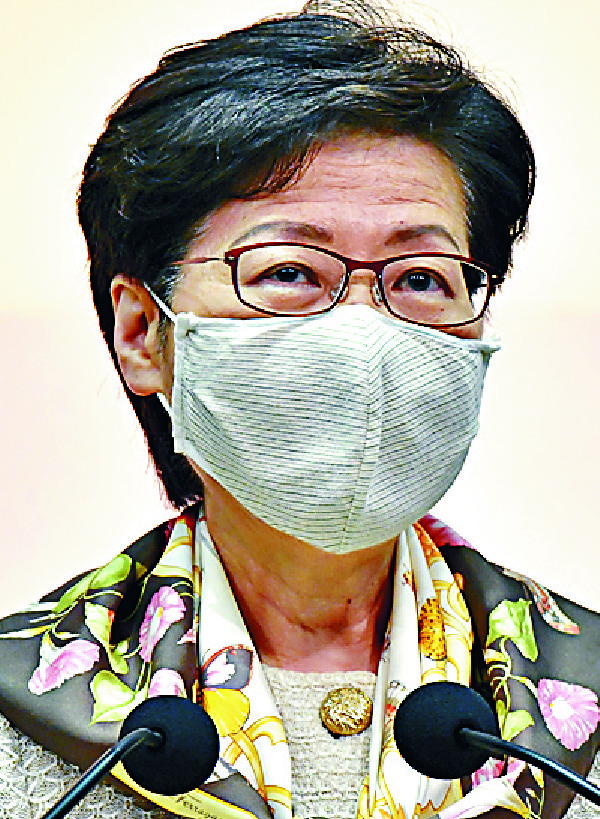 Lam holds fire on rally slogan
Chief Executive Carrie Lam Cheng Yuet-ngor said it is hard for her to judge if the slogan "end one- party rule" - frequently heard at June 4 vigils - is against the national security law.
But she did call on people to respect the ruling Chinese Communist Party.

Speaking before an Executive Council meeting yesterday, Lam said whether the slogan is against the law depended on related matters.

"Under the premise of respecting the constitution, we should also respect the ruling party at the same time," she said.

"It is the 100th anniversary of the party, and we can all see the improvements and the good life of the people under the party's rule.

"Respecting the ruling party of the country is our stance, but to what extent will disrespect be a breach of the law? That would depend on the law, evidence and behavior etc."

Richard Tsoi Yiu-cheong, secretary of vigil organizer the Hong Kong Alliance in Support of Patriotic Democratic Movements of China, said that it will hold to the belief that one-party rule should end.

The alliance has been in multiple marches and rallies with Hongkongers since its establishment in 1989 to uphold truth and justice, Tsoi said, but he expects the freedom to take part in marches and assemblies to be tightened further.

On reports police could bar the June 4 vigil for the second year running on health concerns amid the pandemic, Tsoi would only say he hoped the force would respect the right and freedom of Hongkongers to hold peaceful assemblies.

The remarks came a day after the police cited the Societies Ordinance in demanding Civil Human Rights Front, an organizer of protests, provide information about revenues and expenditures as well as rallies it has organized since 2006.

Lam refused to respond when asked why the front was suspected of breaching the law more than a decade after its establishment, but she emphasized there are limits to freedom of speech and assembly.

"These freedoms are not absolute, and they are subject to limitations in accordance with the law," Lam said.

"These limitations are intended to respect and safeguard others' rights and protect order and stability in Hong Kong society.

"Therefore I recognize the police's enforcement actions as I believe they have acted in accordance with the law."