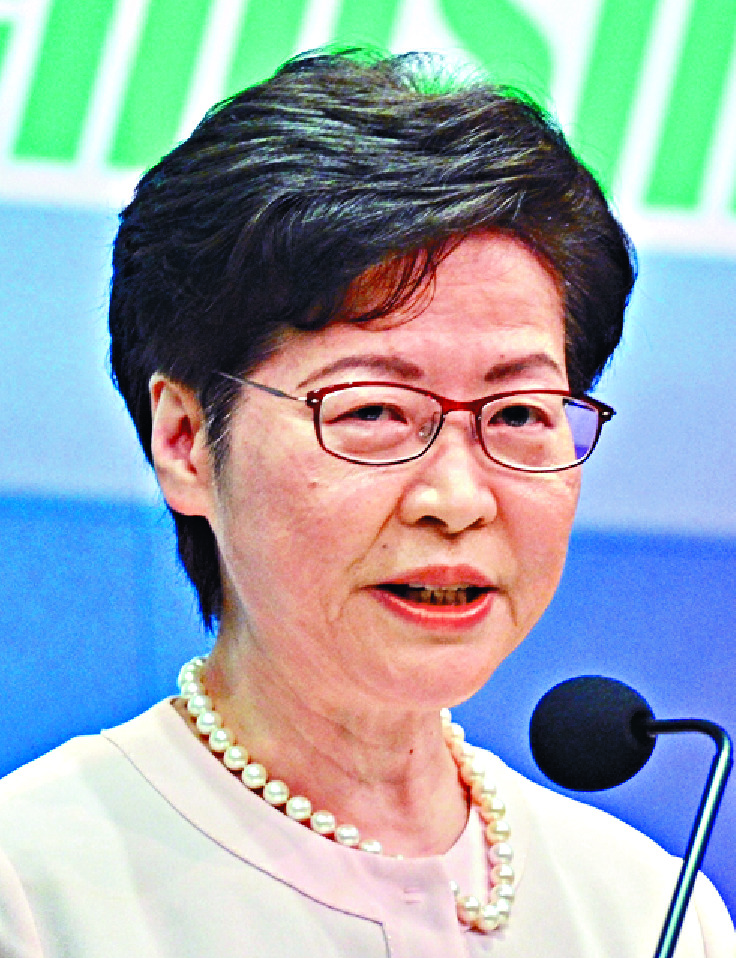 Lam dismisses revamp link to reelection bid
Carrie Lam Cheng Yuet-ngor said her plan to restructure the government is not related to a possible chief executive reelection run on her part.
Lam on Sunday hinted that a major government reorganization is upcoming in her fifth and last policy address for her five-year term. It was understood that the Transport and Housing Bureau could be split into two and a Cultural Bureau would be established.

Speaking to the media before the Executive Council meeting yesterday, Lam said the restructuring suggestion will be discussed in the next Legislative Council term beginning in January and decided by the cabinet.

Lam said rationality has prevailed in Legco and lawmakers were willing to cooperate with the executive, which has given her "much confidence to try to do work beneficial to Hong Kong's development."

"The worry that Legco will overly politicize [bills] and drag us down with filibustering has greatly reduced," she said.

"On that basis, I think it is an inescapable issue to have a rethink on how to set up a policy bureau that will be most beneficial to Hong Kong's future."

But she said the proposal is unlikely to go through during the current government term as there are only nine months left.

"Even if Legco passes the restructuring proposal, there will only be a few months left. Do we want secretaries to change their posts and new secretaries to work for just a few months?" Lam asked.

Instead, the government would do the early-phase foundational and objective works, based on the new direction for Hong Kong's development stated in the national 14th five-year plan, Lam said.

The proposal will then be discussed by lawmakers when the new Legco term starts in January, she said.

Lam said she will tailor a proposal in terms of how many bureaus and departments will be involved, how many bills have to be amended as well as the reallocation arrangements for senior officials.

"If the next government doesn't like the proposal, then it can think about it again.

"In fact, this will be the job of the chief executive-elect after the election in March," she said. "This work has nothing to do with whether I intend to run in the chief executive election."

In response to the historic low turnout in Macau's Legislative Assembly elections on Sunday, Lam said it was too early to predict the turnout for Hong Kong's upcoming Legco election in December, and it is unclear who will run.

Lam also shared her views on the Inland Revenue Department amending its "tax guide for charitable institutions and trusts of a public character" on Monday, which states charitable organizations will lose their tax exemption status if they support, promote, or engage in activities that endanger national security.

Lam noted that the amendment is in line with the national security law and charitable organizations should not take part in illegal and political events.