City's chief executive says local delegates to the nation's top advisory body can do more to act as a bridge between the city and mainland.
Hong Kong's leader has urged local delegates to the nation's top political advisory body to do more to connect the city with mainland China and uncover further opportunities for development and integration.

Chief Executive Carrie Lam Cheng Yuet-ngor also on Monday appealed for the Chinese People's Political Consultative Conference (CPPCC) members to vote in the coming Legislative Council poll so their patriotic voices could be fully represented.

Lam was addressing about 1,000 guests as she officiated a ceremony marking the 15th anniversary of the Hong Kong CPPCC (Provincial) Members Association, a group comprising serving and former local delegates to the various provincial chapters of the CPPCC.

Appointed by Beijing, CPPCC members serve as advisers to the government on a broad range of political, economic and social issues.

Lam hailed the delegates' contributions to the development of Hong Kong but called on them to play an even bigger role.

"You, Hong Kong delegates to provincial chapters of CPPCC, love the country and love Hong Kong," she said.

"With your knowledge and connections, I hope that you can help Hong Kong open the door wider and establish the bridge to the mainland to find more development and cooperation opportunities for Hong Kong across the border.

"You can also offer support to the government's representative offices on the mainland to make contributions to Hong Kong's future and the development of the country."

Lam praised the Beijing-led overhaul of Hong Kong's electoral system, which was approved in March, for putting the city back on track after the 2019 anti-government protests, and asked delegates to throw their weight behind the polls.

"I also urge you to vote on December 19 [Legco election day] so as to elect people with aspirations who love Hong Kong and are patriotic to represent your views to work for Hong Kong's future," she said.

Echoing Lam's remarks, Tan Tieniu, deputy director of the central government's liaison office in Hong Kong, asked local CPPCC delegates to take the lead in boosting dialogue between the city and the mainland.

Tan also said they should dial up their efforts in helping to improve the governance of Hong Kong.

Association president Irons Sze Wing-wai used his speech to pledge that CPPCC delegates would step up communication and co-ordination with the Hong Kong government.

"The association will lead fellow CPPCC delegates to take a bigger part in national development, acting as a bridge to help establish closer ties between Hong Kong and the mainland," Sze said.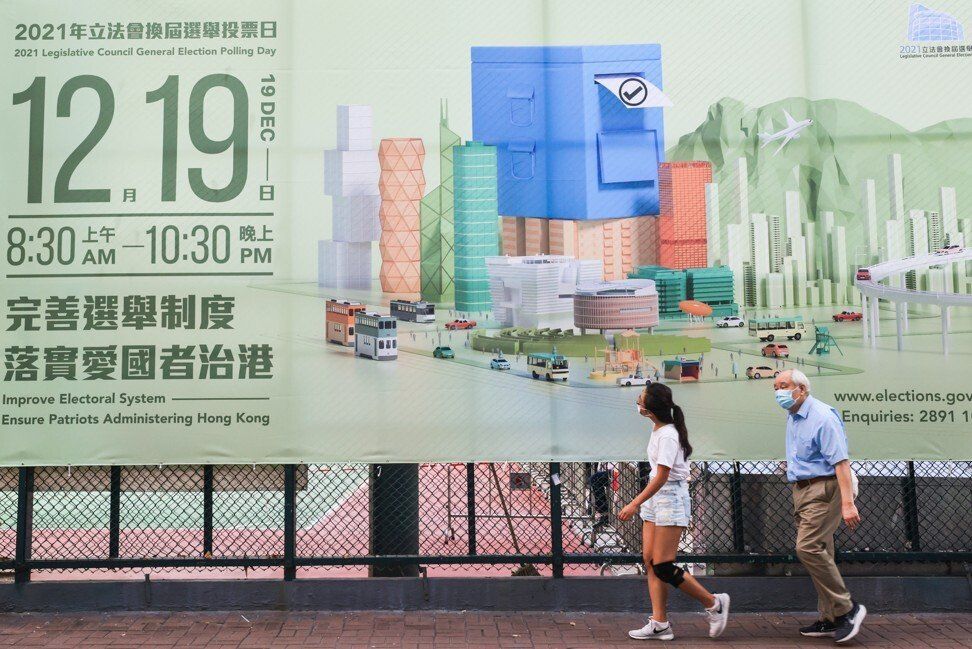 Hong Kong goes to the polls on December 19.

Association chairman Cheng Cheung-ling, meanwhile, said the group had plans to develop a "talent bank" in the city to help nurture and train young politicians who showed potential.

The guests invited to officiate at Monday's ceremony – held at the Hong Kong Convention and Exhibition Centre in Wan Chai – represented a who's who of the city's political circle.

Among the mainland officials appearing were: Zheng Yanxiong, director of Beijing's national security office in Hong Kong; Liu Guangyuan, commissioner of China's foreign affairs ministry in Hong Kong; and Zheng Guoyue, deputy commander of the People's Liberation Army Hong Kong garrison.

Financial Secretary Paul Chan Mo-po was among the senior Hong Kong government officials attending, along with various bureau chiefs and department heads.

Legco president Andrew Leung Kwan-yuen and Executive Council convenor Bernard Chan were also among the officiating guests.