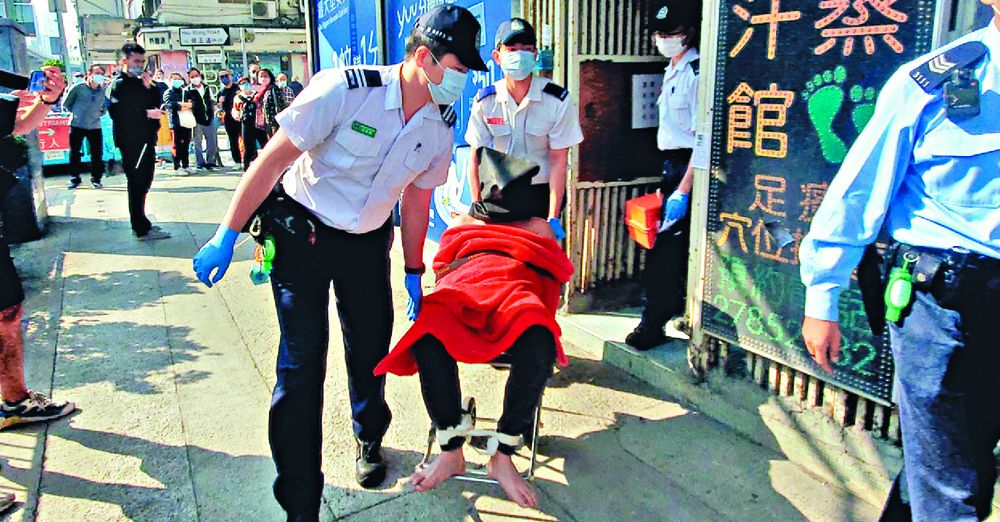 Kowloon City amok man remanded
A mainland man facing 11 charges including robbery, arson and assault was remanded in custody yesterday until January 19 pending his psychiatric report.
The jobless 36-year-old, Feng Jinming, appeared before Kowloon City deputy magistrate Chu Chung-keung yesterday.

Feng, a two-way permit holder, was charged with one count of robbery, one count of assault occasioning actual bodily harm, three counts of criminal damage, two counts of wounding, one count of theft, one count of common assault and two counts of arson.

He allegedly robbed a woman, Mok Tai-tin, of an iPhone 11 and broke her spectacles at the junction of Nam Kok and Carpenter roads on Sunday.

He is also alleged to have assaulted a male passerby Ho Chi-wing and maliciously wounded Mok. Feng was also accused of stealing a 39-centimeter butcher knife from a meat store owner, Lam Pui-tak, on Nga Tsin Lon Road.

Additionally, he is accused of damaging the front windshield of a car belonging to Lee Lok-hin at the junction of Hau Wong and Nga Tsin Wai roads and of assaulting him.

Four of the charges alleged that he set several fires in a building on Prince Edward Road West, including an umbrella, a pair of shoes owned by a tenant Thatsanee Khong On and a set of bedsheets owned by Au Chun-pong in Nga Li Guesthouse.

Feng was also accused of maliciously wounding guesthouse worker Au and damaging a rubbish bin belonging to him.

Feng did not plead yesterday. The prosecution submitted a doctor's letter saying that Feng is suspected of suffering from mental illness.

Chu agreed to the prosecution's request to adjourn the case to January 19 pending a psychiatric report to determine if Feng is suitable for making a plea.

Feng did not apply for bail and will remain in custody.