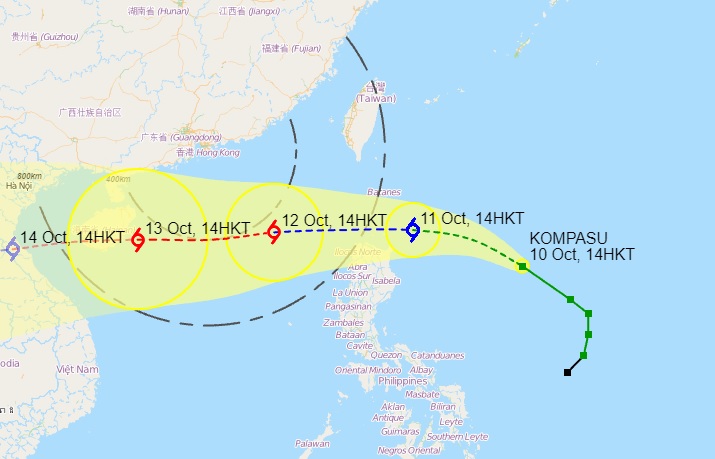 Kompasu to strengthen into severe tropical storm, come close to HK on Wednesday
With tropical storm Lionrock just leaving Hong Kong for Vietnam, another storm, Kompasu, is expected to strengthen into a severe tropical storm and come to 400 kilometers away from Hong Kong this Wednesday.
Lionrock will move across the northern part of Vietnam on Monday. Kompasu will move towards the Luzon strait in the next couple of days, and is expected to move across the northern part of the South China Sea midweek.

Under its combined effect with the northeast monsoon, winds will strengthen again over the coast of Guangdong. There will be heavy rain and squalls.

This comes after Lionrock broke several records in Hong Kong.

It triggered the longest hoisting of No. 8 Southeast Gale Or Storm Signal – 22 hours.

It was also the storm which triggered the hoisting of signal No. 8 when it was furthest away from Hong Kong – 560 km.

Lionrock came with a strong northeastern monsoon, and its unpredictable track made the observatory skip the No. 1 Standby Signal to directly issue the No. 3 Strong Wind Signal on Friday.

It did not weaken for 20 hours after landing in Hainan Island, causing the observatory to keep changing its forecast.

The observatory issued the Strong Wind Signal No. 3 at 4.40 am Sunday, then replacing it with signal No. 8. Then it issued Standby Signal No. 1 at 12.40pm. All signals were canceled at 2.20pm.