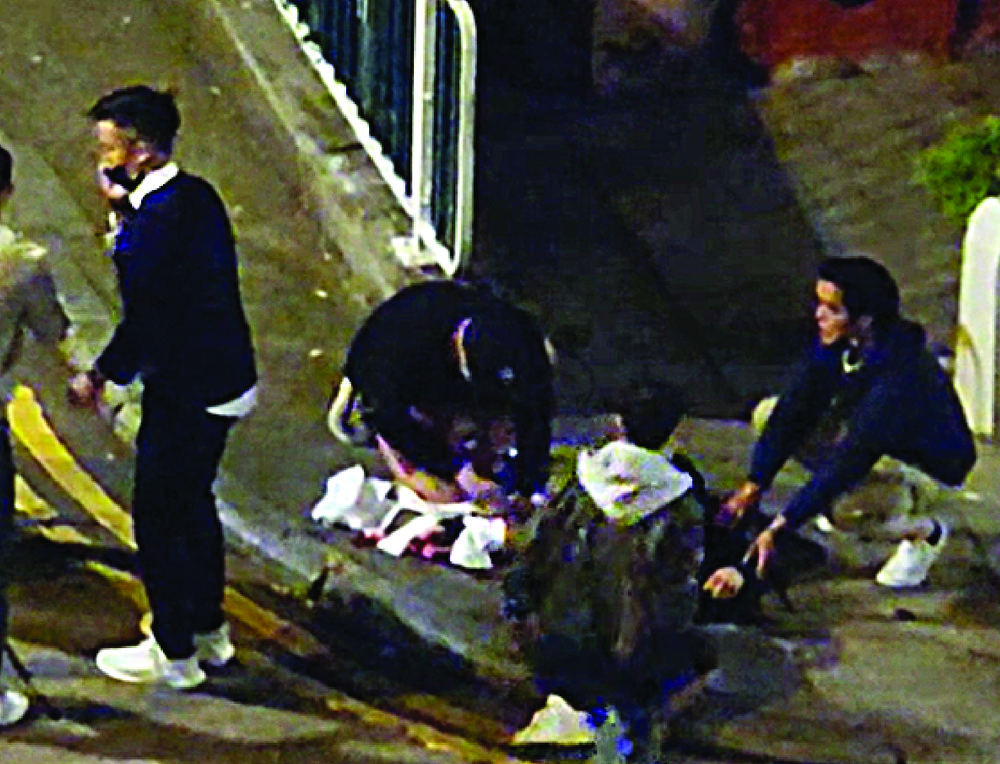 Knife-gang trio attacks beauty influencer's new boyfriend
The boyfriend of a beauty influencer Cheung Yan-yan was last night still in serious condition in hospital after he was attacked by three knife-wielding men outside a restaurant in Sai Ying Pun on Wednesday night - less than a day after Cheung revealed their relationship on Instagram.
Video footage shows the victim, Alexander Wong, 31, being attacked by the three men dressed in black near a restaurant at around 11.23pm, when he was chatting with a friend at Hill Road in Sai Ying Pun.

Two men chased after Wong and stabbed him, while the third attacker guarded Wong's friend at knife point. Wong fell on the ground after being stabbed before his attackers jumped onto a gray sedan and fled the scene. Wong's friend called the police.

Police said Wong was attacked with a knife of about 30 centimeters long for unknown reasons.

Wong sustained injuries to his right palm, calves, back and buttocks, and was admitted to Queen Mary Hospital.

Police has classified the case as wounding and is being investigated by the police's anti-triad unit. No one has yet been arrested.

Police are searching for four men aged 20 to 30, including the driver, who is about 1.7 to 1.8 meters tall, medium build. They were last seen wearing black clothing and masks.

Wong told police that he had no grudges with anyone, and has no triad background. He said his family members operate finance-related businesses.

Just one day before the attack, on Valentine's Day, Cheung shared a video clip of them celebrating Wong's birthday together on Instagram and tagged Wong's account. Wong is a businessman and once co-owned and operated an amusement arcade.

Cheung frequently shares photos of her daily life on social media and has 127,000 followers on Instagram.

She also operates a YouTube channel with 15,600 subscribers, where she posts videos of her travelling vlogs, as well as beauty and fashion tips.

Her younger sister Chin-chin is also a beauty influencer.

In a separate knife attack in Yuen Long in the early hours yesterday, a 33-year-old suspected triad member, Lin, sustained serious injuries.

Police said Lin drove his drunk friend Chan's car and dropped him home at The Spectra in Yuen Long around 4am. After Chan went home and Lin left on his own, Chan received a phone call telling him that his private car was involved in an accident.

Chan called Lin back and the duo went to check the vehicle when two men in black appeared and stabbed Lin. Lin was caught off guard and was stabbed on his left knee, back and right hand.

The two then ran into the housing estate for help, the attackers dared not pursue, jumped into a black vehicle and fled. The security guards reported the incident to the police.

Lin was sent to Pok Oi Hospital and then transferred to Tuen Mun Hospital; the case is also classified as wounding and under investigation by the police.

Lin was a bartender, but also a triad member. The two claimed to have no grudges or debt disputes with others.

Police believed the attackers ambushed Lin and suspected Lin may be wrongly targeted.