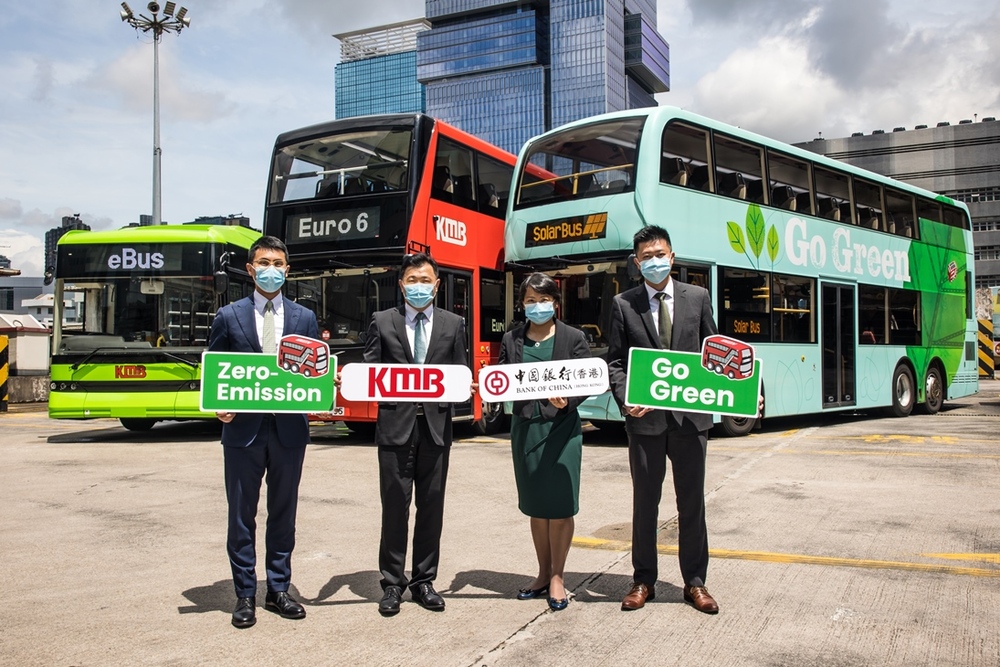 KMB signs five-year HK$500m green loan with Bank of China
Kowloon Motor Bus has signed a five-year HK$500 million green loan with Bank of China (Hong Kong) to drive sustainable developments and achieve green transport.
It is KMB's first green loan and makes the company the first franchised bus operator in Hong Kong to promote sustainable development with green loans.

The loan will be used for sustainability-related initiatives, including the purchase of the latest model of eco-buses, electric buses and solar panels, allowing KMB to reduce carbon emissions generated by operations and promote green transport.

KMB will install about 22,000 solar panels atdepots, on bus termini, bus shelters, bus poles and bus rooftops. It will also purchase electric buses and build electrified bus depots. It also plans to use new energy for the entire bus fleet by 2050.

KMB's Financial Controller, Joseph Leung Cho-tak, said the bus operator is duty-bound to promote green transport. "In addition to improving Environmental, Social and Governance performance in daily operations, sufficient funds are an important strategy for accelerating electrification and zero emission," Leung said.

"KMB is grateful that our vision has been recognized and supported by BOCHK. We will continue to identify suitable financing solutions and lead Hong Kong's transportation industry into a new-green era."

Kennis Chong Po-chun, BOC's deputy general manager, global corporate banking department, also said that sustainability is one of the bank's strategic goals.

"Catering for the green finance needs of corporate customers from different sectors, BOCHK will continue to provide tailored green finance solutions, so as to drive sustainable development together with our customers," she said.