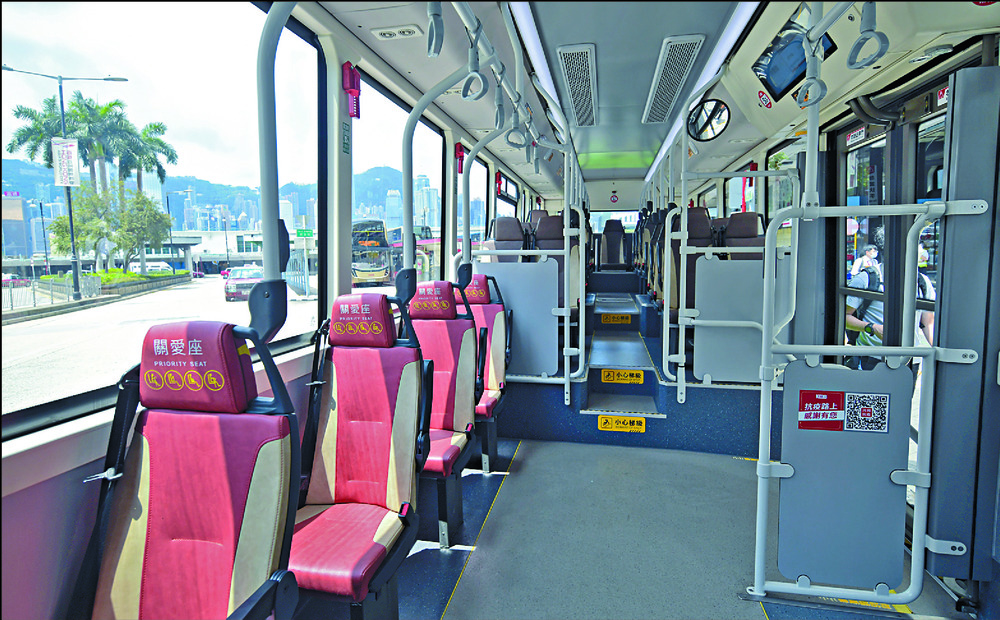 KMB powers up in all-green race
A fleet of 16 new-generation Kowloon Motor Bus electric vehicles started running yesterday between Lai Chi Kok and the Star Ferry Pier at Tsim Sha Tsui at HK$5.40 for adults.
The new single-deck buses, made by Shenzhen-based BYD, can carry 81 passengers, 16 percent more than the 14 older models, also made by BYD, currently in service. They can run 200 kilometers after being fully charged in one hour and 40 minutes, two hours faster than before. A full charge should cover 12 round trips.

The new buses also provide free 5G WiFi connection for passengers and have windows that can be opened.

KMB has also ordered 52 more electric double-deckers, which will arrive next year, and is planning for 500 more in three years, putting the bus giant in line with the government's target of achieving carbon neutrality by 2050.

The full fare for the route 6 buses, which plies major thoroughfare Nathan Road from Lai Chi Kok to Tsim Sha Tsui, is HK$5.40.

The single-deckers with the body painted in "electric green" demonstrate a commitment to evolving in the new green era, KMB said.

The buses come equipped with battery management and water cooling systems, which help monitor the efficiency and condition of the battery and control its temperature, effectively extending the battery life cycle and improving performance.

All seats will have belts and the buses are also equipped with an electronic stability program that can reduce rollover risks.

The 52 buses arriving next year will be from BYD and the United Kingdom's Alexander Dennis.

The double-deckers will be 12 meters long and can carry an estimated 120 passengers.

Ultra-thin solar panels will also be installed on the double-deckers' roofs to supply power for onboard facilities.

Gary Leung Ling-yin, assistant director (strategic planning) at KMB, said: "Hong Kong has the world's toughest operating environment for buses, which the new electric double-deckers will meet.

To show its commitment to green transportation and determination to reduce emissions, KMB said it has laid down a clear timeline for upgrading its entire fleet to new energy buses.

"With new development areas soon to be established, such as the former quarry on Anderson Road, Kwun Tong, KMB is also interested in operating new routes with its latest double-decker electric buses," it said.