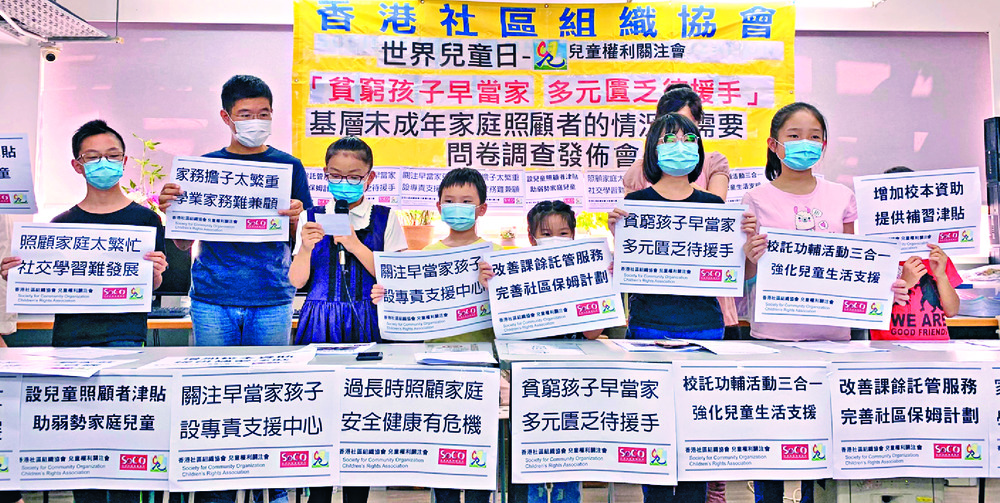 Kids call out chores burnout
More than 40 percent of children from poor families have to do housework for more than one hour a day, which puts extra burden on their busy school schedule, a survey finds.
The Society for Community Organization surveyed 201 children from June last year to September this year and found 80 percent of them had to do housework and take care of their family, half of whom are from single-parent families.

More than 15 percent of respondents said their parents are not in Hong Kong or do not possess a HKID card. Over 40 percent had to do more than eight hours of housework a week, with some spending 16 hours a week.

Over 60 percent of the respondents live in cage homes and cubicle apartments, with a median monthly household income of HK$12,000.

The average age of the young carers was 10. Eighty percent of the respondents said they had to do housework or take care of their family for an average of 10 hours a week. About half had to help with sweeping and vacuuming the floor as well as cooking for the family.

The survey also found these children were under massive stress, which affected their health. About 20 percent of the respondents said they felt tired, frustrated and stressed, and more than one-third of these children did not have extra money for outdoor activities.

More than 70 percent hoped to have more study time while 60 percent wanted financial assistance for their families.

A 13-year-old girl surnamed Cheung had to do housework and take care of her father, who has poor eyesight and could not walk due to diabetes. She had to give him insulin injections every day, bring him to follow-up consultations and make lunch and dinner for the family.

"My hands shook when I gave the injection to my father at the beginning, but I had to overcome it," Cheung said.

"It takes me two to three hours every day to take care of my family. I hope I can have more time to study."

Another girl Lok Lok, 10, had to take care of her mother, who suffers from heart disease and nerve pain in her legs and lower back.

Every time her mother became ill, Lok Lok had to give her a massage and feed her as she could not move, she said.

A five-year-old girl, surnamed Leung, sometimes had to assist her busy mother by looking after her younger sister and cooking. Leung said she had once been accidentally scalded by cooking oil.

A total of 274,000 children lived in poverty before government intervention.

The Society for Community Organization urged the authorities to introduce a policy supporting these young carers, setting up support service centers in referring cases and pairing up services.

The authorities should review the current after-school learning support program and raise the annual rate of subsidy to HK$6,000 for every eligible student, the society said.

They also urged the social workers in primary and secondary schools to screen students who may need special support.