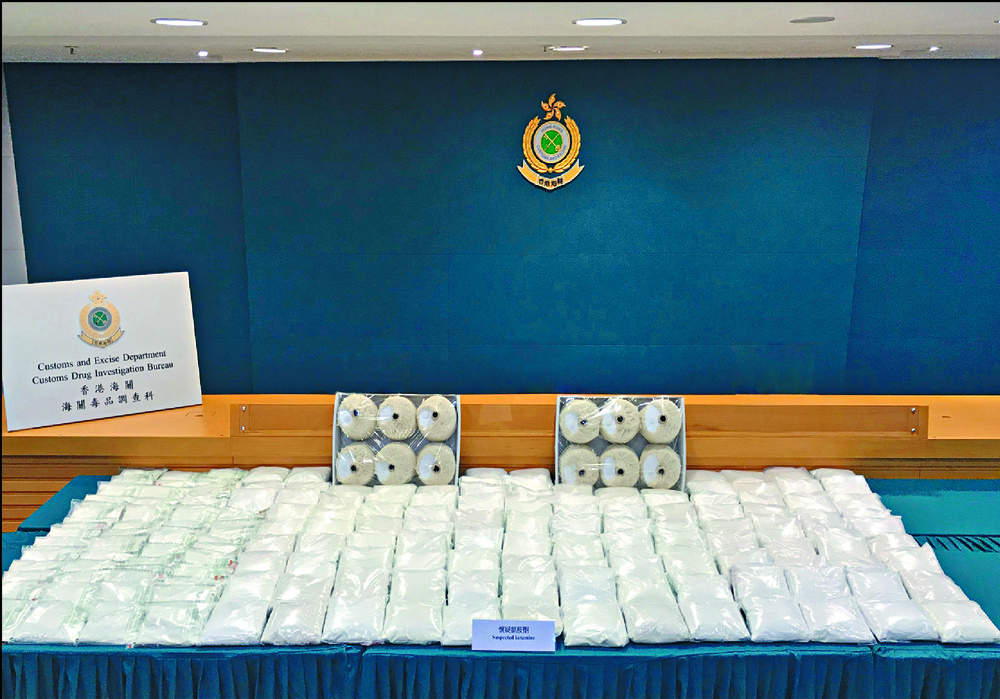 ketamine bust tops decade record
Customs officers seized about 220 kilograms of ketamine worth HK$125 million in a container from Pakistan in July, the largest ketamine trafficking bust in a decade.
The haul of ketamine was seized from a cargo container at the Kwai Chung customhouse cargo examination compound. The illegal drug was wrapped in six packs of cotton thread and sealed in plastic cylinders.

Officers on Tuesday arrested a female logistics manager, 35, who is suspected to be connected to the case.

Customs' head of ports control Man King-foon said the department received intelligence of the incoming ketamine from foreign law enforcements in early July. Officers inspected the 20-feet-long cargo container on July 30 after it was found that the cargo's receiver was a company with no trading record, an incomplete address and a fake telephone number.

An X-ray scan found suspicious items at the bottom of the container and further checks unveiled 164 packs of cotton. Fifteen in the corner had distinct wrappers and were tied together with strings, and six of them were found to contain ketamine.

Drug investigation commander Philip Chan Siu-kau said further investigations showed the receiver, the receiver's telephone number and the Pakistani delivery company on the receipt were all fake, adding the smugglers used a clothing manufacturer company as the delivery address to avoid detection.

Chan said the department later found the cargo's receiver was switched to a logistics company.

The company's manager was arrested on Tuesday and granted bail to await further investigations. Customs officers are investigating whether the drugs were meant to be sold in the local market or shipped to other destinations.

Drug investigation bureau head Lee Kam-wing said it was the first time drugs from Pakistan arrived in Hong Kong by ship, adding customs has seen an increased number of drug trafficking by sea as smugglers found the channel to be more effective and less risky since they can use the long voyage to change destinations or search for buyers.

Lee also said customs had already busted 16 cases of large-scale drug trafficking this year, with the total amount of drugs confiscated reaching 2.6 tonnes.

He said customs would continue to cooperate with the mainland and other countries to combat cross-border drug trafficking and prevent drugs from entering the local market.