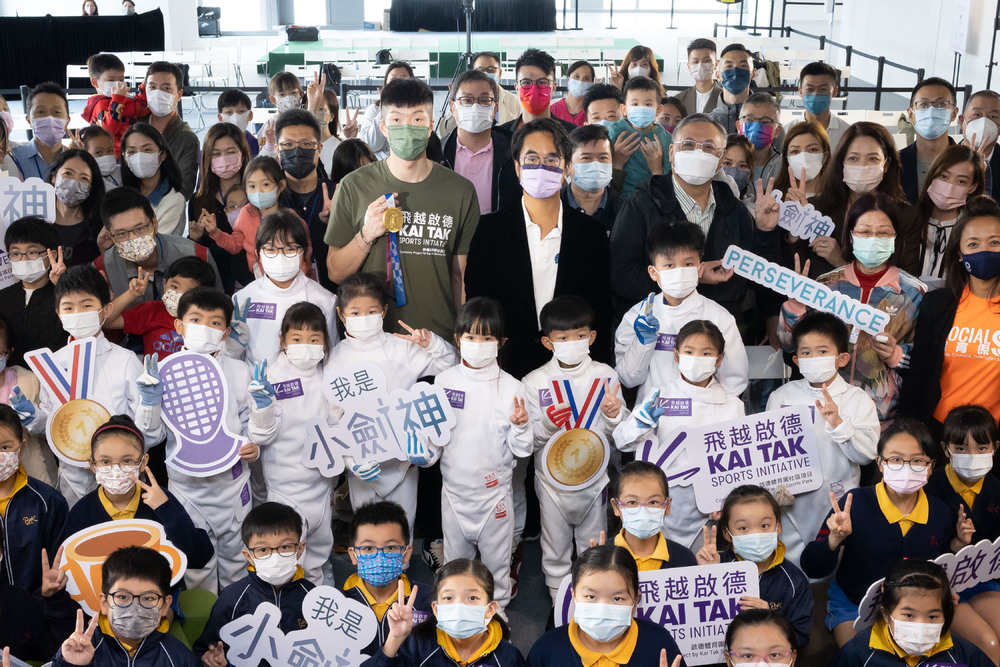 Kai Tak Sports Initiative to nurture 450 "Future Fencing Gods"
Kai Tak Sports Initiative will recruit 450 primary school students and nurture them to become Hong Kong's "Future Fencing Gods" with sports performance analysis and systemic fencing training.
The programme titled "Be the Next Fencing Champion" was launched by Kai Tak Sports Initiative Foundation Ltd founded by Adrian Cheng Chi-kong, CEO of New World Development, with Olympics fencing gold medalist Edgar Cheung Ka-long, dubbed the "Young Fencing God", as its ambassador.

The training programme will be rolled out in January 2022 across nine districts, including Wan Chai, Yau Tsim Mong, Kowloon City, Wong Tai Sin, Tseung Kwan O, Kwai Tsing, Sha Tin, Tai Po and Tuen Mun. A total of 450 underprivileged students from primary three to five will be recruited.

Students' fencing talent will be identified through a scientific analysis and a one-year systematic training programme to be held in nine Po Leung Kuk primary schools.

The Initiative will also provide students with training equipment, score boards and professional training to develop their fencing skills, learn the importance of sportsmanship and take part in competitions.

One of the key features of the training programme is the "Student Potential Analysis". Through a series of games, Social S and the CUHK Sports Medicine Team will test the athletic potential of each student, including their speed, strength, agility, balance and hand-eye coordination.

These results will help identify promising participants for the one-semester "Introductory Course", organized by professional instructors from the Hong Kong Fencing Association. Students with outstanding performances will then be recruited for the following "Advanced Course".

The Association will also host two competitions for the students to identify promising fencers for further development.

Cheng thanked Cheung for being the ambassador of the programme and hoped students can develop the comeback mentality.

"While not every young athlete can turn into a gold medalist like Ka-long, we believe that through systemic training, they can all learn the importance of perseverance and flexibility in life, so that even in the face of adversity, they can create their own 'comeback' moments," Cheng said.