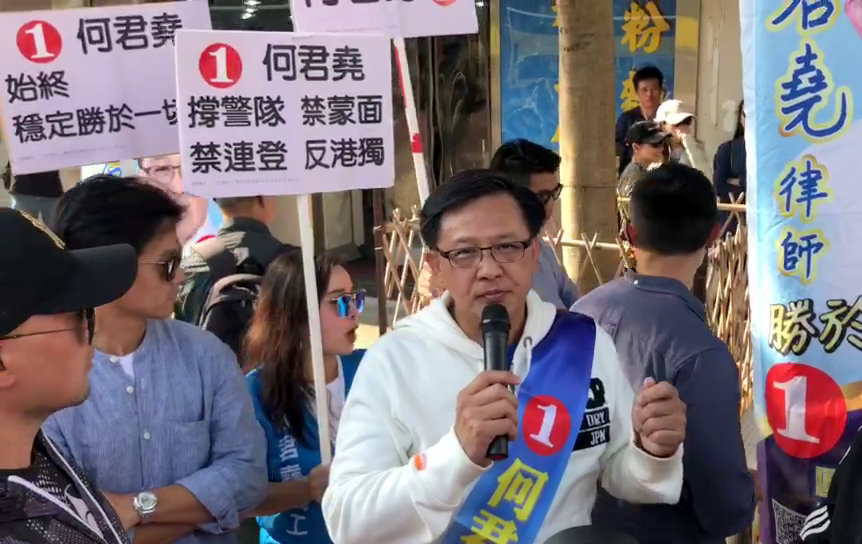 Junius Ho 'pays dearly' on security following campaigning assault
Lawmaker Junius Ho Kwan-yiu was found to have spent about HK$60,000 on security during the Legislative Council election last December, after government on Friday released data on election expenses declared by candidates.
According to data released by the Registration and Electoral Office, Ho who won a seat in the election committee constituency spent about HK$132,000 during the election period, including some HK$60,000 on hiring private security guards.

Candidates' election expense was capped at HK$213,000 as stated in the law.

Speaking to media, Ho said the move was to "play safe." He recalled the assault that occurred in 2019, where a man pretended to be Ho's supporter and slashed Ho's chest with a knife in Tuen Mun before the District Council election.

The attacker was jailed for nine years by the High Court in September last year for a count of wounding and another count of wounding with intent.

Ho continued he still have concerns on his personal safety when campaigning on the streets after the incident and added he feels safer when accompanied by his guards.

Ho also declared he spent about HK$5,400 on hotel and accommodation on election day, and explained that he rented a suite at Renaissance Hong Kong Harbour View Hotel.

He went on and said he used the room, close to the Hong Kong Convention and Exhibition Centre in Wan Chai, as his headquarters and a break room for his volunteers team.

The expense report also included a fine of HK$183.2 over a banner that was taken down by the Lands Department. The fine was split equally by two candidates and Ho paid HK$91.6 in the end.

Ho said he forgot which candidate he shared a banner with and said the fine was not a big deal, adding that the officers were just following orders.