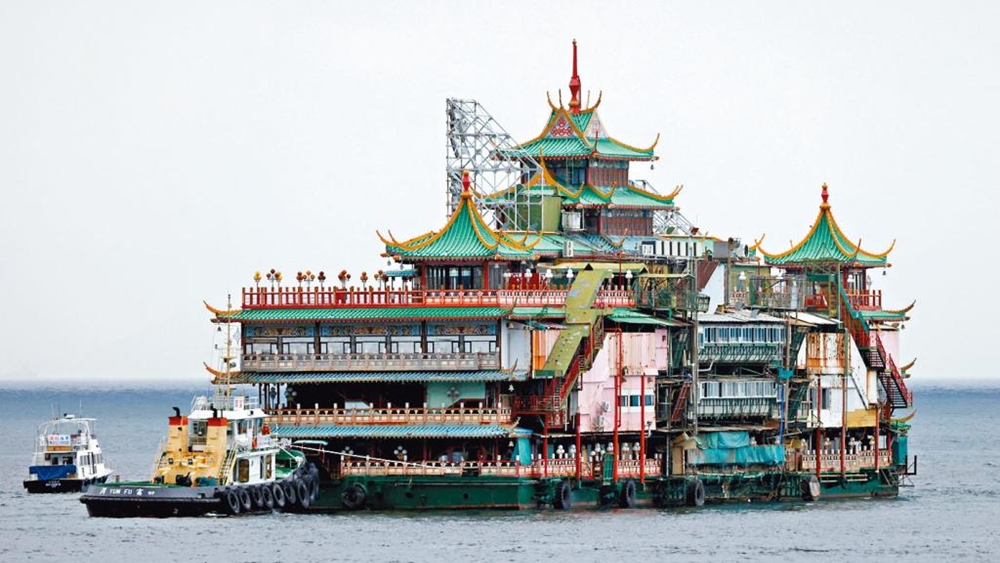 Jumbo still afloat near Xisha Islands, but not for long
The Marine Department says the owner of the Jumbo floating restaurant boat has informed it that the vessel remains on the waters off the Xisha Islands in the South China Sea after it capsized.
The news came days after the world's media reported that the iconic tourist attraction had sunk while being towed to Cambodia.

A brief Monday statement from Jumbo's owners via its PR firm Brunswick noted that the "vessel encountered adverse conditions which water soon entered before it began to tip… unfortunately it capsized on Sunday [June 19]."

That statement did not use the word "sunk," but added that the water depth was over 1,000 meters. The Chinese version of the statement said that the vessel had "completely filled with water" and overturned. No crew members were hurt.

Questions were being raised on Thursday night after the Marine Department said it had received the report it had requested from the restaurant's owner.

Writing in the statement, the department said they knew nothing of the incident involving the Jumbo prior to media reports.

"After learning about the media reports, the Marine Department immediately requested Jumbo's owner to submit a written report. Today, the Marine Department received the written report from the agent appointed by Jumbo's owner," it wrote.

It said according to the information provided by the ship owner, on the night of June 18, when Jumbo was being towed by ocean-going tugboat "JAEWON 9" in the vicinity of Xisha Islands in the South China Sea, Jumbo capsized due to adverse weather.

"At present, both Jumbo and the tugboat are still in the waters off Xisha Islands. The ship owner will continue to follow up on the incident," the statement read.

However, according to local media reports on Friday afternoon, the towboat company confirmed that salvaging the restaurant will be impossible, and that the owner of Jumbo and its insurance company are arranging divers to sink it into the ocean.