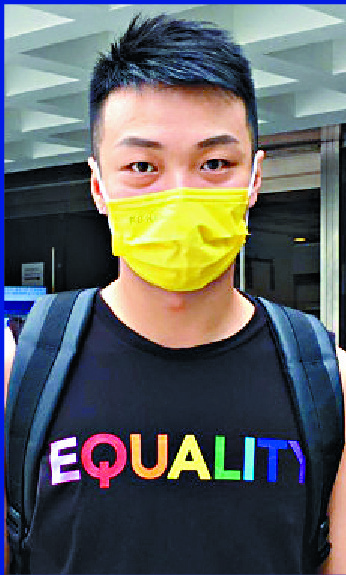 Judges shut down bid for same-sex marriage
Pan-democratic and LGBT rights activist Jimmy Sham Tsz-kit's legal bid to make Hong Kong recognize same-sex marriages registered overseas has been rejected by the Court of Appeal once again.
The court said the recognition of same-sex marriage is "clearly contrary to the intention of the drafters of the Basic Law," stressing that legal marriage in Hong Kong is restricted to heterosexual couples only.

Sham married his husband in New York in 2013 but his marriage is not recognized in Hong Kong.

He filed a judicial review in 2018 against the government's decision as he believes same-sex couples should enjoy the same rights as heterosexual couples but it was dismissed in 2020.

He filed an appeal but that was also rejected by three Court of Appeal judges - Jeremy Poon Shiu-chor, Susan Kwan Shuk-hing and Carlye Chu Fun-ling.

In a written judgment yesterday, the judges said current law does not mandate the authorities to take positive steps in offering equal treatment to same-sex couples, adding marriages involve complicated issues and laws governing the recognition of marriage cannot be easily changed.

"Same-sex marriage was only recognized legally for the first time in the world when the Netherlands provided for it in 2001," the judges said. "Self-evidently, the drafters of the Basic Law must have only used the term 'marriage' in the traditional sense of it being a union between a heterosexual couple. Any suggestion otherwise is divorced from reality."

The judges said the Basic Law recognizes marriages in Hong Kong of couples married both locally and overseas, but only heterosexual couples are entitled to recognition of their foreign marriage.

"If the same recognition is afforded to same-sex couples married overseas, they would be able to circumvent the preference enshrined in [the Basic Law], clearly contrary to the intention of the drafters of the Basic Law," the judges said.

"That would also create an inherent incompatibility between them and those same-sex couples who wanted to marry in Hong Kong but could not."

Sham did not attend the hearing yesterday as he was in custody awaiting the primary election case.

That comes on the heels of Singapore's decision to decriminalize sex between men. But Singapore will still not allow same-sex marriages.