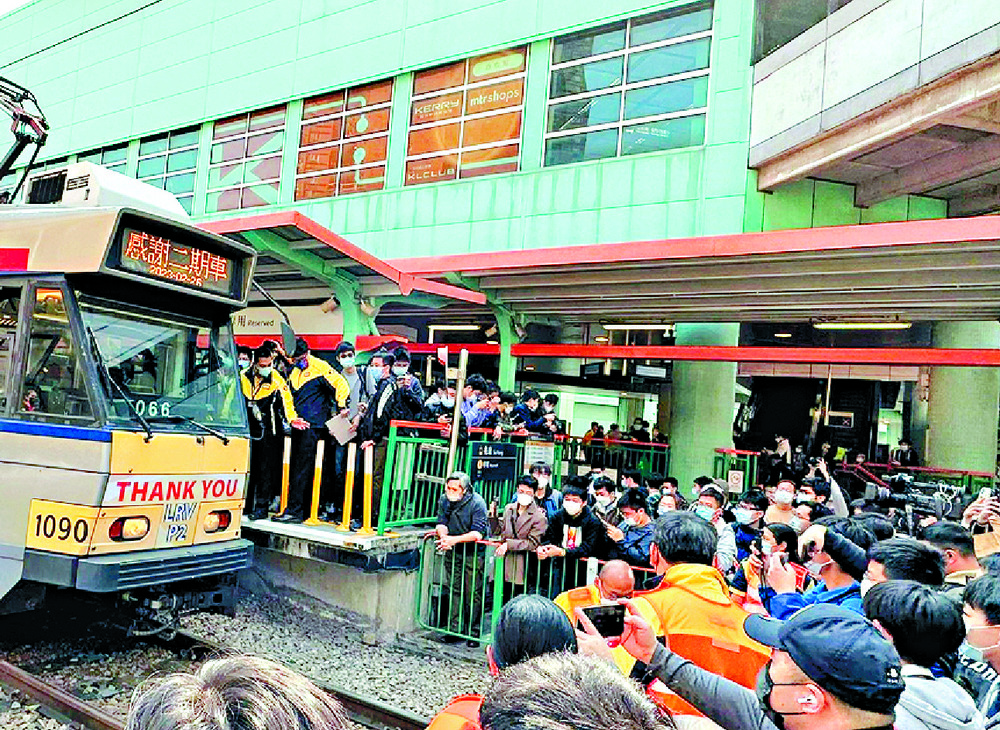 Journey's end as fans bid farewell to retired Light Rail train
At least 1,000 railway fans and residents in New Territories West yesterday bid farewell to Phase 2 Japanese-made Light Rail vehicles, which saw their last journey after 30 years of service.
The MTR had arranged the swansong ride at 9.15am from Yuen Long to Siu Hong where a light rail staff member shared stories of the retired trains with passengers and railway fans for about an hour before photo-ops.

The MTR also donated one of the trains to a school for exhibition under the Legacy Train Revitalization Program to inspire students' learning interest in areas of technology, engineering, conservation and design, as well as allow them to learn more about the city's railway history.

A teenage railway fan, Ho, brought an old Phase 2 train ticket, which was kept by his father, to bid farewell to the retired vehicle.

"I like the design of the locomotive," Ho said. "I have to take more pictures and I will remember it forever."

A Tuen Mun resident, Lau, said the Light Rail has been a part of his life since he was young.

He supported the railway company donating the old vehicle to a school as "these are memories of our city."

MTR operations director Tony Lee Kar-yun and other senior executives distributed souvenirs to passengers to thank them for their support of the Light Rail.

"Serving the northwestern New Territories for over 30 years and connecting communities, Phase 2 LRVs have provided convenient and quality public transport services to community members, especially to the residents of Tuen Mun, Yuen Long and Tin Shui Wai," Lee said.

Despite the Phase 2 trains having retired, he said other existing Light Rail vehicles will continue to provide convenient service.

The MTR expanded the size of the Light Rail fleet with 40 new mainland-made Phase 5 vehicles costing over HK$700 million - of which 30 replaced the Phase 2 trains and the rest was for expansion of the fleet.

"The latest Phase 5 LRVs which were introduced in November 2020 are equipped with enhanced features to provide a better customer experience," Lee said.

The Phase 5 vehicles are furnished with a modified LED lighting system to enhance the ambiance of the train carriages. There are also improved straphanger and handrail arrangements which facilitate easy access to the multipurpose areas for wheelchair passengers.

One of the latest trains has been installed with solar photovoltaic panels as a trial in order to use clean and renewable energy to provide electricity to the in-compartment lighting system, with the hope that Light Rail journeys can be greener.