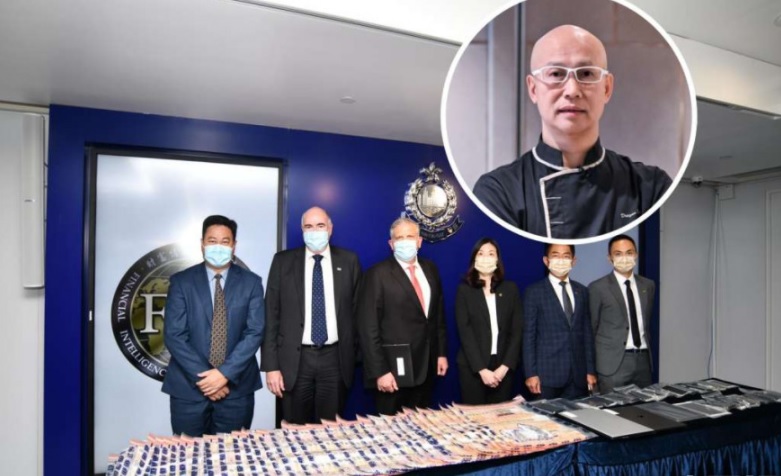 Joint operation sees 10 ramp and dump scammers arrested, including TV chef Wong Wing-chee
Six senior executives of three listed companies -- including star chef Wong Wing-chee -- were among 10 people arrested in a joint operation by authorities from Hong Kong and Singapore to crack down on "ramp and dump" scams.
In those scams, criminals would make use of social media to call upon investors to buy or sell certain stocks by claiming they received exclusive tips from experts or even insiders.

They induce unwary investors to buy shares at inflated prices, only to sell the shares at large profit margins, leaving victims with financial losses.

In the joint operation by Hong Kong police, the Securities and Futures Commission, the Singapore police and the Monetary Authority of Singapore, nine were arrested in Hong Kong and one in the Lion City.

Authorities said the suspects involved are core members of the syndicate, including six senior executives of three listed companies, while the rest are stooge accounts' holders. The woman arrested in Singapore is a stooge helping push up the stock prices.

It is understood that Wong used manipulative tactics to push up the stock price of catering company Dragon King GP (8493), where he was a director and CEO.

More than 100 officers of the SFC and over 80 Hong Kong police officers raided 47 premises across the city on Wednesday, arresting eight men and a woman aged 25 to 62. Assets totaling HK$48 million in 39 bank accounts were frozen, while officers also seized HK$2 million cash and other valuable items.

Singaporean officers arrested a female key syndicate member for alleged fraud and froze S$4.4 million (about HK$25 million) in assets.

"Between December last year and August this year, the alleged syndicate coordinated and executed ramp and dump scams in the shares of three Hong Kong listed companies, by using social media platforms and numerous security accounts in Hong Kong and Singapore held by different nominees," said senior director of Enforcement Division of SFC, Michael Duignan.

He said the suspicious trading activities of the syndicate were first identified by the SFC's real-time market surveillance team, and the SFC sought assistance from police and Singaporean authorities.

Senior Superintendent of Police Financial Intelligence and Investigation Bureau Cheng Lai-ki said in a press conference that the alleged syndicate conspired with senior management of three locally listed companies and manipulated the market with the "ramp and dump" scam.

"They used social media platforms to brag that these shares will go up, in order to attract some innocent investors to buy those stocks at high prices," Cheng said.

"The suspects later earned benefits by selling a large volume of stocks at high prices and caused those stocks to drop significantly, causing innocent investors to suffer a great loss," she added.

Cheng also said the syndicate quickly transferred the benefits earned from the sell-off to some shell companies and to various bank accounts for money laundering.

Executive Director of Enforcement Division of SFC, Thomas Allan Atkinson, said: "The unprecedented four-party joint operation was very successful, and we believe it has significantly disrupted the syndicate's operation in Hong Kong and Singapore."

"We have very sophisticated surveillance detection equipment that monitors how stock moves. A lot of time, you can see an increase in value, but there's no real news about why it is increasing in value, there's no change in its fundamentals," said Atkinson.

"A lot of time, it's increasing in value because people are simply trading the stock back among themselves to create the appearance of volumes, while other people will trade into that."

The SFC said a ramp and dump scam is a serious market misconduct offense under the Securities and Futures Ordinance, and the maximum penalty is a HK$10 million fine and 10 years imprisonment upon conviction.

Wong, 62, is nicknamed "Chee Gor" or "Brother Chee", is a renowned chef who frequently appeared on cooking TV shows.