Lee says city has entered 'new era' despite retaining some coronavirus restrictions and reaction at Apec conference was encouraging.
Hong Kong's leader said on Sunday he was "satisfied" with his first overseas trip as chief executive as he spent the last day of the visit on a tour of some of Thailand's biggest businesses in a bid to attract investment.

Chief Executive John Lee Ka-chiu signalled Hong Kong had entered a new period that had encouraged many to visit, despite the city's remaining Covid-19 restrictions, as he prepared to leave Bangkok after the Asia-Pacific Economic Cooperation (Apec) summit.

Lee added the string of meetings he had with some of Thailand's most influential business leaders were "a promotion programme to introduce Hong Kong's new era".

He declined to reveal if the meetings had resulted in sealed deals to boost investments, but the CEO of a major Thai company said Lee had invited his company to get involved in building a smart city in the city's latest development project.

Lee said he told other delegates to the Apec meeting, which ended on Saturday, that the city was headed towards a full reopening despite the three-day restaurant dine-in ban and regular coronavirus tests faced by inbound travellers.

"They appreciated my thinking and they would like to come to Hong Kong," he said. "I'm very glad to hear that."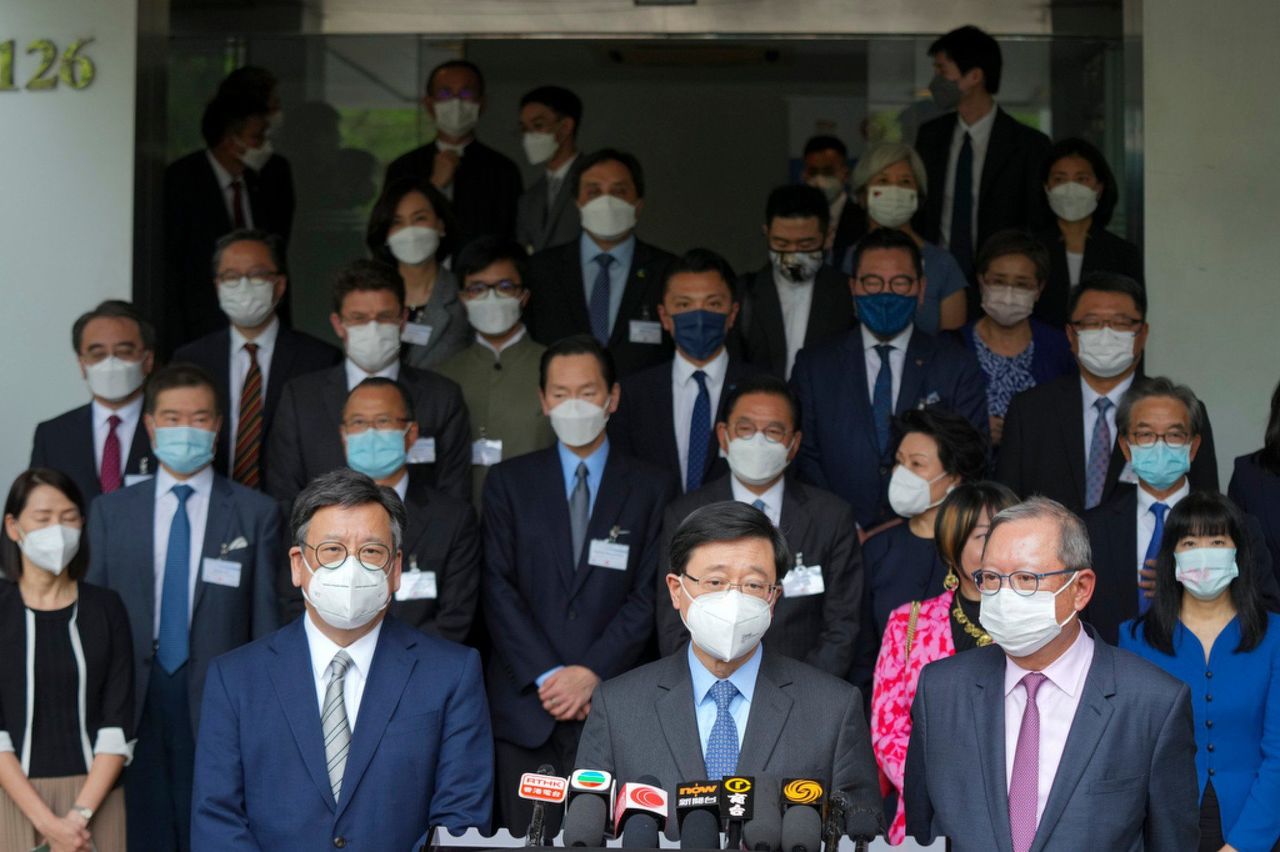 Chief Executive John Lee meets the press with members of the Hong Kong delegation to an Apec economic forum at the Amata Corporation in Bangkok.
Lee flew back to the city on Sunday afternoon after a visit to the offices of Charoen Pokphand (CP) Group, Thailand's largest conglomerate, and the Amata Corporation, a real estate company that specialises in industrial buildings.
"I listened to their success stories. And I also made use of the opportunity to explain to the leaders of these two successful groups what Hong Kong's new strengths are and what Hong Kong's traditional strengths are," he said.
Lee also met Dhanin Chearavanont, the senior chairman of the CP Group and ranked Thailand's richest man by business magazine Forbes, on Sunday.
He explained he had made it his mission to tell leaders he came across that Hong Kong would consolidate its advantage as a connection between mainland China and the west, as well as signal the city's role as an innovation centre and arts and sports capital.
"They are upbeat about all these things. So there was very good communication. And I'm sure that there will be further communications between representatives of the delegation and the leaders of the two companies," he said.
Peter Lam Kin-ngok, chairman of the Hong Kong Trade Development Council, who was part of the 20-strong business delegation Lee took to the conference, revealed that the council would return to Thailand next July with a bigger group to promote the city as part of its "Think Business Think Hong Kong" drive.
Hong Kong has been battered by strict
Covid
-19 rules and worries about the implementation of the Beijing-imposed national security law over the past three years. Lee said the trip was an opportunity to "tell the Hong Kong story" to Apec leaders and Bangkok's business world.
Lee started his morning by sampling Thai cuisine at a Bangkok restaurant, where he met staff members from Hong Kong's Economic and Trade Office in the capital.
"They will be starting up a new team to recruit talent under my new policy," Lee said, a reference to his commitment to bring talent and investment to Hong Kong.
"I listened to what they intended to do. I also explained more about my thinking," he said.
Lee said he also visited grocery stores and shops, and that he had found many products available in Hong Kong at similar prices.
He added he had trumpeted the city as the most free economy in the world, with a low tax regime and where foreign businesses and companies were encouraged to operate.
Lee highlighted the city also made it easy for consumers to enjoy imported goods from all around the world.
He also met Han Zhiqiang, the Chinese ambassador to Thailand, to brief him on promotional work Hong Kong would carry out in the country.
Vikrom Kromadit, the CEO of Amata, said Lee had invited his company to help Hong Kong develop into a smart city, saying that the North Metropolis, the government's latest development project, would provide the land.
The Hong Kong government would consider the offer of discounts, he said.
He added his group had not thought of investment in Hong Kong because it was put off by the high cost of land and lack of a suitable labour force.
But Kromadit said he would give it serious consideration now and urged the Hong Kong government to provide subsidies.
Amata specialises in planning, developing, managing and marketing integrated industrial estates.
The company is responsible for more than 1,000 factories, and operates in Thailand and Vietnam with global clients from the automotive, healthcare, and food and drinks industries.
Nisa Lin, the managing partner of venture capital firm Qiming Venture Partners, who was also among the Hong Kong delegates, said many Thai business leaders were convinced of the city's importance as a financial centre and international window on the mainland.
"They feel that the infrastructure, ecosystem, and entrepreneurship for continued advancement in technology and smart manufacturing are exciting in China and they look forward to continuing building a close working relationship with Chinese partners," she said.
Secretary for Commerce and Economic Development Algernon Yau Ying-wah, is expected to attend a seminar where he will meet Supattanapong Punmeechaow, the Thai deputy prime minister and energy minister.