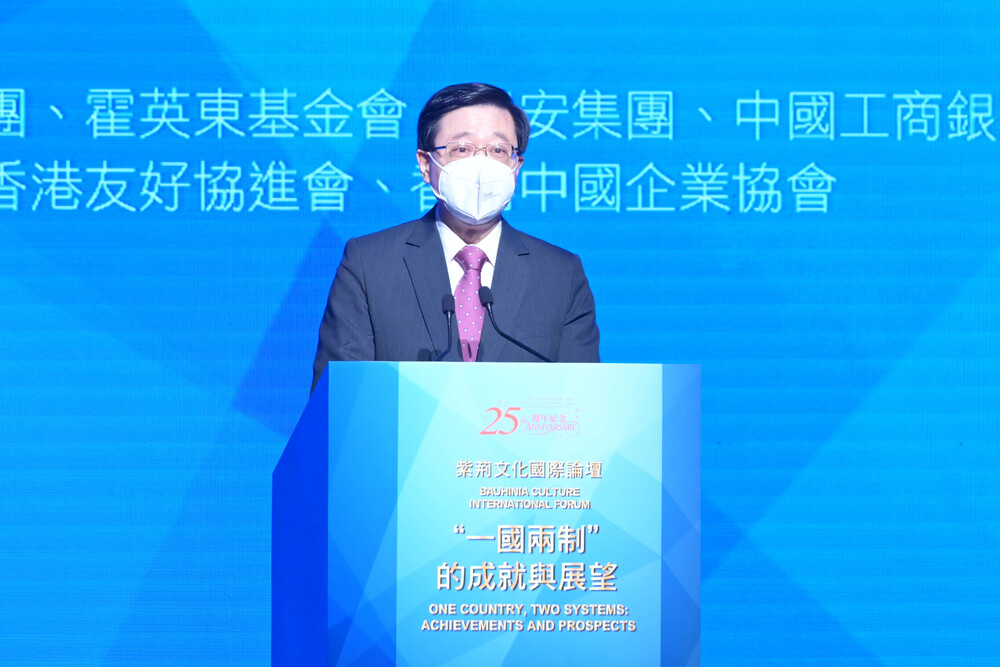 John Lee recalls pain of 2019 protests, looks forward to strengthening international ties
Incoming Hong Kong leader John Lee Ka-chiu on Thursday recalled pain caused by the violence during the social unrest but said he looks forward to strengthening the city's link to international societies with support from Beijing.
Speaking at a forum dedicated to the achievement of the "one country, two systems" principle, Lee said nothing hurt the city more badly than the disruption and violence in 2019 and the interference of foreign forces.

He cited President Xi Jinping saying that the principle -- protected by the constitution and the Basic Law -- has been implemented successfully in Hong Kong despite challenges in the past 25 years.

Lee also wished to strengthen the link with international societies and enhance the city's status as a financial hub under China's support.

Outgoing chief executive Carrie Lam Cheng Yuet-ngor attended the forum as well and said the city is finally on the right path and proceeding forward after a quarter of a century.

She continued that she would be leaving the government very soon and believed that Hong Kong would become more stable in terms of politics and could expect a more stable economy in the future.

Lam also thanked the Central Government for interfering with the city's chaotic situation at the time and for imposing the national security law and electoral changes.

Meanwhile, Liu Guangyuan, Commissioner of the Ministry of Foreign Affairs in Hong Kong, said the city is now at a critical moment of evolving from order to prosperity.

Liu recalled how there was no democracy when Hong Kong was still a British colony, and Chinese people were barred from the administration.

Yet, Hong Kong developed a democracy that sees to its own practical situation after the handover, and citizens have more ways to participate in politics with their freedom protected by the law.

Liu also noted that the ministry will deploy more diplomatic resources to build more platforms for the city to reach out internationally.