Political heavyweight Tam Yiu-chung says civil service 'fell short of public expectations' during Covid-19 pandemic, with staff 'very used to current culture'.
Hong Kong's only chief executive candidate, John Lee Ka-chiu, has pledged to reform the city's civil service work culture, including using measures such as the creation of a reward and punishment system to encourage problem-solving, his campaign chief revealed on Monday.

Pro-Beijing heavyweight Tam Yiu-chung also said Lee, in the run-up to election day on May 8, would hold a large-scale campaign rally at the Hong Kong Convention and Exhibition Centre in Wan Chai on Friday afternoon based on his slogan of "starting a new chapter together".

Hundreds are expected to attend including members of the Election Committee that will pick the next leader, as well as Lee's campaign advisers and those in his "presidium", or council of chairpersons. The government had earlier exempted candidates from social-distancing rules, allowing them to hold indoor "election gatherings with the public".

Tam told a radio programme that the civil service had faced criticism because of its recent performance in combating the spread of the coronavirus.

"Many departments are being criticised for a lack of coordination [during the pandemic] and how they fell short of public expectations," he said. "Calling for changes is difficult as civil servants may have got very used to the current culture."

Lee's campaign office director said a clear reward and punishment system needed to be introduced, such as appointing and promoting public servants who were proactive and helped solve problems.

"[Civil servants] cannot just follow the old path, saying: 'This has nothing to do with me, I have followed the procedures'. Although the government will not lay off people randomly, it might offer your promotion chances to other people instead," he added.

Unveiling his manifesto on Friday, Lee, the sole candidate with Beijing's blessing, broke down his vision into four tenets, with strengthening governance capability and tackling pressing livelihood issues at the top of his list of promises.

He will also be setting key performance indicators (KPI) for accomplishing tasks within the first 100 days of the new administration.

"In the future, Lee will make all civil servants realise that they have to take responsibility because they have sworn an oath," Tam said.

"The next chief executive needs to enlighten them with affection, and motivate them with reason, so civil servants understand that their job is to relieve the public's hardship and not to let cumbersome procedures become stumbling blocks."

The political heavyweight, the city's sole delegate to the nation's top legislative body, also reiterated that Lee would adopt the current administration's plan to restructure the government by splitting bureaus and establishing new ones.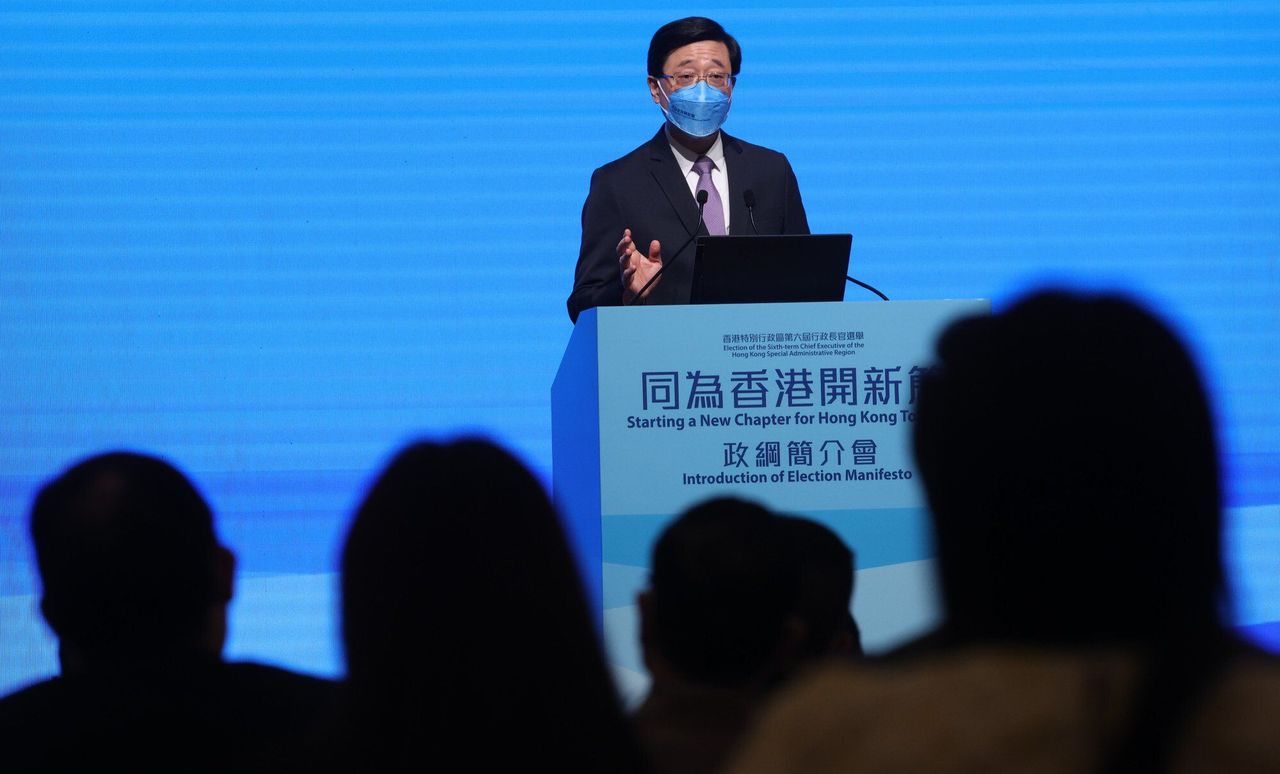 Chief executive candidate John Lee announces details of his campaign manifesto at the Convention and Exhibition Centre on Friday.

Separately, Lee told the media on Monday afternoon he would leave discussion of tasks that would be linked to KPIs with his future administration if he won the election.

"It is important to set these targets, but what is more important is to build up a culture [of being] result-oriented," he said, referring to the leadership approach he had put forward since he made his bid for the top post.

"I hope the future government is an executive-based and practical administration," Lee added.

Lee Fong-chung, chairman of the Hong Kong Senior Government Officers Association, said he believed John Lee, who had spent most of his career in the disciplined services, valued team spirit and his prospective leadership would produce many innovative ideas.

But he said he hoped Lee would adopt a fair and balanced approach when setting key performance indicators (KPIs).

"At present, different government departments also have their own KPIs and work goals," he said. "Yet, departments may have different workflows and procedures, and their goals may not be the same."

The association chairman added it was also necessary to improve policy research efforts and the government's coordination capabilities "to make everything smoother".

Leung Chau-ting, chief executive of the Federation of Civil Service Unions, said he doubted the proposal for a new system of rewards and punishments would make much progress.

"Currently, public servants have to do appraisals every year as part of a system which has proved to be effective, thus there might be a lot of criticism if the current system undergoes big changes," he said, noting some civil servants could have doubts about the fairness of the new system.

But the union official agreed there was a need to establish new KPIs, to ensure people understood the government's goals. However, Leung said he believed that such targets would only apply to senior officials.

"I hope there will be communication with the heads of departments in advance to ensure that a goal is feasible enough to implement. We do not hope to see civil servants being treated as scapegoats if some policies fail," he added.

As part of his campaign platform, Lee also suggested shortening the time before each housing project became available by one year, from the current duration of three to four years. The proposal will allow public housing applicants to move into their flats earlier, even before supporting facilities and infrastructure are completed.

Tam said the idea came from the candidate himself, as he hoped to offer more choices to those in urgent need of public housing. He added that the measure would need to be discussed further before specific locations could be named.

Responding to concerns that such estates would lack sufficient infrastructure and transport facilities, the campaign chief said he believed bus and minibus routes could be set up to ensure residents would be able to travel to buy their daily necessities.

Underscoring his determination to tackle the lack of affordable housing, Lee also pledged to establish two new task forces, one of which would focus on speeding up the construction of public housing, while the other would be dedicated to developing private land. Both would be headed by a secretary-level official.

According to Lee's manifesto, the Task Force on Public Housing Projects would have 100 days to propose several methods of speeding up the design and construction of public housing.

The former No 2 official previously said his goal was to increase the overall supply of housing over the next five years, but has set no hard targets.