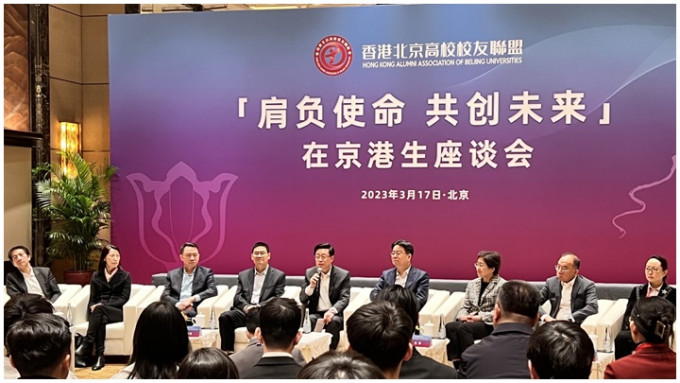 John Lee meets with Hong Kong students studying in Beijing
Chief Executive John Lee Ka-chiu spoke to 21 Hong Kong students currently studying on the mainland as he continued his Beijing visit on Friday and welcomed the students to join the government following graduation, believing they are the talents this city has been longing for.
Lee encouraged the students to tell Hong Kong's stories right and invite their mainland friends to work or study in the SAR to experience the charm of the "Pearl of the Orient."

The city leader thanked a doctoral degree candidate, surnamed Lau, who said he would be returning to Hong Kong and would love to witness the prosperous development of the Northern Metropolis.

Another student studying for a master's degree surnamed Wong, said she was lucky enough to have witnessed the establishment of Hong Kong's first Tradition Chinese Medicine (TCM) hospital and wanted to contribute to society.

Lee said he was encouraged to hear the students' thoughts and noted that their dreams represent a bright and robust power that serves the country, the society, and the people.

Lee also pointed to the overwhelming response the Top Talent Pass Scheme received and noted that authorities will conduct an interim review in advance by mid-year on adjusting the application thresholds.

That means more overseas academic institutions and universities will be included in the scheme.

Lee also quoted President Xi Jinping's remarks on facilitating high-quality developments and said the SAR government will fully exercise the advantages granted under the "One Country, Two Systems" principle.