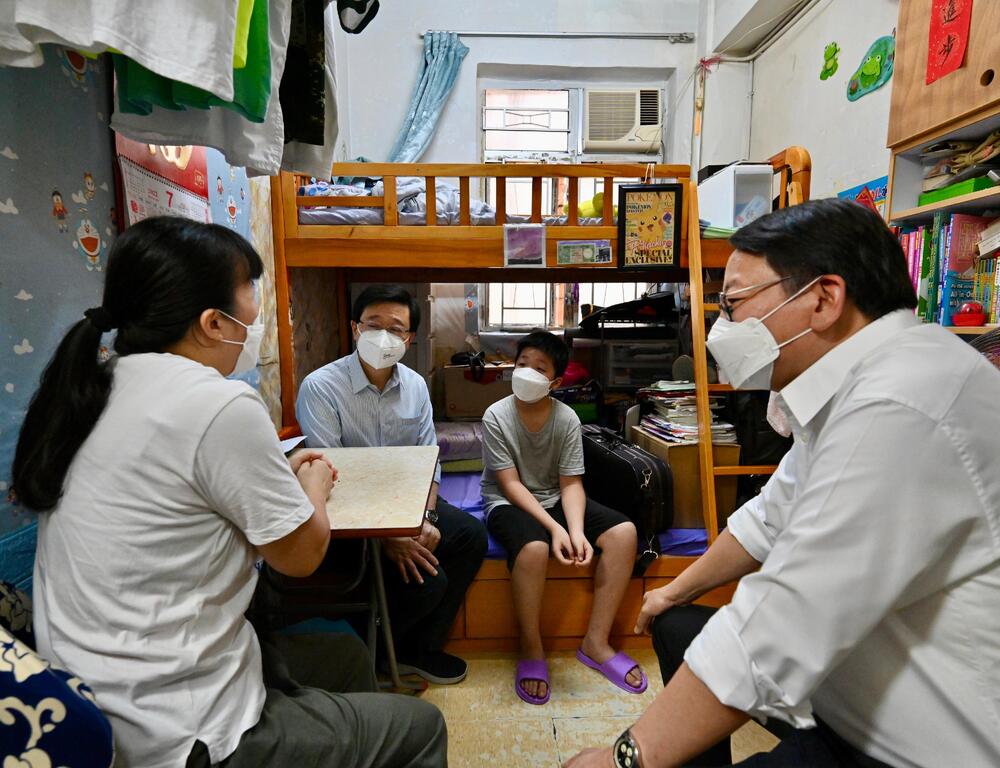 John Lee meets Sham Shui Po residents for police address consultation
Chief Executive John Lee Ka-chiu visited residents in Sham Shui Po on Saturday as part of his public consultation for the 2022 Policy Address and added he will be meeting and talking to citizens and the public in person.
Lee was accompanied by Chief Secretary Chan Kwok-ki, Secretary for Home and Youth Affairs Alice Mak Mei-kuen, Director of Home Affairs Alice Cheung Chiu Hoi-yue, and Sham Shui Po District Officer Paul Wong Yan-yin.

Lee first inspected a "three-nil building," a building without an owners' corporation or any residents' organization that has not engaged a property management company. He then visited a grassroots family living in a subdivided flat and talked about their living conditions and views on poverty alleviation measures.

Later, he met some elderly at the Shamshuipo Kai Fong Welfare Advancement Association Neighborhood Elderly Centre and exchanged views with community leaders and grassroots residents on living conditions and community development.

Speaking to the media as his visit ended, Lee said he met residents in person today to understand their expectations on his first Policy Address to be released in mid-October.

He continued that about 400,000 people live in Sham Shui Po, making it a representative neighborhood combined with traditional and new elements.

When asked about the incident at boy band Mirror's concert, Lee said he had already instructed relevant departments to launch a full-coverage investigation into the cause and liability.

He also said authorities will study if green belt areas in the city can be transformed into land supply to solve the housing problem.

On borders reopening, Lee noted the government has been communicating with mainland authorities, and the goal is to inform the mainland of Hong Kong's latest pandemic development and control measures. Lee hoped to minimize the inconvenience caused to Hongkongers who are traveling to the mainland.