Cross-border travel on the rise since checkpoints reopened recently, but outflow 1.6 times that of arrivals, according to Post count.
Hong Kong's leader has expressed his wish for the city to have a new start in the Year of the Rabbit with more tourists and vibrant economic activities following the latest round of eased curbs to scrap isolation for Covid-19 patients.

John Lee Ka-chiu extended Lunar New Year greetings to residents on the eve of the festival, amid an increasing flow of people between both sides after the reopening of the border with mainland China.

The Post counted 520,000 people leaving the city in the past five days by 9pm Saturday ahead of the annual break, 1.9 times that of arrivals. Both numbers marked the highest in three years since the pandemic hit.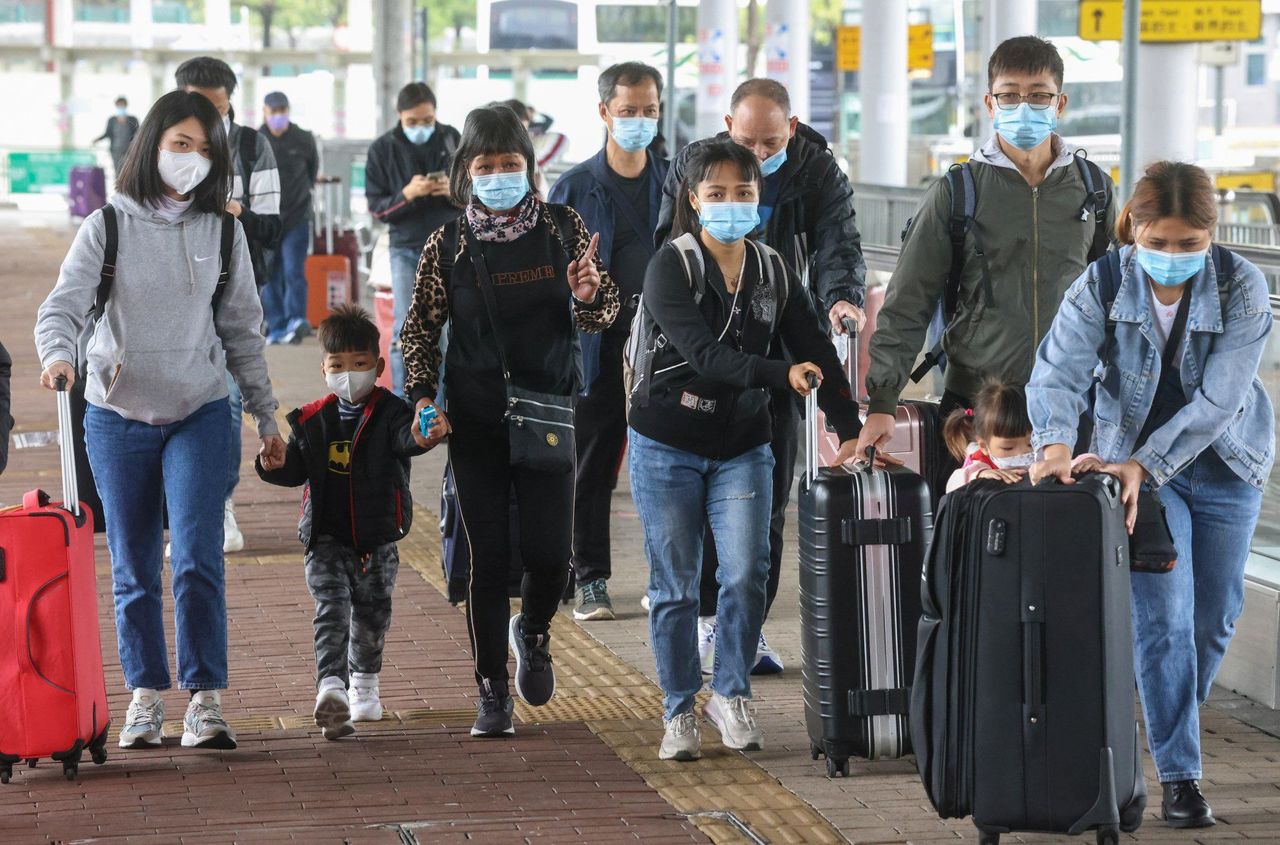 Travellers at Shenzhen Bay Port crossing the border into mainland China.
"Rabbits are just like Hong Kong people, who are flexible and resilient, and constantly strive for improvement," the chief executive said in a televised Cantonese address.
"The rabbit is, as well, a symbol of great vitality, so Lunar New Year is seen as heralding a new start and new hope for Hong Kong. Our economy will continue to grow and our tourist attractions will be filled with visitors."
The minute-long video showed Lee and his wife decorating their home with fai chun, or strips of red paper with auspicious words about rabbits. The speech was aired a day after the city leader had visited a flower market, where he said there were signs of improvements in inbound travel figures and economic activities.
The city's No 2 official on Saturday also led a handful of bureau chiefs to present gifts to the elderly in the Eastern district. Chief Secretary Eric Chan Kwok-ki said on his
Facebook
the government was determined to improve welfare, medical and community support for senior residents.
Finance minister Paul Chan Mo-po, meanwhile, wished Hongkongers good health and a smooth year ahead, saying the city was on the road to recovery and would jump like a rabbit to new heights.
Quarantine-free, cross-border travel resumed two weeks ago, with most of Hong Kong's land and sea checkpoints with the mainland operating after three years of closure.
In the past five days, the number of arrivals in Hong Kong dropped 19 per cent from 54,600 on Tuesday to 43,973 by 9pm Saturday, while that of those departing doubled, from 57,691 to 114,169, according to Immigration Department figures.
Among those arriving in this period, around one in five were from the mainland.
But some catering and retail businesses still said they felt the impact of a high outflow of people ahead of the Lunar New Year holiday.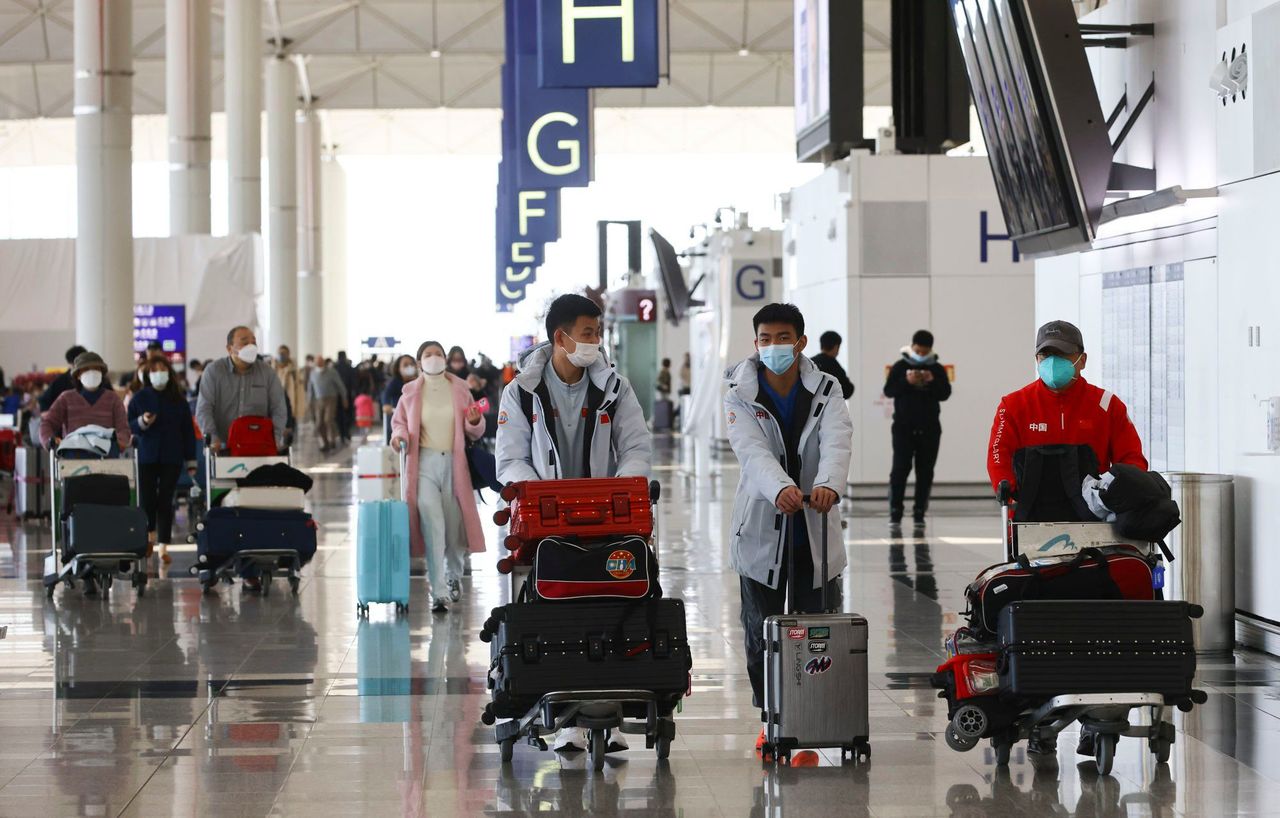 The arrival hall of Hong Kong's airport only opened late last year after the city scrapped hotel quarantine.

Lee had acknowledged the overall number of arrivals in Hong Kong amounted to only 10 per cent of pre-pandemic levels, vowing to ramp up efforts to attract businesses and tourists during his planned trips to the Middle East and the mainland.

A delegation led by Lee would visit Saudi Arabia and the United Arab Emirates next month, with the chief executive aiming to promote Hong Kong's liquidity advantages and offshore renminbi businesses.

But lawmakers called for immediate sweeteners in spurring growth in a Covid-battered economy, despite a projected budget deficit exceeding HK$100 billion (US$12.8 billion).

Legislators from three parties told a radio programme on Saturday the government should roll out a fresh round of consumption vouchers in the budget to be unveiled next month.

Holden Chow Ho-ding, vice-chairman of the Democratic Alliance for the Betterment and Progress of Hong Kong, said a medical voucher of HK$2,000 for dental services should be distributed along with the HK$5,000 ones for each eligible resident.

Bill Tang Ka-piu from the Hong Kong Federation of Trade Unions said authorities should also expand the use of vouchers to cover water and electricity bills to ease the financial burden of households.