Sole hopeful backed by Beiing says he already has 300 nominations from Election Committee members.
Former Hong Kong No 2 official John Lee Ka-chiu has secured enough nominations to run as the sole hopeful in next month's leadership race with Beijing's blessing, just one day after announcing his bid.

The 64-year-old former policeman revealed he had received about 300 nominations covering all five sectors of the 1,463-strong Election Committee as of Sunday 7pm, surpassing the required threshold of 188 and putting him close to his stated goal of earning 500 before the deadline at the end of the week.

Pro-establishment heavyweights visited Lee's campaign headquarters in Wan Chai throughout the day, with former leader Leung Chun-ying, veteran banker Margaret Leung Ko May-yee and national political advisory body member Anthony Wu Ting-yuk among them.

"I am pleased that many Election Committee members showed support after listening to my governance principles," Lee said. "I understand that many of the committee members came to my election campaign office in person to give their nominations for me."

The former chief secretary thanked Leung and others for their support and noted he met 130 committee members in two online sessions held during the day. The views they expressed would help him to finish drafting an election manifesto soon, he added, without giving an exact date.

Lee was also asked about the government's attempt three years ago to pass an extradition bill, which would have allowed for the return of suspects to mainland China, among other jurisdictions. Strong public opposition to the bill morphed into a wider anti-government movement marked by violent clashes between police and protesters. Lee, who led the Security Bureau at the time, was asked whether he bore any responsibility for the crisis.

"Our original intention was to fulfil our international responsibilities in cracking down on cross-border crime … But serious violent acts, the rising independence forces and interference of foreign forces that came afterwards were facts known by the public," he said. "History will have a fair judgment."

The meetings he held with committee members were only the first of several to come, although those discussion would have to be held virtually, Lee said, pointing to pandemic social-distancing rules that banned public gatherings of more than two people.

Former chief executive Leung, who is a vice-chairman of the Chinese People's Political Consultative Conference, is expected to be appointed chief convenor of the committee, which will decide the city's next leader on May 8. He spent about 15 minutes at Lee's election headquarters and left without responding to reporters' questions.

"Mr Leung definitely supports Lee's election work and he visited the office today to hand in his nomination for Lee," said Eliza Chan Ching-har, another deputy director of Lee's campaign office.

Not every chief executive candidate has enjoyed a strong working relationship with all committee members. In the 2002 race when the city's first chief executive, Tung Chee-hwa, stood for a second term as the sole candidate, some of the members expressed disappointment over his reluctance to reach out to them and members of the public.

Tung had said on several occasions that he did not have time to meet the members separately or accept invitations to various forums, as he also had to carry out his duties as leader.

In announcing his election bid on Saturday, Lee pledged a new chapter of "pragmatic" and "result-oriented" leadership, adding he would maintain the city's reputation as an international financial hub.

Margaret Leung, managing director of Chong Hing Bank, said she had known Lee for more than a decade and she was not concerned that his relative lack of financial knowledge would weaken the sector's development.

"What he said about his 'result-oriented' approach is the part I liked most" in his speech, she said.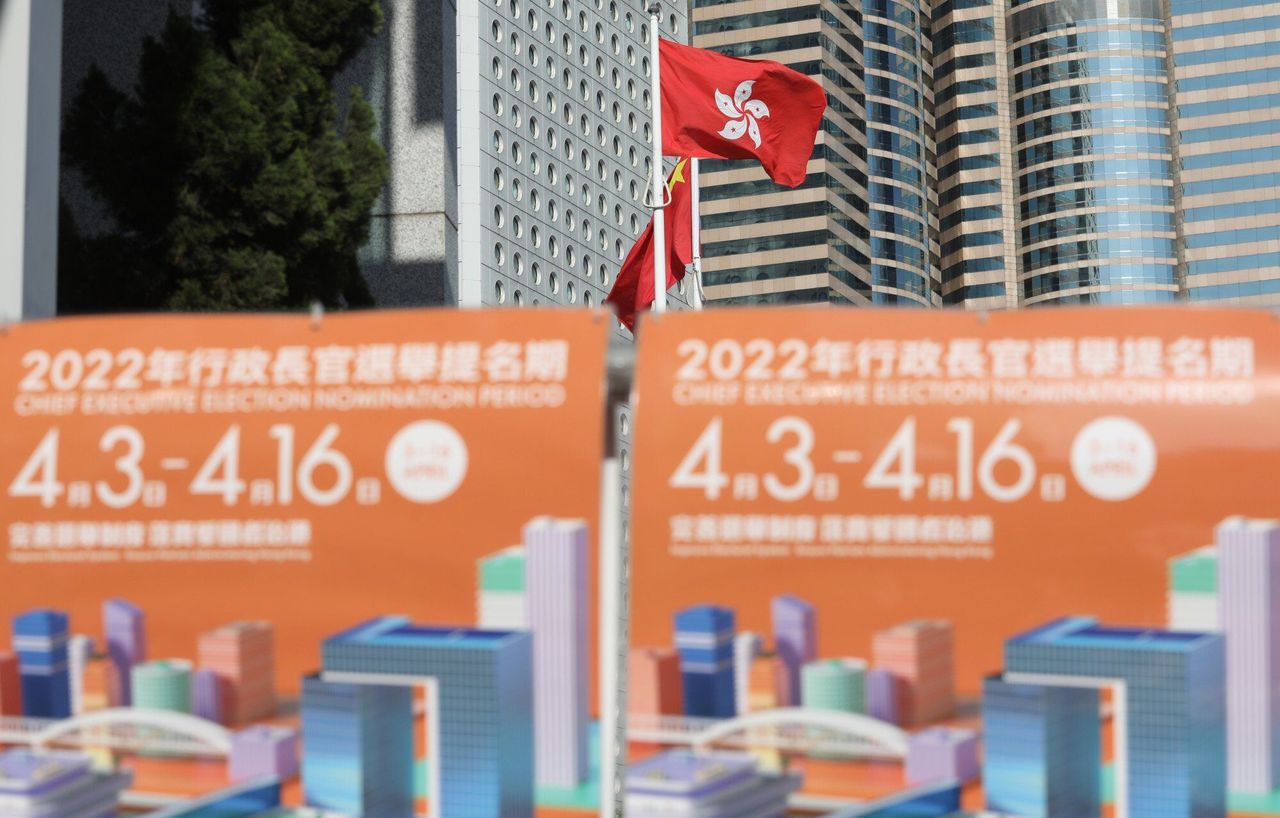 Members of the city's Election Committee have flocked to John Lee's campaign office to show their support.

Tam Yiu-chung, who is leading Lee's campaign bid, also dismissed accusations that the speech lacked policy weight and defended the decision to hold it online, saying the virtual session was the only option as no acting chief secretary had been named to authorise a physical gathering.

"It was Lee, as the former chief secretary, who could grant the exemptions from social-distancing rules … But no one has taken up his role and even the chief executive cannot grant [an application]," said Tam, who also serves as the city's sole delegate to the National People's Congress (NPC) Standing Committee, the country's top legislative body.

At a press conference on Sunday, incumbent leader Carrie Lam Cheng Yuet-ngor said Beijing had yet to appoint an acting chief secretary.

"There's nothing to worry about. The work of the chief secretary, including the anti-epidemic work, continues," she said.

Pro-establishment politicians are continuing to throw their support behind Lee, and lawmakers have also suggested policy areas for him to focus on.

Nick Chan Hiu-fung, an NPC deputy, said he would volunteer in Lee's campaign office to offer support in the weeks remaining before the election.

Starry Lee Wai-king, chairwoman of the Democratic Alliance for the Betterment and Progress of Hong Kong, said she agreed with Lee's "result-oriented" direction and urged the next administration to make it a priority to contain the Covid-19 pandemic and prepare for any future outbreaks.

"Hong Kong had fallen seriously ill following the anti-extradition bill protest … The city is recovering and has unveiled a new chapter towards greater prosperity," she told a radio programme. "It's time for the government to boost the economy and improve residents' livelihood."

Lawmaker Jeffrey Lam Kin-fung, who nominated Lee, called the hopeful a committed and honest person with good managerial capabilities. He also urged the government to restart talks with the mainland on the resumption of quarantine-free travel across the border.