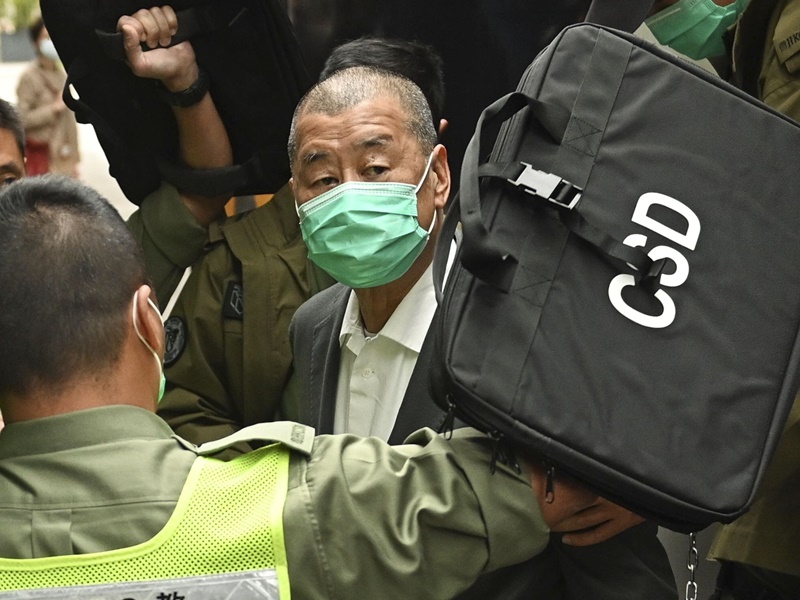 Jimmy Lai to stand trial in High Court accused of sedition and colluding with foreign forces
Hong Kong media tycoon Jimmy Lai Chee-ying will stand trial in the High Court, where the maximum sentence is life in prison, for allegedly conspiring to publish seditious publications and breaching the national security law by colluding with foreign forces
Principal Magistrate Peter Law Tak-chuen on Tuesday, upon the prosecutors' request, approved the consolidation of the cases Lai was involved in to transfer his cases to the higher Court of First Instance for trial.

Prosecutors had earlier charged Lai with breaking the law, which forbids anyone to "print, publish, sell, offer for sale, distribute, display and/or reproduce seditious publications" between April 2019 and June 24, 2021.

The other six people – former CEO of Next Digital, the parent company of Apple Daily, Cheung Kim-hung, Apple Daily's former editor-in-chief Ryan Law, former associate publisher Chan Pui-man, former executive editor-in-chief Lam Man-chung, ex-English edition editor Fung Wai-kong, ex-editorial writer Yeung Ching-kee, as well as three companies, Apple Daily Limited, Apple Daily Printing Limited, and AD Internet Limited – were also pressed with the same charge.

Separately, Lai was accused of colluding with foreign countries between July 2020 and June 24, 2021, by calling on overseas governments to sanction Hong Kong and China in response to the crackdown on pro-democracy activism in the city.

Prosecutors alleged that Lai used his social media platform and the Apple Daily newspaper and conspired with Mark Simon, an American who was Lai's right-hand man, Chan Tsz-wah, a legal assistant, activist Andy Li Yu-hin and a man called Lau Cho-dick, to call for foreign sanctions.

Lai was arrested on suspicion of national security law violations in August 2020. He has been remanded in custody since December that year and is currently serving a 20-month prison sentence over protest-related convictions.