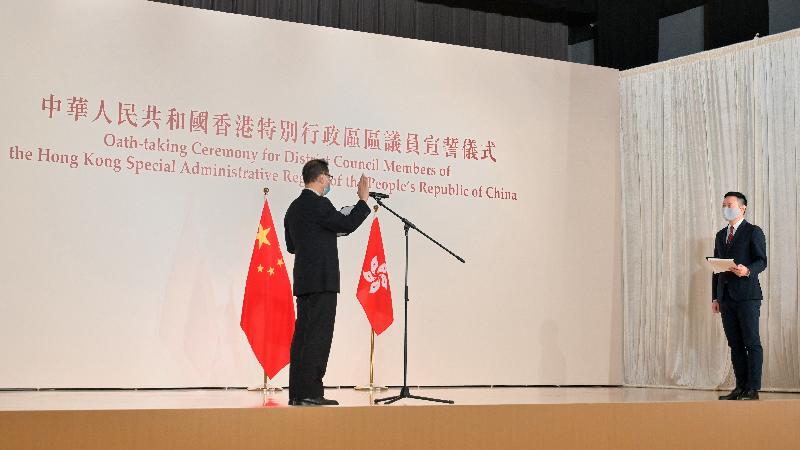 James To, Ken Tsang and eight district councilors unseated over invalid oaths
Ten Kowloon district councilLors including Democratic Party former lawmaker James To Kun-sun and four other members have been unseated as their oaths were deemed invalid.
The ten councillors are Wu Sui-shan, James To Kun-sun, Tsang Tsz-ming and Chu Kong-wai from Yau Tsim Mong District Council; Lau Wai-chung from Sham Shui Po District Council; Ken Tsang Kin-chiu, Kwok Tin-lap and Pius Yum Kwok-tung from Kowloon City District Council; Sean Mock Ho-chit from Wong Tai Sin District Council and Edith Leung Yik-ting from Kwun Tong District Council.

Among them five are from the Democratic Party, including members James To, Tsang Tsz-ming, Kwok Tin-lap, Pius Yum and vice-chair Edith Leung.

Also on the list is Ken Tsang, who was beaten by seven policemen during the Occupy Movement in 2014.

The oath administrator, Home Affairs Secretary Caspar Tsui Ying-wai, had asked the 10 to submit further information after the oath-taking ceremony last Friday, casting doubts about their validity.

The government did not state the reasonings of their disqualifications and only said the decision was made after taking into consideration their written replies and all relevant information.

The Democratic Party held a special meeting on Sunday where members discussed whether to stand in the coming Legislative Council election in December.

They did not come up with a conclusion in the meeting, as a larger number of party members than predicted supported sending candidates to run in the Legco election. Predictions believed that the vast majority of members were pessimistic towards the issue.

Sources said vice-chairwoman Leung was one of those who supported the party to run in the election, but she did not attend the meeting on Sunday.

The disqualification of the Democratic Party members today leaves a question mark on whether the party's members will be approved by the vetting committee if they wish to run in upcoming elections.

Lau Siu-kai, deputy head of the Chinese Association of Hong Kong and Macau Studies, said that the disqualification of the 10 district councilors may convince members in the Democratic Party who oppose participating in the LegCo election that their views are correct.

"Those members may view the disqualification as evidence that it will be difficult to pass through the LegCo election's candidates screening mechanism. Those who favour running in the election may also think twice after seeing party members with the same stance lose their seats in the District Council," he stated.

District councillors from Tai Po, Sha Tin, Sai Kung and the North District have been invited to attend the third oath-taking ceremony to be held next Monday.

Lau predicted that New Territories district councilors who did actions similar to those done by the disqualified councilors may meet the same fate.

Earlier this month, 24 district councillors from Hong Kong Island took their oaths, with seven of them stripped of their seats after their oaths were declared invalid.