Leung was sentenced to six years in jail in 2018 for his role in the 2016 Mong Kok riot during Lunar New Year.
Hong Kong activist Edward Leung Tin-kei, once the face of the city's pro-independence movement, was released from prison early Wednesday under special – if not unprecedented – security arrangements after serving a six-year jail term that was shortened for good behaviour.

Leung was ferried from Shek Pik prison on Lantau Island shortly before 3am in a seven-seater van, escorted by two vehicles, according to local press reports.

Hours later, at 5:30am, a post on his Facebook page said that he had "peacefully reunited with his family".

"After a separation that lasted four years, I would treasure my valuable time with my family and return to a normal life with them," the post said. "With a sincere heart, I thank each and everyone for their care and love."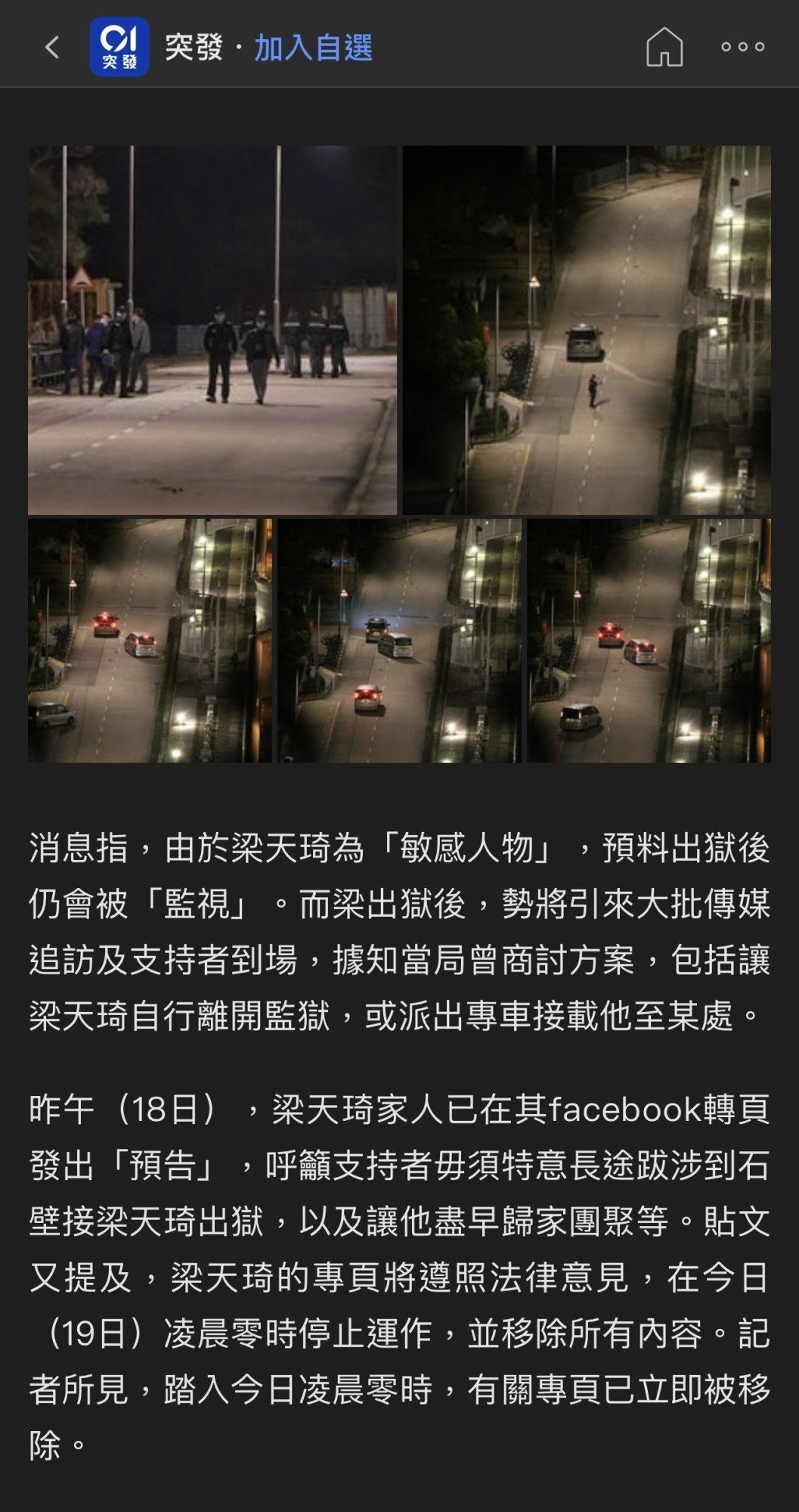 Screenshot of HK01 report showing Hong Kong activist Edward Leung Tin-kei leaving Shek Pik prison on Lantau Island shortly before 3am, local time.

Leung added that he would observe a supervision order requiring him to "stay away from the spotlight", "stop using my social media" and to turn down visits and interview requests from the media.

His Facebook profile was deleted by 6:30am.

The Post has reached out to the Correctional Services Department and police for comments.

A day before his release, Leung's family took to Facebook, urging supporters to keep a low profile and stay away from Shek Pik Prison on Lautau Island, where Leung had been behind bars since 2018.

A release at such an early hour, alongside the arrangement of an escort, is considered unusual even for other high-profile political figures set free before Leung.

Student activist Agnes Chow Ting walked free from a prison herself in June last year when she was released at the end of the jail sentence she had incurred over her involvement in a siege of the police headquarters during the 2019 anti-government protests. Her comrade, Joshua Wong Chi-fung, is currently detained under national security charges.

Any advocacy of Hong Kong's independence is now banned under a sweeping national security law, imposed by Beijing in 2020, when Leung was still in prison.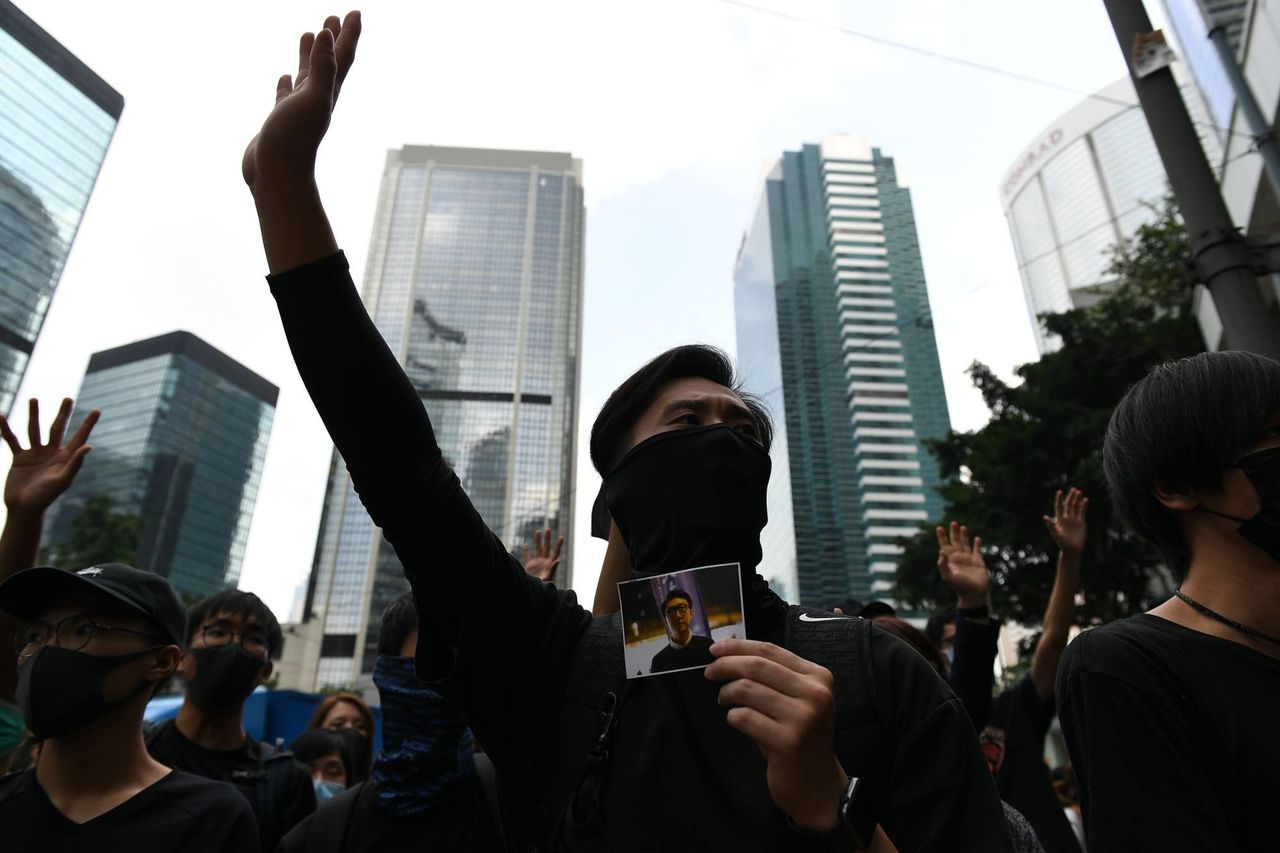 Masked protesters gather outside Hong Kong's High Court at support Edward Leung during an appeal hearing on October 9, 2019.

Leung was jailed for his role in the Mong Kok riot in 2016, sparked by scuffles between street hawkers and municipal staff on the first day of Lunar New Year, which escalated into violent clashes between police and demonstrators.

He was sentenced in 2018 to six years in jail for rioting and assaulting an officer.

The activist also ran for a Legislative Council seat in 2016 as a member of the city's pro-independence movement, popularising a slogan that was later adopted by anti-government protesters in 2019.

In the city's first national security law trial last year, the phrase "Liberate Hong Kong; revolution of our times" was found by judges to be a potential indicator of secessionist ideas.

Throughout his jail term, Leung rarely released public statements on developments in the city. During a wave of social unrest in Hong Kong in 2019, he urged demonstrators "not to be dominated by hatred", saying he was pained by bloody scenes from the protests.

Despite his reticence, some within Hong Kong's pro-establishment camp expressed concern about Leung's release, with one lawmaker taking the matter to the Legislative Council, questioning how authorities would deal with such influential figures once they were freed.

A government source earlier told the Post that given Leung's record as a prominent activist, it "made sense" that law enforcement agencies, including those responsible for national security, would be watching him.