Latest GDP figures show city's economy is finally heading in the right direction, but it is now essential to keep up the momentum.
Hong Kong has emerged from one of its longest recessions on record after six consecutive quarters of economic contraction driven by social unrest and the coronavirus pandemic. Economic growth of 7.8 per cent in the first three months this year marked an 11-year quarterly high.

But in terms of economic recovery, it is too soon to get celebratory champagne out of the cellar, let alone chill it. Nearly 8 per cent growth in gross domestic product comes off a very low base of comparison, largely set by falls of 9.1 per cent – a record – and 9 per cent in the first two quarters last year.

That said, the city's economy is finally headed in the right direction. The question is how to keep up the momentum. Business and consumer confidence depend on it.

The answer lies in a conundrum: how to convince many, many more people to be vaccinated against Covid-19 so that normal day-to-day economic activity can fully resume. Until that happens, Financial Secretary Paul Chan Mo-po says, the pandemic remains an obstacle to recovery.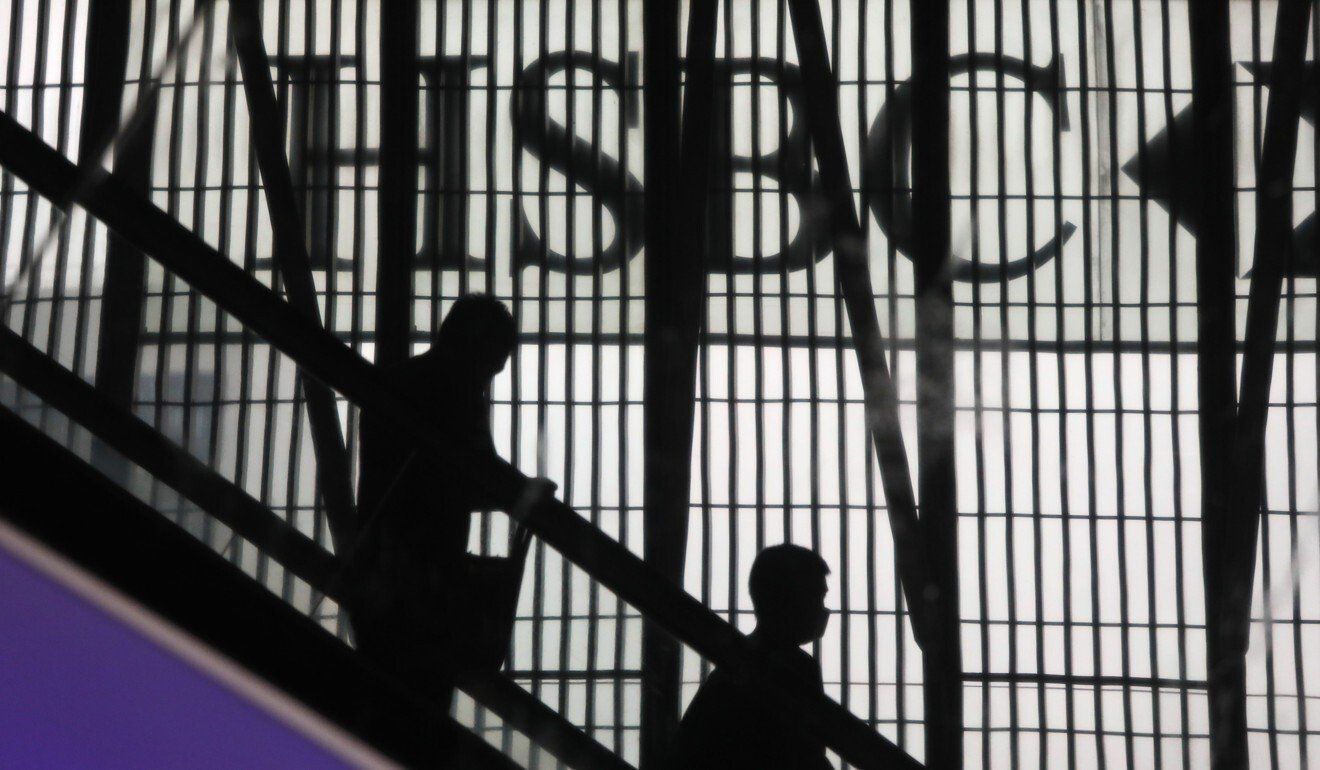 People descend the escalator at banking giant HSBC in Hong Kong's Central district. Exports and investment drove the city's first-quarter growth.

Fewer than 15 per cent of residents have had one jab and only about 8 per cent are fully vaccinated. Expansion of coverage is paramount.

It is key, for example, to the effectiveness of the "vaccine bubble" scheme allowing local and tourism-related entertainment venues to finally reopen after being shut for months – so long as staff and patrons have had the jabs.

Exports and investment drove Hong Kong's first-quarter growth. General Chamber of Commerce chief George Leung Siu-kay says this does not help most city businesses and the government should focus on reviving the local economy and supporting small and medium-size businesses.

It is essential, he says, to reopen the border with the mainland. This means doing whatever it takes to sustain a period of zero infections – or dramatically improving vaccination take-up and closing contagion loopholes.

It is not just about the city getting back to where it was before the onset of a profoundly adverse economic cycle. Hong Kong must reposition itself for two visions central to the country's 14th five-year plan.

One is the Greater Bay Area integrated economic and business hub, in which Hong Kong will have a central role. The other is the mainland's "dual circulation" strategy for domestic consumption, rather than exports, to be a bigger driver of growth in the world's second-biggest economy.

Both offer rich opportunities for the city to deploy its renowned adaptability as an open economic and financial system amid global market uncertainties. To gain equal access to these opportunities, herd immunity to the coronavirus is paramount. That is attained when 70 per cent of the population is vaccinated.

Not to put too fine a point on it, jabs are the only way forward.